Microsoft has announced the Office 2013. Outlook can be counted among the most frequently used applications which are a part of Office and so it has received a lot of attention from the developers. It is really polished and more elegant than it has ever been. Your much loved Outlook will now come with better functionality, ergonomics as well as aesthetics. A number of changes have been made in the new Outlook. Read on to find out all that the new Outlook has got to offer.
Description
You can manage your multiple IMAP, POP, MSN, Exchange as well as hotmail accounts with Outlook. Also, Outlook gives you powerful filters and a number of ways so that you may organize, label thread and find the messages. The 'search folder' contains every item which matches a certain criteria. Searching for messages in any account or folder is easy and quick. IRM access control and s/MIME email encryption is supported by outlook.
Remote images are not downloaded by the new Outlook and it can display the mails in form of plain text to protect your privacy. The attachment preview feature is also great for viewing attachments inside the message. The news items are treated as emails by the integrated RSS feed reader. Windows XP/Vista as well as Windows 7 is supported by outlook.
Full Screen Mode and Touch Mode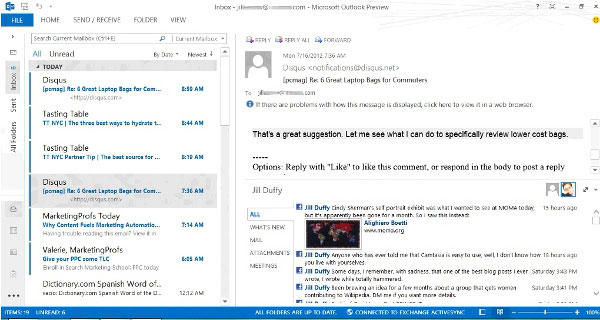 A lot of attention has been given in making such changes in the New Outlook so that it can be perfect for use with tablet and with cloud. The Command 'Touch Mode' is where the tablet feature center around. When it is activated, more space is added around the buttons by Outlook so that they are 'touch friendly'. This mode adds some large buttons on right margin as well. This way, key things can be done with selected emails such as move to folder, delete, reply, flag etc with just a simple tap. The new full screen mode will hide ribbon menus and hence more actual mail is visible on smaller screens of tablet.
Features and Appearance
You will certainly notice that the New Outlook is definitely 'cleaner than ever'. The email view of Outlook 2010 had 4 panes which are a navigation view pane found on the left, an Inbox pane, a pane with calendar and task list found on the right as well as a reading/ preview pane. Outlook 2013 has just two panes namely an Inbox pane and a Reading pane. The left pane is reduced to small menu bar which has icons.
The process of sending a fast reply has been streamlined in the New Outlook. Now you do not have to click 'Reply ' in order to open new email, you may type and send your reply inline on that very message.
The Peeks feature of the New Outlook will let you view information without really switching the views. The Peek feature will let you have a quick look at contacts, calendars or other Outlook areas without having to switch views.
The Social Connectors of Outlook 2013 will let you integrate various social networking sites such as Facebook, LinkedIn etc.
The process with People Cards has been improved. People cards is default view for contacts in the new Outlook. These have been designed to perform better tasks which include elimination the entries which are duplicate and merging information.
Pros and Cons
Coming to the plus points of the new Microsoft Outlook, the spam filtering is really efficient and phishing attempts are blocked. Flexible research, Email messages, mail and conversations grouping will help in organizing the mail. Email messages, social networking updates and to-do lists are integrated pretty well by outlook.
As far as the minus points are concerned, you may find the setup as well as usage a little confusing. Smart folders or flags cannot be created. Useful message templates are unavailable and so is the RSS feed reader flexibility.
Verdict
The changes made in the new Outlook are major and it seems to be more polished now. The new feature-sets are not many. People Card, social Connectors and Navigation Bar will really be liked by the users. You will not come across any issues even when you are trying the Consumer Preview of this application. The new Microsoft Outlook is definitely worth giving a try.
Disclosure: We might earn commission from qualifying purchases. The commission help keep the rest of my content free, so thank you!