Marshall is a UK company well-known for its guitar amplifiers and loudspeaker cabinets since the 1960s. Kurt Cobain, the rock legend of Nirvana, was among the users although he wasn't crazy about the amps. Recently, Marshall expands the product range and now we are seeing headphones, earphones, and even smartphones. The Marshall Monitor headphones are my first product from the company, they are also their first over-ear headphones. Lets' take a look at the product.
Unboxing Video
Design & Features
I was a little surprised when I received the box because it is so small that I couldn't believe a pair of over-ear headphones stay inside. There are actually circumaural headphones inside the box, along with a carrying pouch and a coiled audio cable.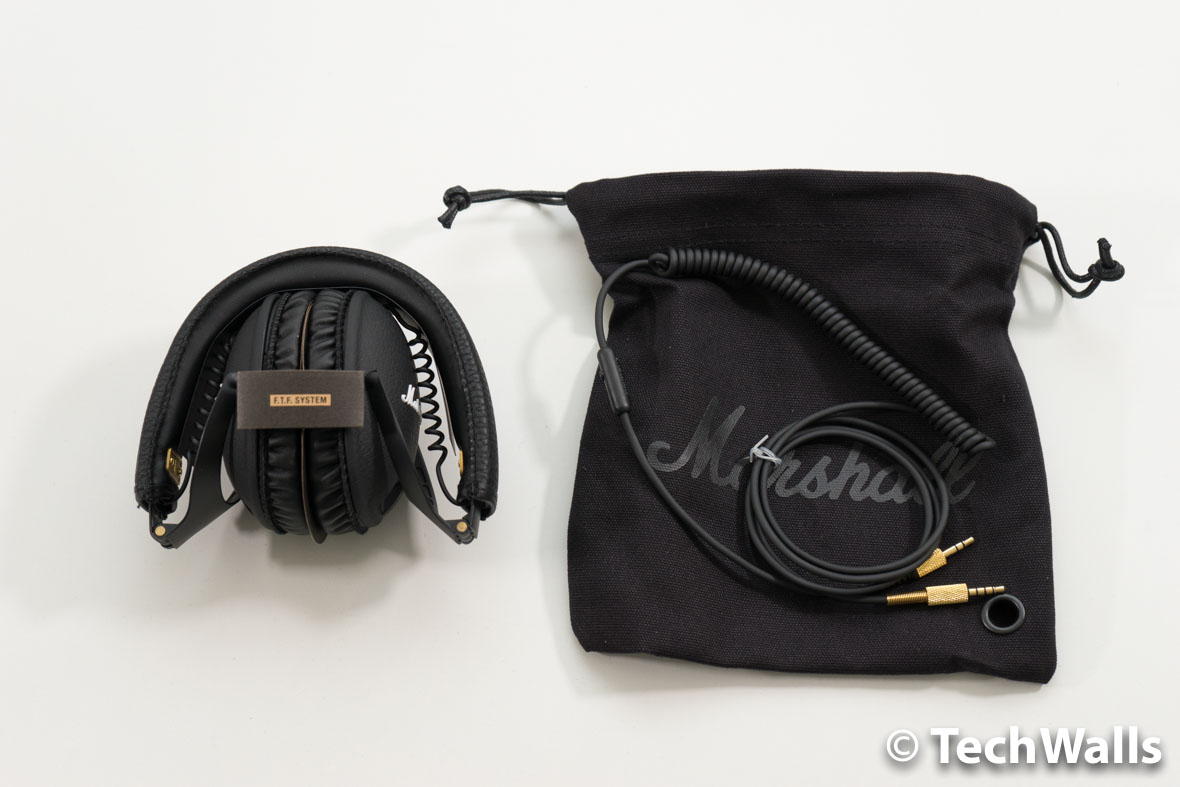 The Marshall Monitor headphones are probably the most compact over-ear headphones I've ever seen in my life. They are particularly small when you collapse them by folding the two earcups inwards, I can easily hold the headphones in one hand then. This is extremely helpful when you need to carry full-size headphones around and don't have much space inside your bag.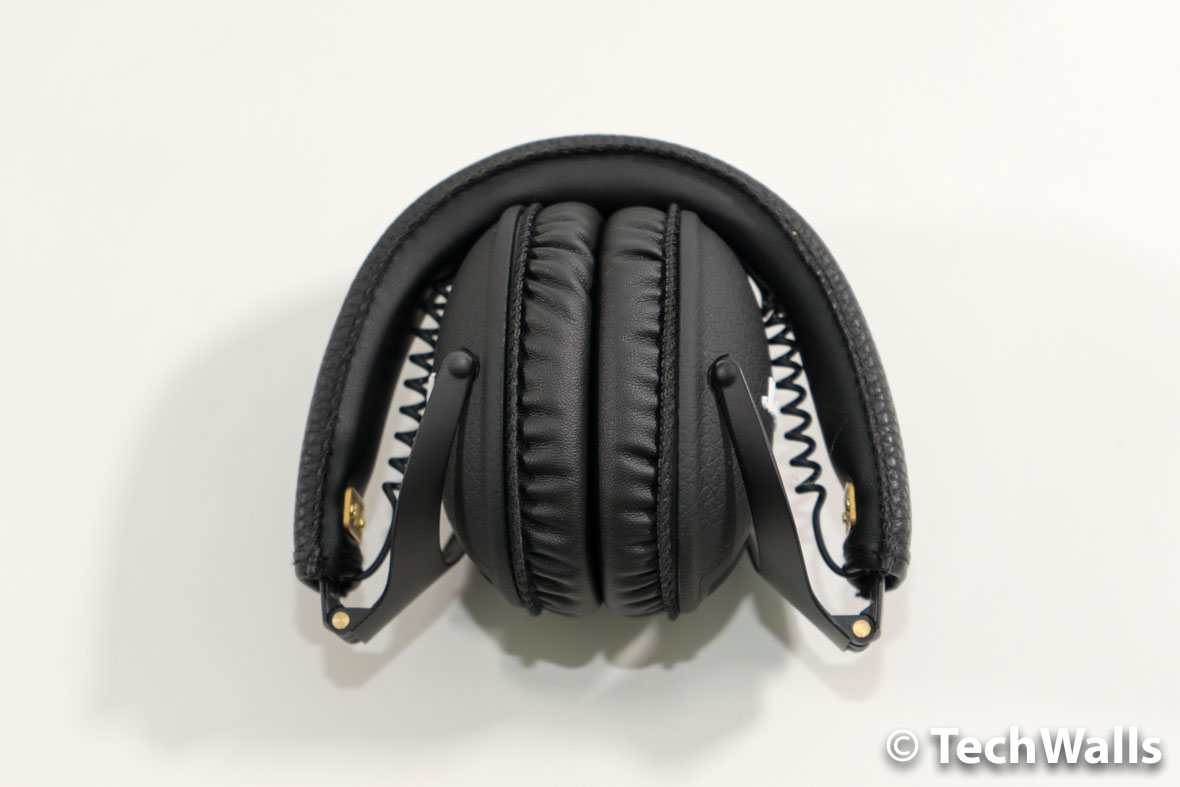 The design and build quality of the headphones are excellent. I immediately had a feeling of a premium product as soon as I touched the headphones. Although Marshall doesn't use real leather on the exterior, the textured black vinyl faux leather is a great alternative and I ever prefer the material because it feels a lot more durable. The metal earcup holders, the PU leather under the headband and on earcups don't look bad as well. Overall, these are attractive headphones with a distinctive style, high-quality materials, a beautiful embossed white script logo and a compact design.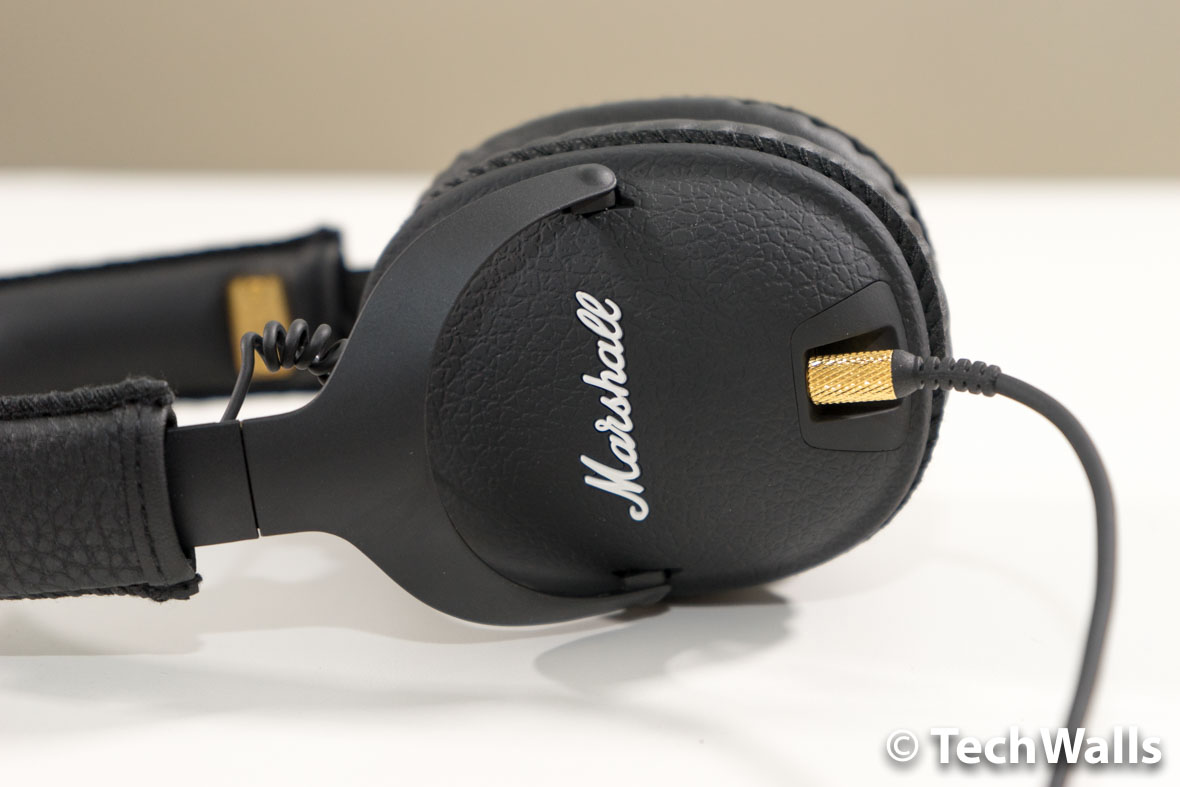 Unfortunately, you will have to sacrifice something for the small size. The earcups are not big enough to cover my ears, then the earpads press against parts of my outer ears. Therefore, my ears still get sore and sweaty after just about 30 minutes. Having said that, the Marshall Monitor headphones are much more comfortable than a majority of on-ear headphones, they just can't compete with other full-size cans.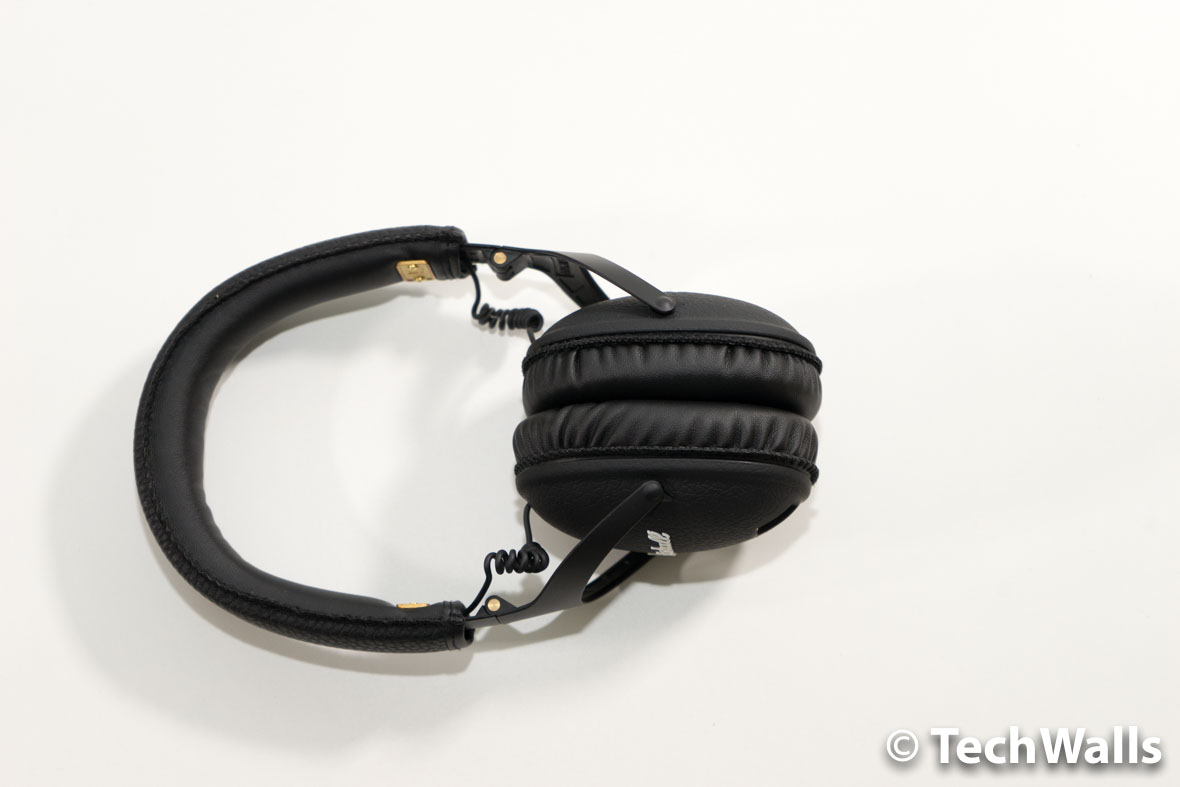 Another notable feature is the ability to connect another pair of headphones to these ones so that you can share music with your friends and listen to the same track at the same time. This is a nice feature to have and I've seen it on some other headphones, I actually used it a lot when I studied in quiet environments like in the library.
I also love that the headphones come with a detachable coiled cord as the length is flexible without creating a mess of tangled cable, you can also find an in-line remote and microphone on the cable. Besides, the earpads are very easy to replace, there seem to be magnets inside and I just need to snap the earpads into place.
Audio Quality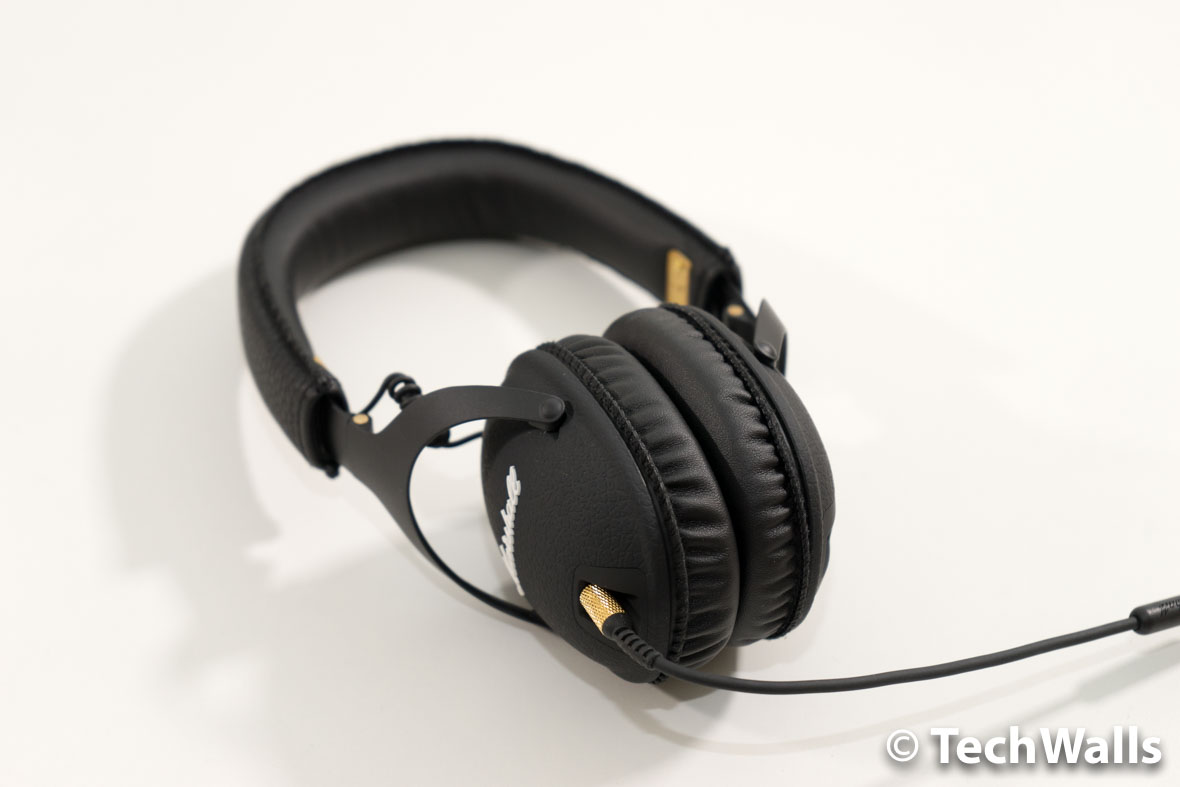 The Marshall headphones are aesthetically pleasing, so I expected more from its sound quality. Unfortunately, they are suitable for a specific group of listeners only. The 40mm drivers are obviously tuned for bassheads as I can hear overwhelming low responses. There is a huge difference in sound signature between the Marshall and my other over-ear headphones like the Sennheiser HD700 or Beyerdynamic DT770 Pro. The UK manufacturer intentionally emphasizes the booming bass to suit rock and EDM listeners.
I can also see that the mids are slightly recessed while the highs are under-present as well. Therefore, the sound is a little muddy and lacks of details and clarity. If you are an audiophile looking for a well-balanced sound, they are not an ideal choice. You can see the drawback more clearly when you listen to classical music. I tested some tracks from Andrea Bocelli's albums and the Roman Simovic & LSO String Ensemble, the sound was hollow, too warm, and couldn't make instruments stand out. You might need to purchase other headphones for this music genre with a brighter sound and more present mids. Or maybe you don't!
The Marshall headphones have a special feature called F.T.F. system (Felt Treble Filter). Basically, there are F.T.F. inserts between your earpads and the earcups and what they do is to create a warm sound like mentioned earlier. After removing those filters, I can see some changes here. The sound is still not as bright as I expected but the highs are slightly improved and you absolutely will be able to enjoy music longer.
Another advantage of the headphones is that the closed design can block background noises, and they don't leak to the outside as well. This is another reason to have the headphones with you on the go.
Conclusion
Pros
Portable design
Premium build with high-quality materials
Bass boost
Customizable sound
Cons
A little tight and uncomfortable for long listening sessions
Sound is hollow
Lack of details
The Marshall Monitor over-ear headphones don't produce an accurate sound, however, they are still a very desirable product. If you a bass lover or just want to be a proud owner of a product from the reputable Marshall brand, I highly recommend the headphones.
Disclosure: We might earn commission from qualifying purchases. The commission help keep the rest of my content free, so thank you!