If you are a 3D printing enthusiast, you've probably heard about the Longer brand which has produced good-quality 3D printers at affordable prices over the years. They have just expanded their product categories with a new product, the Longer RAY5 laser engraver. They manage to bring some unique features to the product while keeping the price low, let's check it out.
Specifications
| | |
| --- | --- |
| Working Area | 400 X 400 mm (15.75 X 15.75 in) |
| Z-Height Clearance | 50 mm |
| Min Engraving Speed | 40 mm/min |
| Max Engraving Speed | 6000 mm/min |
| Power Adapter Input Voltage (AC) | 110-240V, 50-60 Hz |
| Power Adapter Output Voltage (DC) | 12V/5A |
| Power Consumption | 60W |
| Connection | USB / TF Card |
| Software | Windows: LaserGRBL and LightBurn Software; MAC / Linux: LightBurn Software |
| Carving Materials | Wood, paper, plastic, leather, PCB board, aluminum oxide, non-reflective plating, lacquered metal, etc. |
| Cutting Materials | Cardboard, non-woven fabric, light wood, Acrylic material, thin plastic board, etc |
| Input Format | BMP, JPG, PNG, DXF, AI, SVG, Etc |
| Operating Temperature | -20 – 50℃ |
| Laser Technology | Diode Laser |
| Spot Size At Optimal Focus | 0.08 X 0.08mm |
| Laser Wavelength | 450-460 Nm |
| Power Input | 12V/3A |
| Optical Output(W) | 5W – 5.5W |
| Focus Type | Fixed Focus – 30mm Focal Range |
| Laser Class | FDA Class IV or Class 4 IEC Standard |
| Upgradable Laser Module | Upgrade to a more powerful 8W/10W laser module |
| Assembled Size | 61 X 67 X 20 cm (24.01 x 26.38 x 0.79 in) |
Features
The product comes unassembled, so if you haven't got any experience with laser engravers, it might take you a couple of hours to put all the parts together. Once assembled, you will have a fairly large machine, measuring 24.0 x 26.4 x 0.8 inches and the working area is 15.75 x 15.75 inches. Therefore, you will be able to cut or engrave some large pieces. You can engrave many materials including wood, paper, plastic, leather, PCB board, aluminum oxide, non-reflective plating, or lacquered metal. You can also cut cardboard, non-woven fabric, light wood, acrylic material, etc.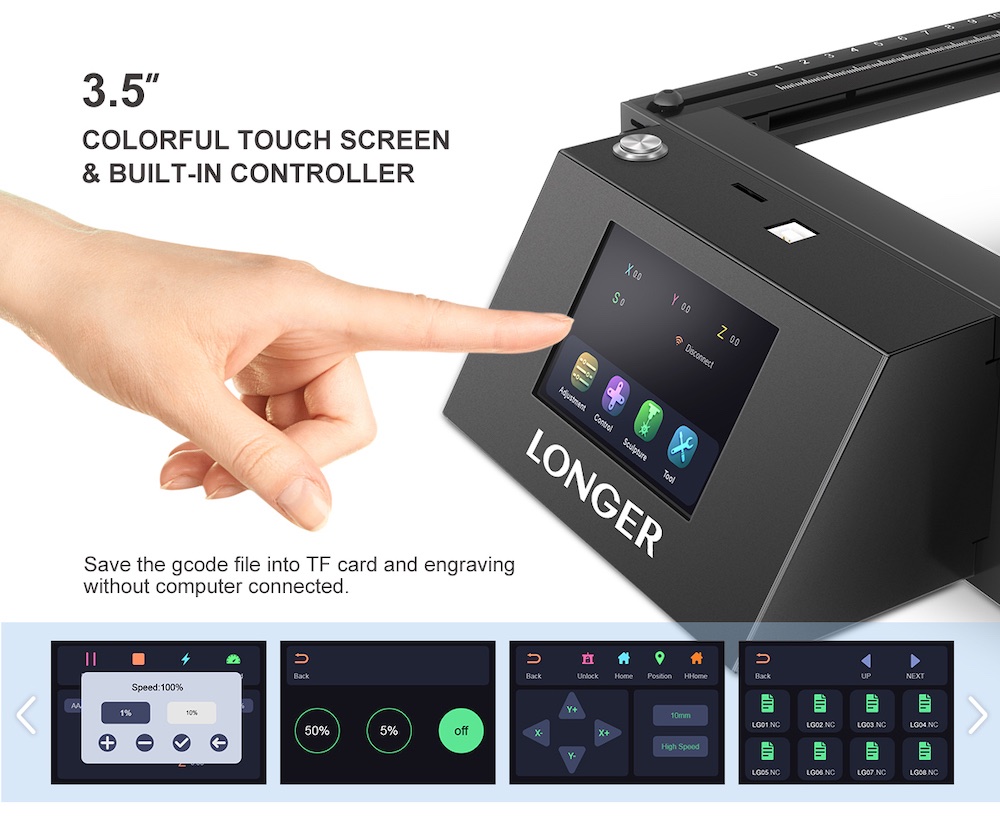 Despite being a budget engraver, the Longer RAY5 has some features that are found on some expensive machines. It includes a built-in touch screen which allows controlling the engraving process easily and we don't have to rely on a separate controller. It even doesn't require setup with your computer; You can just save gcode files to an SD card, insert it to the machine, adjust settings on the touch screen, and start engraving. This feature is extremely helpful for beginners who don't want complicated setup processes. Most similar products in the price range requires a USB connection to a computer. Since the machine can be used offline, it is powered by a 32-bit chipset (operates at 240 mhz) which helps run different functions smoothly on the touch screen. You can check out the video below to see how it works:
There are 5 safety features on the RAY5:
Eye protection: The laser module includes an acrylic cover to shield 99% of the laser and protect the eyes.
Emergency stop button: One button to stop the machine immediately.
Motionless protection: Cease operating and make alarm when the laser head doesn't move for 5 seconds.
Move protection: When the machine is moved accidentally, the operation is stopped right away.
Thermal protection: The machine stops automatically and makes alarm sound when carving material is on fire.
Before running the RAY5, make sure to take all safety precautions. During operation, you should always wear the sunglasses provided in the box, don't place the machine on reflective surfaces, and avoid contact with any body part. Besides, you probably want to open the windows or run an air purifier because the engraving process could generate toxic smoke and dust. Always keep your eyes on the machine and never leave it unattended.
The machine uses FAC laser technology to compress the laser spot to the size of 0.08 x 0.08mm. This is significantly smaller than 0.15mm x 0.15mm spot size found on many other engravers. Since the spot is smaller, the energy is more focused and accuracy is improved. A 10W laser head is expected to be released in May and you can purchase the more powerful head separately then. There are some small plywood pieces inside the box, so you can make quick tests with the machine.
The Longer RAY5 is a great choice for engraving enthusiasts and hobbyists; It absolutely can help you produce numerous beautiful projects You will love the convenient touch screen, the large work area, and the precise and upgradeable laser module. It has the original price of $399 but it is discounted to $339 and you can use the coupon RAY5$10OFF to get extra $10 off; The code is valid until April 10th. You can purchase the product on its official website. You can also follow them on Facebook or Youtube to get more updates.
Disclosure: We might earn commission from qualifying purchases. The commission help keep the rest of my content free, so thank you!