LG finally launched its answer to the Smartphone genre by launching LG lucid. It can be termed as a fully equipped model from the Spectrum. It has very much the same hardware as the latter, but comes in a relatively smaller size. Termed as a little bundle full of joy, we hope that it remains like that for a long time.
Design
It has completely left behind the design features used extensively in the Optimus line of phones, which is quite a great relief. The brand new design of LG Lucid is exciting to say the least. At first look, it gives the impression of sporting a conventional design, but looking closely will make you realize how wrong you were. Made out of glossy plastic, it sports a cool pattern of sparkly red color at its rear end. It has quite a solid body with weight, and angular cutouts which provide a comfortable grip in your hands. For a phone sporting a display of 4-in, it is quite compact by make.
It features a set of capacitive buttons near the bottom of display. On the other side, it has the VGA camera and a tiny earpiece. The power-button is placed at the top right corner, with the other buttons like the noise cancellation mic, 3.5mm headset port, USB port, volume control and the mic placed on its sides. On the rear side, it has its 5 MP auto focus camera with LED flash. Under the back cover, one can find its 1700mAh battery, sim and microSD card slots.
Display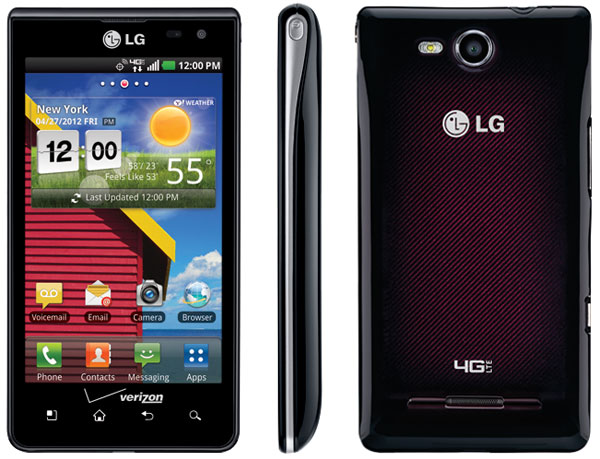 It has considerably toned down its display from the spectrum. Unlike the latter which had a 720p display, it only has a 4" WVGA IPS LCD touchscreen. It has a good pixel density, viewing angles, high contrast, and color (iridescent) production.
Processor and Memory
It is powered by a 1.2 GHz dual core Qualcomm Snapdragon S3 CPU, along with a 1 GB of RAM. Its responsiveness is found to be the usual, but with processor intensive tasks, some choppiness crops up in its movement.
It has 4GB of internal memory with an additional 1.32 GB kept strictly for the apps. It supports an expansion in its memory via a microSD card for up to 32 GB.
Interface
LG lucid provides the usual android experience as seen in the other droid phones from the maker. To speak specifically, it has the latest version of Optimus UI running on Android Gingerbread 2.3.6. so, no Icecream Sandwich for now in LG.
Internet and Connectivity
The 4G LTE enabled connectivity provides great data speeds. The web browsing speed is quite god for almost all the sites. Plus, its adobe flash player supported features almost brings it at a par with the desktop. It is certainly something that stands out visually from the Smartphone crowd.
Camera
Its 5 MP auto-focus camera is just good enough for normal usage. Although, it doesn't provide you with superior images, but it can quite efficiently handle a variety of shooting conditions to keep us happy, although some of the pictures may seem to be a bit under-exposed.
Multimedia
The Optimus music player is by now a quite favorite player for many of us. It has quite a good sound, but at the high sound settings, the volume seems rather irritating with very sharp tones. Sadly, there is no equalizer also, for us to fine tune the sound output from the device.
Performance
Its earpiece is quite a letdown, as during tests we struggled quite a bit to listen to the callers, although they were hearing our voices quite sharp and clear, as there was some amount of muffling heard on the earpiece. At loudest settings, the voices tend to become a bit squeaky. The speakerphone, when tested came up with the same drawbacks as found in the earpiece. But, as far as connectivity was concerned it emerged unscathed from that front with no dropped calls or for that matter even 4G LTE connectivity.
The battery is quite good and is capable of putting 500 minutes of continuous talk time at a go. With a single charge, it can last one whole day with normal usage, and that is quite a point for a 4G LTE enabled device.
Conclusion
LG Lucid is quite a good affordable 4G LTE Smartphone. It comes with quite well balanced features. It is attractive, has pretty good specifications, and affordable. These are good enough points for most people to have this device.
Disclosure: We might earn commission from qualifying purchases. The commission help keep the rest of my content free, so thank you!