The world of 3D printing has evolved significantly over the past few years. With the rise of additive manufacturing, individuals can bring their creative ideas to life and have a physical model right in front of them in a matter of hours. The KOKONI EC-1 is the world's first 3D printer to offer instant AI 3D modelling, making it an ideal choice for beginners and experts alike.
Disclosure: This is a sponsored article; We were compensated to publish it on our website.
Specifications
| | |
| --- | --- |
| Forming Tech | FDM/FFF |
| Supported Material | Modified PLA Filament |
| Net Weight(Without Package) | 6.83 lbs / 3.1 Kg |
| Gross Weight(With Package) | 8.60 lbs/ 3.9kg |
| Product Dimensions | 7.44*10.7*9.09 inch / 189*272*231 mm |
| Package Dimensions | 11.1*9.5*12.9 inch/ 282*242*327 mm |
| Build Volume | 3.93*3.93*2.28 inch / 100*100*58 mm |
| Nozzle Diameter | 0.4 mm |
| Nozzle Qty | 1 |
| Nozzle temperature | ≤260℃ |
| Printing Speed | 80mm/s(MAX) |
| Layer Thickness | 0.04-0.35 mm |
| The Z Resolution Accuracy | 0.0025 mm |
| The XY Resolution Accuracy | 0.011 mm |
| Rated Voltage(Input) | DC100-240V,50/60Hz |
| Rated Voltage(Output) | DC12V 5A |
| Wattage | 60W |
| Imported Files Format | STL, OBJ |
| Slicing Software | NeuralPrint™ |
| Connectivity | WIFI&Bluetooth,KOKONI3D(Android&IOS)APP Control |
| Leveling | Auto;Free |
| Assembly | Fully Pre-assembled |
| Sound | ≤30db |
KOKONI's Game-Changing 3D Printer
KOKONI, a company focused on connecting the virtual and real worlds through innovative 3D printing solutions, has announced the launch of their revolutionary 3D printer, the EC-1. This wireless, app-controlled printer is portable, easy-to-use, and designed to make 3D printing accessible for beginners. It offers AI 3D avatar and object modeling, mobile app control, and access to over 2000 online models for free.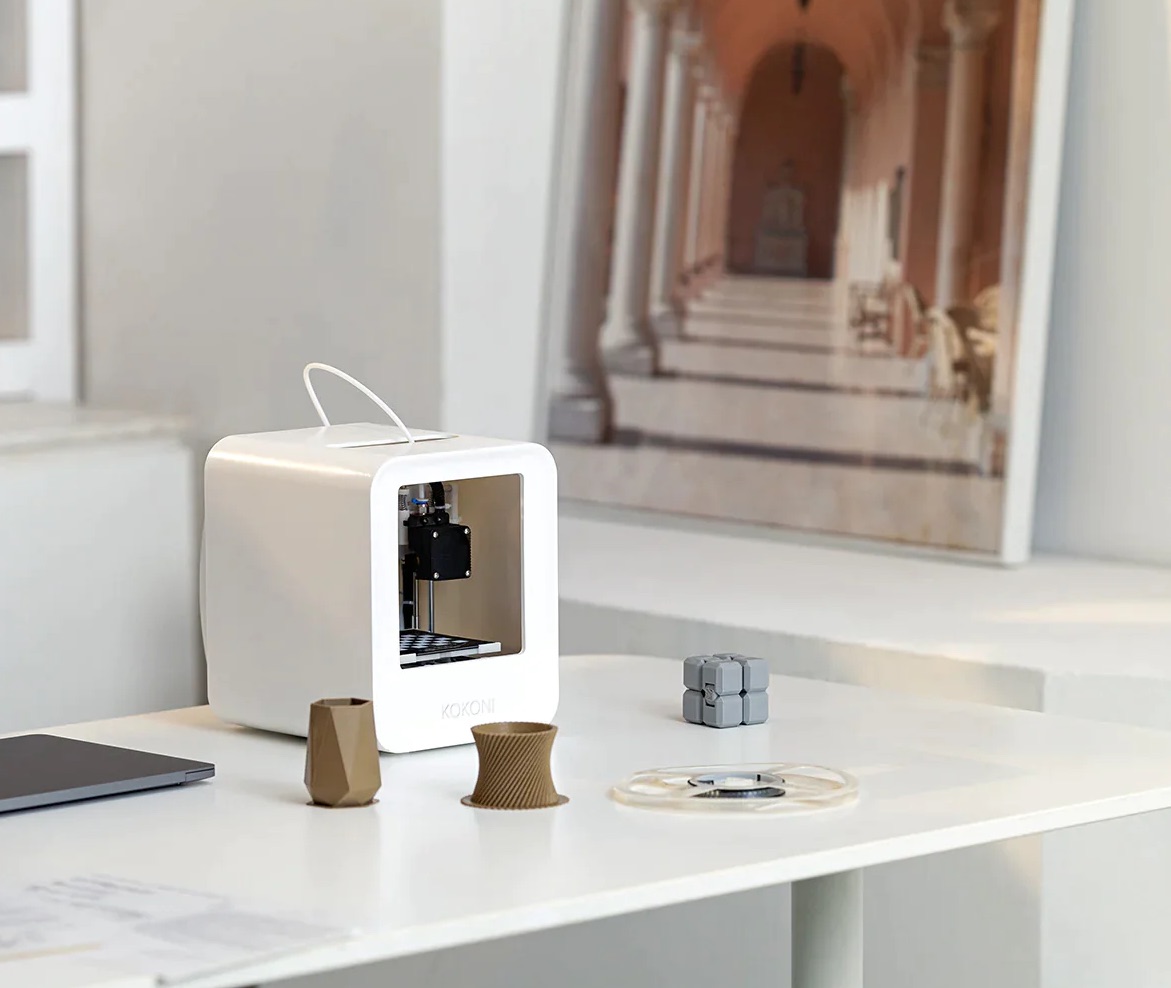 The EC-1 is no ordinary 3D printer. It is equipped with a self-developed 0.4mm nozzle and offers high print resolutions of 0.0025mm for the Z-axis and 0.011mm for the XY-axis. With a layer thickness adjustable between 0.04-0.35mm, users can print with high precision and detail. The printer has a maximum printing speed of 80mm/s and operates quietly at a noise level of less than 30db.
Enhanced Printing Experience with KOKONI's Exclusive Filament
KOKONI's exclusive PLA filament has been specifically developed to enhance the printing experience of the EC-1. This filament is smoother, more precise, and non-clogging compared to traditional PLA materials. KOKONI offers a variety of eight different colors, including White, Yellow, Orange, Red, Green, Purple, Black, and Blue, with additional colors continuously being updated.
Easy-to-Use Interface with Instant AI 3D Modelling
The standout feature of the KOKONI EC-1 is its ability to generate instant AI 3D models. Users simply need to download the mobile app and upload or take photos. The system uses an advanced Smart AI algorithm that seamlessly converts 2D images into 3D models, ready for printing. Users can adjust the model's size and printing accuracy in the editing interface, save the model, or start the printing task directly.
KOKONI claims that this advanced AI algorithm allows anyone to transform their creativity, inspiration, and imagination into reality. Previously, the process of creating a 3D model from a 2D image required multiple steps and specific software. Now, with the EC-1, it's as simple as taking a photo and letting the AI do the rest.
Unpack and Start Printing
KOKONI designed the EC-1 to be user-friendly, with no assembly or leveling required. Users can start printing as soon as they unpack the printer. Weighing only 3.1kg, the EC-1 is easy to carry and can be used in various environments. Users can explore the KOKONI model library, upload their favorite 3D design files, or use the AI 3D avatar and object modeling feature to create unique models.
Unleash Creativity and Learning
The EC-1 is an excellent tool for promoting creativity and hands-on learning for children. It can be used to build aircraft models, architectural models, toys, and much more. This 3D printer is a great companion for children, enhancing their perception of shapes and colors and fostering creativity.
Compact and Minimalist Design
The KOKONI EC-1 features a compact and minimalist design, with an elegant combination of technology and aesthetics. Its sleek white case is designed to blend seamlessly into any work environment or home décor. Whether it's for DIY home decor or practical gadgets, the EC-1 is a versatile and powerful tool for anyone interested in 3D printing.
Conclusion
The KOKONI EC-1 is a groundbreaking 3D printer that offers instant AI 3D modelling, making it easy for anyone to create and print 3D models. With its high printing resolution, exclusive filament, and user-friendly interface, the EC-1 is a valuable addition to the world of 3D printing. Whether you're a beginner, hobbyist, or expert, the KOKONI EC-1 offers a seamless 3D printing experience. Its MSRP is $259 but currently you can get it on GearBerry for just $129 during the Black To School promotion.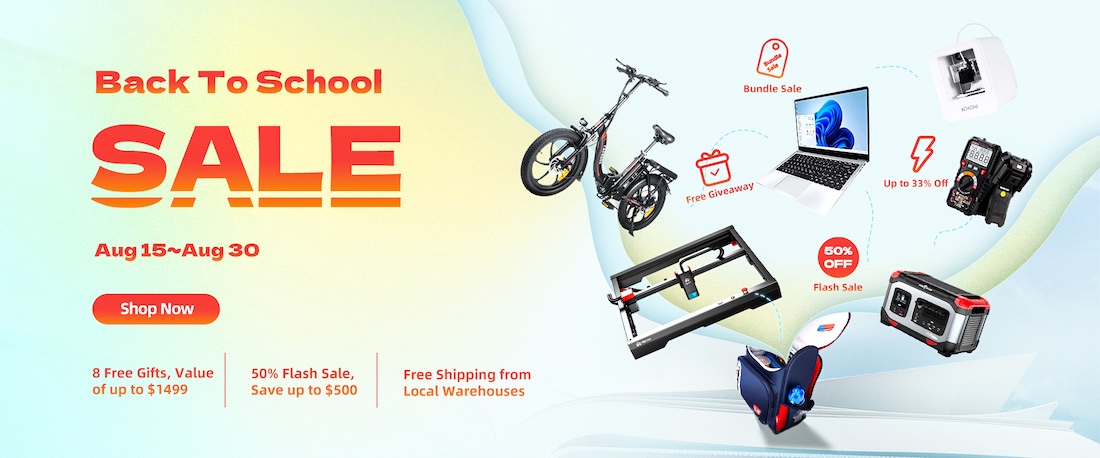 Promotion Details
Amazing Offers and Giveaways
Gearberry's Back-to-School Promotion is packed with incredible deals and offers. Here's what you can expect:
8 Free Gifts Giveaway: Stand a chance to win one of eight fantastic gifts, with a total value of up to $1,499. Don't miss your chance to score a high-quality tech gadget absolutely free.
50% Flash Sale: Save big with discounts of up to 50%, potentially saving you up to $249 on cutting-edge technology. Gear up for the new school year or upgrade your home office with state-of-the-art equipment.
First Come, First Served: Act quickly to take advantage of these limited-time offers. With high demand and limited stock, you won't want to miss your chance to secure these amazing deals.
Free Shipping and Tax-Free: Enjoy the added benefit of free shipping and no taxes on your purchase, all shipped directly from a local warehouse.
Laptops and 3D Printers from $199: Get your hands on a powerful laptop or innovative 3D printer for as low as $199.
Gearberry's online shopping platform offers numerous advantages for tech enthusiasts looking for high-quality products. With a local warehouse, Gearberry ensures speedy and reliable deliveries, eliminating the long wait times associated with international shipping. They further enhance your shopping experience by offering free shipping on all orders, saving you money and providing the convenience of doorstep delivery. Furthermore, Gearberry understands that online purchases may not always meet your expectations, which is why they offer a hassle-free 7-day refund policy, allowing you to return any product within seven days for a full refund. If you need to make an exchange, their 30-day exchange policy gives you the flexibility to swap your purchase for something that better suits your needs. These customer-friendly policies, combined with their ongoing Back-to-School Promotion, make Gearberry a good choice for all your tech needs.
Disclosure: We might earn commission from qualifying purchases. The commission help keep the rest of my content free, so thank you!