ITunes Match is finally available to users, however, many individuals aren't sure what they are spending their $25 a year on. With iTunes Match, you mainly get a more portable version of your iTunes library, available in the cloud for you to enjoy. This allows you to take advantage of the service from your iPad, iPhone, iPod Touch, Apple TV and Mac. Today, we'll take a look at iTunes Match, from set up to finish.
Setting Up iTunes Match
In reality, setting up iTunes match is easy. The problem lies in copying your whole iTunes library into the cloud. For individuals with thousands of songs, depending on your Internet speed, it can spend hours getting your whole library in the cloud. ITunes Match tries to also match album art during the process as well. However, even after the updating, you have to remember that you may also purchase songs from your iPhone and Mac as well. For this reason, you should also set up on your iPhone and Mac as well. To do this for an iPhone, go to settings > music > and then turn On iTunes Match. To set up on your Mac, you must do the same thing you did when setting up on the first Mac. This does mean more matching and updating that can take hours to complete.
Balancing the Pros and Cons
The good thing about iTunes match is the ability to have your iTunes library available literally at your fingertips. Long gone are the days of having to go to your Mac to look at all of your iTunes songs. It's an essential service for any music-addicted individual.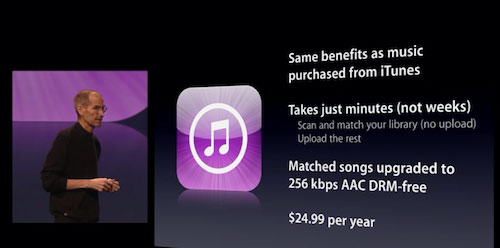 However, the 25,000-song limit can scare some people at first. But you should remember, this limit is only for songs you haven't purchased from iTunes. So if you have 24,999 songs from iTunes and one song you have from Amazon, you can still use the service. In addition, this access isn't seamless. You do have to download the song before using it. This does mean you have improved quality over streamed songs, but many people want to instant convenience.
To Buy or Not to Buy
ITunes Match is a service that you will love if you can take advantage of it. The service is ridiculously inexpensive, at about $2 a month. The individual with the iPod Touch, iPad, or iPhone will find the best use of this service. Mac users need not both with this service if you don't have one of those portable devices. In addition, if you don't purchase many songs from iTunes (please don't tell us where), you won't find iTunes Match as a necessary service. Don't fret, there are multiple services, other than iTunes Match, buying into the cloud business, including Amazon and Google.
Disclosure: As an Amazon Associate, I earn from qualifying purchases. The commission help keep the rest of my content free, so thank you!