In an era where smart devices are revolutionizing the way we live, the INKBIRD IBS-TH5 emerges as a game-changer in indoor environmental monitoring. Built upon the promise of a versatile thermo hygrometer, this device strives not only to bring a holistic sense of comfort to your surroundings but also to furnish you with actionable insights to make your indoor spaces healthier.
Ergonomic Display and Design
The product comes with just the INKBIRD IBS-TH5 and a USB-C cable inside the box. It has a rubber pad on the bottom and a hole on the back, so you can stand it on a desk or mount it on the wall. The manufacturer's attention to design nuances is also noteworthy. For instance, when placed on a desk, the screen is subtly angled upwards, catering directly to your line of sight for enhanced readability. Furthermore, its all-white exterior exudes a modern aesthetic, effortlessly blending with various interior designs. Notice that it doesn't come with a magnet on the back, so you shouldn't try to stick it to your fridge.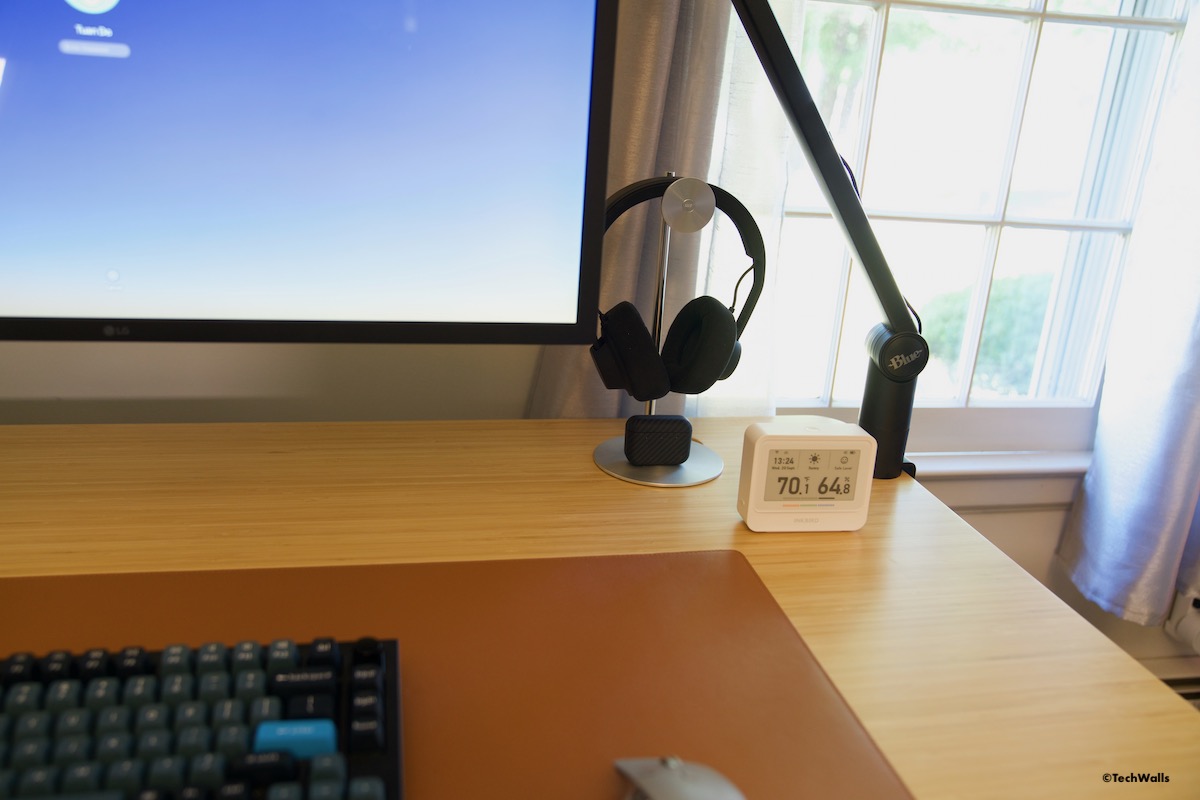 INKBIRD has masterfully married functionality with aesthetics. The 3.71-inch display uses e-ink technology, commonly seen on Kindle devices. It looks so different to most thermo hygrometers on the market that come with an LCD display. The e-ink tech offers a timeless, retro feel rather than a typical digital appearance. I place it next to my older thermo hygrometers and can see a huge difference in aesthetics and clarity. The INKBIRD stands out with its high contrast and a matte display which guarantees easy readability in any lighting condition. Another huge benefit is that we can easily read all the info at almost any angle. Besides, the screen transitions smoothly and doesn't flicker when it refreshes the on-screen data.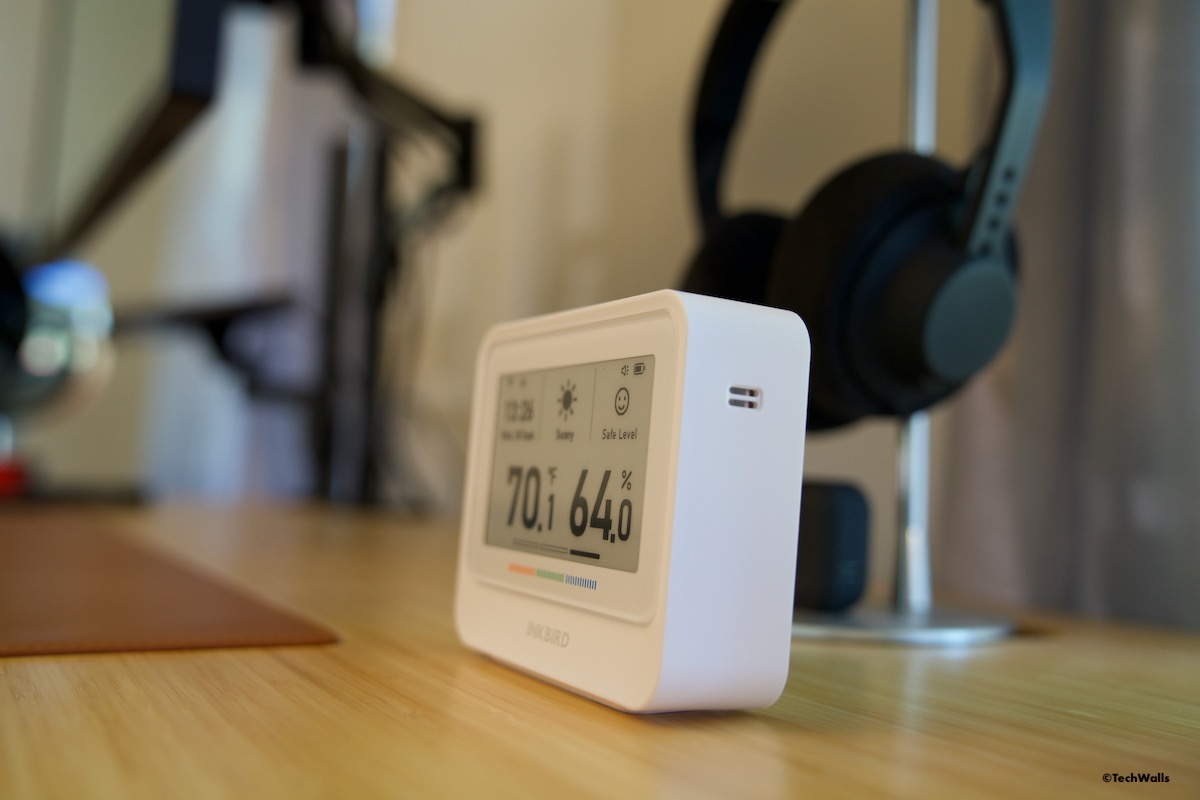 On the other hand, I'm also impressed with the well-arranged layout that could enhance user experience. Specifically, the screen displays some essential information like date and time, real-time outdoor weather, safety level, ambient temperature, relative humidity, and comfort level indicator (Dry, Comfort, Wet). The Comfort zone is reached when temperature in the 68°F-78.8°F and humidity in the 30%-60% range. The safety level is assessed based on humidity, temperature, and atmospheric pressure data to indicate the survival rate of the influenza virus (from Safe Level to High Risk); This info is for reference only and according to the manufacturer, it doesn't have value for medical examination and prevention.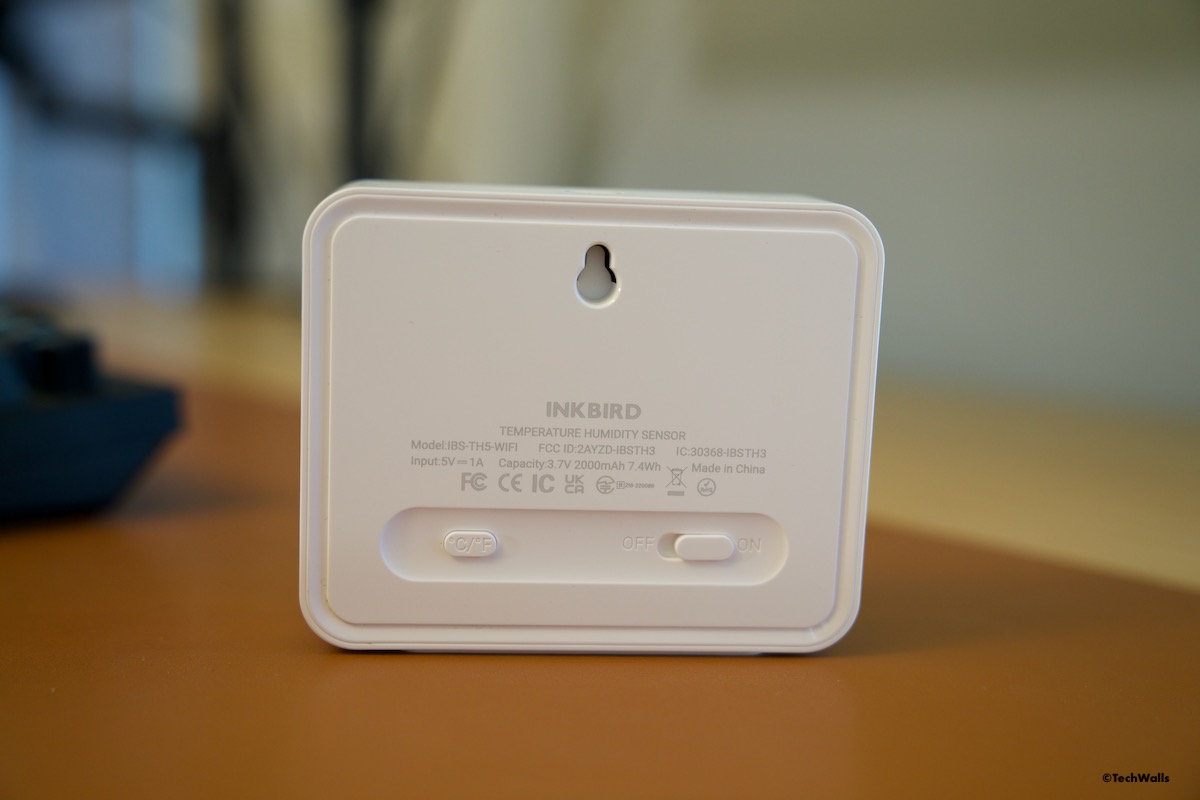 In terms of control, there are just a power switch and a °F/°C switch on the back, and a synchronization button on top of the device. When you press the button, the screen will show tomorrow's weather condition and data will be synchronized to the app. Most of the time, I don't need to touch any button because I only set the temperature unit once and the data is synced automatically after a specified period of time. With the IBS-TH5, all data is securely stored on the cloud, providing you with up to 2 years of historical records. The ability to export this to your email makes data analysis and tracking incredibly effortless.
Seamless Connectivity and Real-time Protection
The INKBIRD app encapsulates all the device's functionalities into an intuitive interface. With data updates, alarm notifications, and storage capabilities, it's the perfect companion to the IBS-TH5.
With a 2.4 GHz WiFi connection, the IBS-TH5 ensures that you're always connected to your environment. Whether you're at home or away, its integration and real-time synchronization offer accurate weather updates, and the ability to monitor indoor air quality from your smartphone is another advantage. Additionally, the real-time alarm notifications for any environment anomalies serve as a protective shield for your family.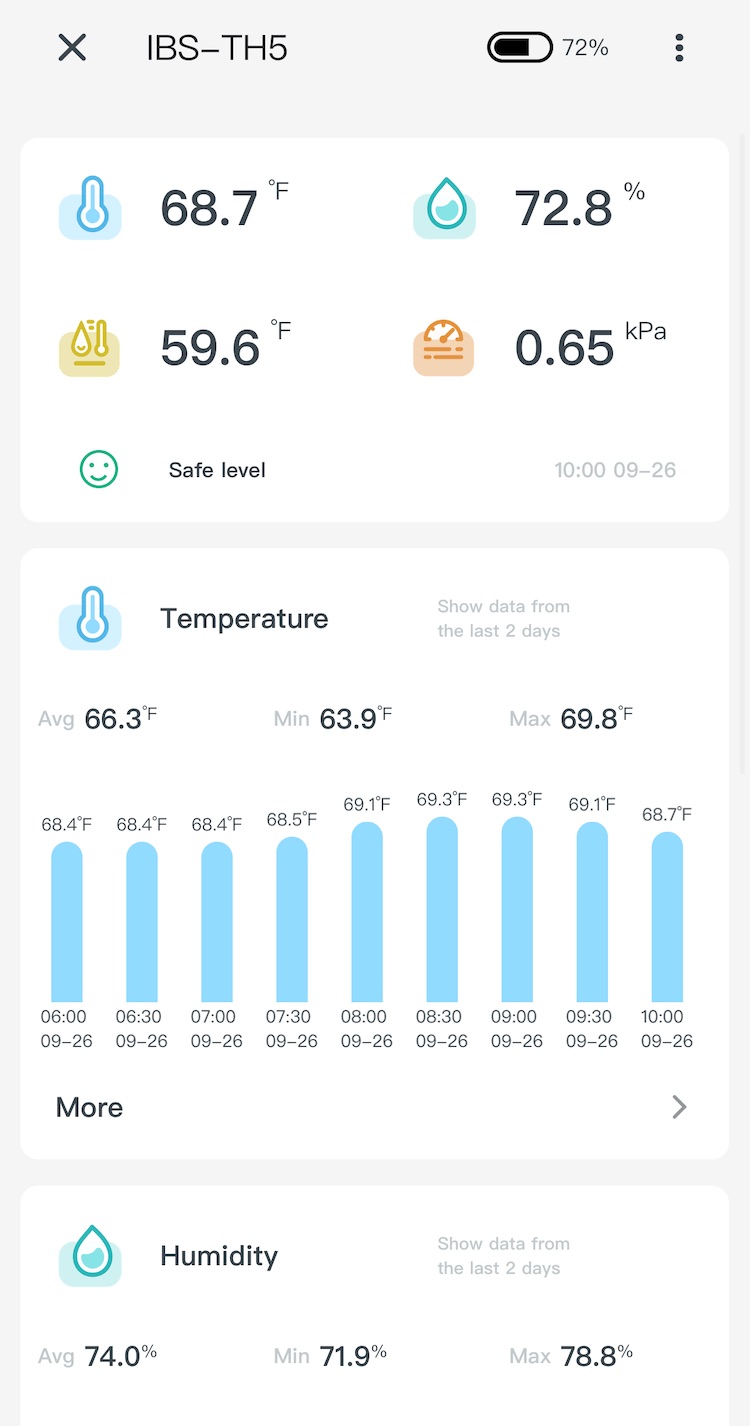 Precision and Reliability with Sensirion
One of the primary cornerstones of the IBS-TH5 is its promise of precise and reliable measurements. INKBIRD has made no compromises, incorporating the high-grade sensor technology from the renowned Swiss sensor manufacturer, Sensirion. This translates to unparalleled accuracy for both temperature (±0.2°C or ±0.36°F) and humidity (±1.8%RH) readings, all with an impressive data refresh rate of every 2 seconds. Such meticulous data ensures you're always aware of minute fluctuations in your indoor climate. When I compared the readings of IBS-TH5 with other thermo hygrometers, it matched up in accuracy. In fact, it shows tenths of a degree whereas the older ones show only whole numbers. Therefore, I think all the info here is quite reliable.
Battery Life
The built-in 2,000mAh lithium battery showcases INKBIRD's commitment to eco-friendliness. It could last up to 12 months post a full charge (based on a 60-minute data upload interval), eliminating the hassles and environmental concerns of frequent battery replacements.
Final Thoughts
The INKBIRD IBS-TH5 is not just a device; it's a solution – a holistic approach to ensuring your indoor environments resonate with health, comfort, and convenience. With a beautiful and clear display, useful app features and commitment to precision, it's clear that INKBIRD has crafted one of the best smart thermo hygrometers on the market. It is currently priced at $59 on Amazon and it is totally worth the premium price tag in my opinion.
Disclosure: We might earn commission from qualifying purchases. The commission help keep the rest of my content free, so thank you!