This article helps you import multiple contacts or can also say .vcf files into your Gmail Account in single click. You have to import them one by one as Gmail to batch import multiple .vcf files.
The .vcf files are also called as vCards can contain useful information for your contact that is contact name and contact address information, phone number, email addresses, photographs, audio clips and many more. If you want to import all of your contacts to Gmail you have to follow given steps:
Step 1:
First you have to merge all your vCards into one vCard file via the command prompt in windows then you can import that merged file to your Gmail. Now you have to place the contacts folder in c location that is c:\contactfolder. I have named the contactfolder to all contacts folder.
Step 2:
Now open a command prompt by press Windows key + R or  you have to open run and type cmd to open command prompt and click ok.
The new window will be open that is command prompt window.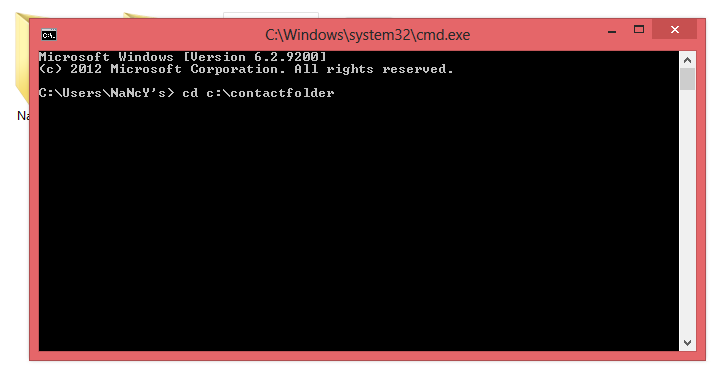 Now you have to type "cd c:\contactfolder" and press enter.
Then you entered in contactfolder location.
Now you have to type "copy/B*.vcf nancy.vcf" and press Enter.
This will start to merge the multiple .vcf files into one file that file is your nancy.vcf that contains your all contacts in one file. When it has finished you should see 1 file(s) copied.
Close the command prompt by typing exit and press enter.
Step 3:
Now open the contactfolder file in c:\contactfolder and check that nancy.vcf file is created there.
Now lets import your contacts into Gmail.
Open your Gmail account and on the top of left corner select contacts.
Then click on more and select import.
And new window will be open. That window will ask you to browse the .vcf file to import the contact.
Click on choose a file. You have to select nancy.vcf file that you merged. Select that merged file and click ok.
After that your all contacts are imported to your Gmail account.
Now you can see all the contacts in your Gmail account.
Now you have successfully imported multiple contacts .vcf with single .vcf file. This will save your time instead of import .vcf file one by one.
Hopefully this information is helpful for you.
Thank you
Disclosure: We might earn commission from qualifying purchases. The commission help keep the rest of my content free, so thank you!