HTC One trilogy is supposedly made for all sorts of Smartphone users. After the two relatively high-end phones, S and X, HTC One V is aimed to fill the void of a lower budget, thereby expanding the consumer base of the Smartphone giant. Read on to find out more about the lowest yet priced HTC One Smartphone.
Hardware
If you are one of those users who think 4 inch or bigger display in a Smartphone is too ostentatious, then HTC One V is your phone. With a humble 3.7 inch display, 9.2 mm thick aluminum unibody, HTC One V weighs 115g, which, though a bit heavier than most would prefer, is no deal breaker. It is a very sturdy mid-range Smartphone, with virtually no flex under high pressure, which makes sure that HTC One V does not easily suffer damages or breakages. It has a crisp 480 x 800 LCD display (WVGA) with 252 ppi pixel density.
Internal specs look less impressive compared to multi-core processors of the other members of HTC One Trilogy (X and S). It has a fairly basic single-core 1GHz Snapdragon processor, 512MB RAM and 4GB of internal storage.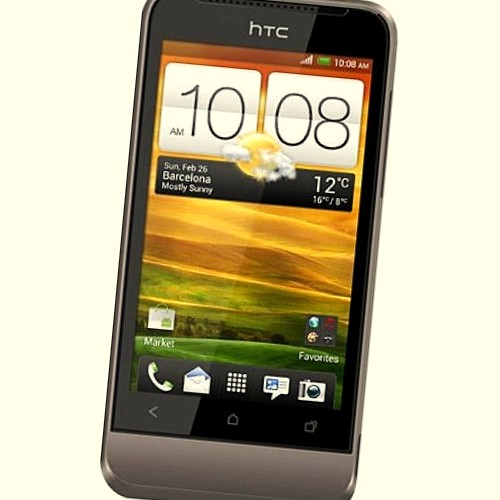 Software & Performance
Like One X and One S, HTC One V too has integrated Android Ice Cream Sandwich with its own Sense 4 interface. Unlike the older versions of Sense, with this phone, there are less add-ons which makes its amalgamation with Android much more seamless, smooth and surprisingly user-friendly. But it isn't a completely Android phone, so staunch users may still find some additional tweaks and modifications a little frustrating. But there is no apparent lag, so you it manages to run quite well on the none-too-remarkable specs. The exclusive Android apps like Google Apps, Chrome Beta and a very quick Gmail app are more than satisfactory in running. However, unlike the other two One Smartphones, V lacks DLNA support and HTC Watch- the movie streaming service- are not present. The stark difference between Android's current design language Holo and HTC Sense is apparent in some apps, which brings forth a sort of incongruence even though they are technically compatible. The 5 megapixel camera with LED flash is not bad- although a far shot from the 8MP cameras of the other two One phones. In low light condition, there is little noise and autofocus works well. The colors are vibrant without being gaudy- a balance most Smartphones fail to strike.
Media
Although the internal 4GB is insignificant for avid downloaders, an external Dropbox storage of 25GB helps you store a lot of media. HTC has put in some effort to make the Smartphone more attractive media-wise. There is a wide array of app shortcuts and widgets to quickly start up your favorite media portals or music playback. There are options for easy access to galleries and editing tools as well. Like most Smartphones, HTC One V comes with its own media player and has to compete with specialists like iPod, which in itself, is it a tall ask. The Beats audio software, however, does not disappoint you. But the audio experience could have been advanced a lot if the handset came with a pair of Beats headphones.
Internet & Connectivity
HTC One V has WiFi and 3G compatibility, which means you have ample flexibility in terms of internet browsing outdoors. There are some issues with 3G that could have hitched it back a couple steps in the contemporary market, but the smooth WiFi connectivity more than makes up for it. The Smartphone lacks Flash compatibility in original configuration, which can be downloaded later, but it is an almost unforgivable flaw because it has been quite some time since Android started incorporating it, while Apple has had it long before.
Battery Life
Although equipped with just a 1,500 mAh battery, HTC One V has surpassed expectations in terms of its battery life. After about 14 hours away from a charger and a day of thorough use which entails phone calls, texts, email syncing, twiddling with Google Maps, camera and about half an hour of gaming, the Smartphone was still left with thirty percent of charge. This is considerably better than most budget Smartphones.
With an attractive design, Android Ice Cream Sandwich overweighing its flaws like lack of good headphones and a fiddly QWERTY touch keyboard, HTC One V is certainly worth the money.
Disclosure: We might earn commission from qualifying purchases. The commission help keep the rest of my content free, so thank you!