The next smartphone in the Desire lineup from HTC is going to be the Desire 8. There has been a lot of rumors about the upcoming Desire 8 as well as some pictures that were leaked online, but there was no news on the specifications included on the HTC Desire 8. Today we got some information from @Evleaks and according to the tweet the HTC Desire 8 will come in five different colors including Black, White, purple, Red and Yellow.
In terms of hardware the phone is going to be equipped with a 5.5-inch screen and will support a resolution of 720P, Qualcomm Snapdragon 400 processor which will be clocked a little higher which is from 1.2GHz to 1.5GHz, 1.5GB of RAM, 13MP or ultrapixel rear shooter while a 5MP camera on the front, the back camera is rumored to have the ultrapixel technology and finally the famous BoomSound found on the HTC One. Till now we have only seen 4ultrapixel camera on the HTC One and if HTC Desire 8 is supposed to have a 13Ultrapixel camera then we are sure that it's going to have the best camera on the market, because HTC One's 4ultrapixel camera was only lacking in terms of resolution while its daylight and especially night time pictures were amazing and with barely any noise as compared to other smartphone cameras.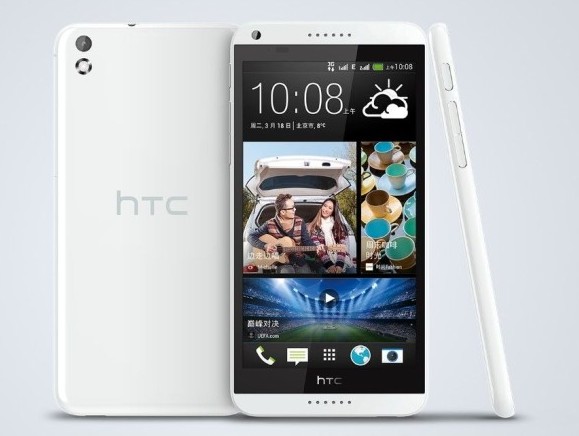 According to the leaked pics, HTC Desire 8 looks like HTC One Max and the materials used in the body construction of the Desire 8 looks more like a plastic (polycarbonate) rather than metal. We suspect that the phone will come with the latest version of Android and Sense that is HTC Sense 6.0, because Google have been asking smartphone companies to release their smartphone with the latest version of Android OS.
Read also: Low-cost octa-core HTC smartphone
HTC might launch their Desire 8 in US and Europe alongside Asia and as for the rumored specs they might change in time and we might get to see better hardware on the smartphone as always nothing is confirmed including the pics which could be rendered and not legit.
Disclosure: As an Amazon Associate, I earn from qualifying purchases. The commission help keep the rest of my content free, so thank you!