What is Discord and what is it used for?
Discord is a very well-known Digital Distribution and free-to-use VoIP group chatting application originally created for gamers to chat and build communities. But since the pandemic hit, Discord's use has increased exponentially. Many businesses, companies, and startups find Discord useful to communicate daily in the work-from-home situation.
Discord is no more an app for gamers, but other communities like writers, artists, or people who share a common interest have hopped on the application.
With its booming popularity, as maximum people are now socializing online on the application and playing games, the platform is said to have over 140 million monthly users.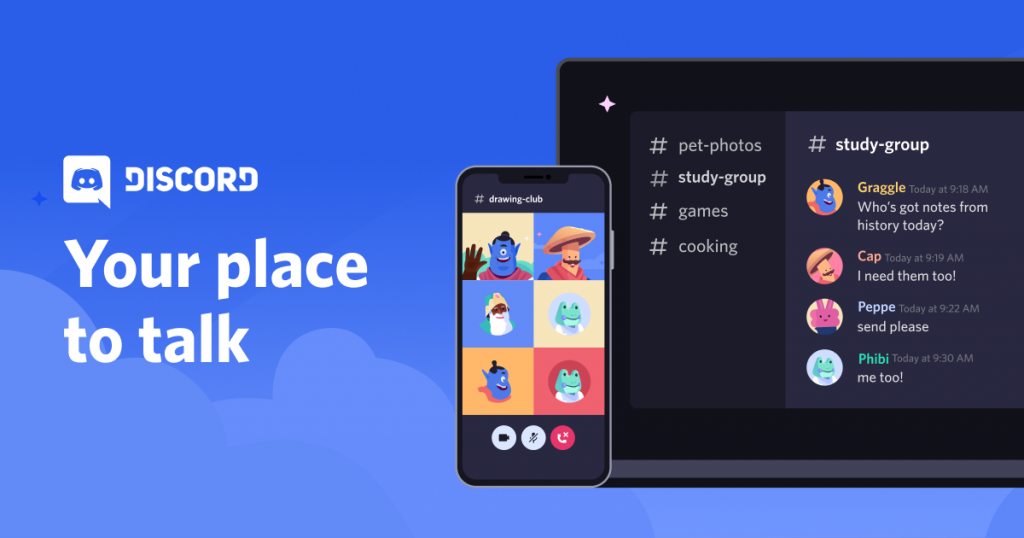 In a nutshell, Discord is an application for anyone and everyone through which friends and colleagues can communicate via text, audio call, video call, and create servers to communicate with a much larger and vast community.
The application Discord is available on PC, MAC, iPhone, and Android devices.
Discord Servers Explained
The application Discord is meant for both individuals to chat or to be a part of a larger community.
At a basic level, the individual members can message each other. But when it comes to building a community that includes multiple people, it is called a server.
A server comprises multiple text channels and voice channels. Through a text channel, one can communicate via text messages. Through a voice channel, one can communicate via voice chat with others.
The channels can be created as per the needs like:
Introduction channel (to introduce each other)
News channel (for latest news and announcements)
General channel (for general discussion)
Technical channel (for technical doubts and discussions)
Question channel (to ask questions), and the list is endless with so many possibilities.
Through these channels, individuals can share images, videos, audio files, internet links, and more.
On the Discord application, the server and its channels appear on the left, while the server members appear on the right-hand side of the application.
A single individual is capable of joining 100 servers at a time. The user can also adjust and choose which server to receive notifications from and which do not.
Discord can accommodate 2,50,000 members in a single server. The maximum total server capacity of Discord is 50, and that of the channels is 500. It is to be noted that if over 25,000 members in a particular server are online at the same time, it can lead to several connection errors. In such cases, the owner of the server must contact Discord Support to resolve the issue.
If you are familiar with the platform Slack, Discord is nothing but its less formal version.
Discord Rate Limit
Recently, there have been several reports regarding users' being rate limited by Discord. Users receive the error "You are being rate limited" when they try to enter into a channel that requires mobile verification. This error prevents the users from entering the text verification process more than once.
The question then you may ask is, "Why am I being rate limited on Discord?" This error is triggered for several reasons, but one of the prime reasons is security.
Many software hackers and unethical agencies try to hack into the servers by using applications that users different permutations and combinations of codes to get through the text-verification step. Thus, when one tries to enter the code several times than usual, this error is triggered as a security measure so that hackers won't guess the code and hack into the application.
Thus, when a user tries to enter the text-verification code multiple times, Discord triggers the error, preventing the user from entering the channel by blocking access.
How to bypass Discord phone verification?
To avoid spammers or hackers, Discord has several security measures like phone verification and two-factor authentication. These measures ensure Discord that its users are not robots, which can be a huge security risk for the application and its users.
There are two Discord's phone authentication cases:
Phone level verification
Occasional phone authentication
Many users do not prefer using their own phone numbers while creating a Discord account. And few other users want to use the application on the desktop PC or MAC and do not have a mobile number for phone verification.
You might want to bypass the phone verification process, as it comes with many issues. The issues can be:
Wrong or invalid chosen country code
Burner number detection, which is blocked by Discord
Another account that used the same phone number during verification
You do not have a phone number for verification
Incorrect verification code entered
To resolve these issues, you cannot completely bypass this process. Discord phone verification bypass is not possible. To use Discord, you have to go through the phone verification process successfully.
How to verify Discord without a phone?
One way to verify Discord without a phone is using online Discord phone verification, which means using online numbers for verification. 
You can use a temporary/ virtual phone number online to verify your account for one time without using your actual phone number.
There are multiple benefits when it comes to using virtual Discord phone verification. You do not have to worry about privacy. Once used, your virtual phone number won't be used anymore elsewhere.
A user can also create multiple Discord accounts with different virtual phone numbers available online using Discord phone verification.
In situations discussed earlier, when the user gets a trigger error, "You are being rate limited", the user can use the virtual phone number and enter it to unlock their account and start using Discord again.
Conclusion
In this article, we discussed the application Discord, its use, its servers, and how you can use Discord phone verification to either unlock your locked account or during a fresh login without using your real phone number. Several services offer phone verification services. But finding the right service that takes care of security and does its work efficiently is critical.
I hope this article helped you. Feel free to share your views on Discord phone verification in the comments section below.
Disclosure: We might earn commission from qualifying purchases. The commission help keep the rest of my content free, so thank you!