Today, the term 'Smart' isn't just related to phones. With the advancement in technology, almost every electronic item has become as smart as it could be. We have smart TVs, smart washing machines, smart refrigerators, and other items to absolutely make us feel like we are really moving towards the future where flying cars won't be a big of a deal.
However, flying cars are still a far-fetched dream, but having a smart home isn't. Looking at the present scenario we could say that we are going to stay inside our home for a very long time until science doesn't come with a solution to defeat the Covid-19 pandemic. Now, when we are spending almost every minute of our lives quarantined, it's time to make our lives better by being inside the house by making it almost as smart as possible. And we think having the voice assistants in our homes could be the start to build a smart home.
Voice assistants could be really helpful in a household where multiple family members reside under one roof. You communicate with the other installed smart devices with the help of a voice assistant very easily.
In this article, we will tell you about all the products you can install in your house and can turn it into a smart house. After a thorough research by our team members we have come up with a list of smart products that could really make a difference in your lives, now when staying indoors has become a new way of living. But who's stopping you from spicing your lifestyle a bit and making it more comfortable not just for yourself, but for your family members as well.
According to the report covered by Markets and Markets, "The smart appliances market is witnessing rapid growth; it is expected to reach USD 37.2 Billion by 2020, and grow at a CAGR of 15.4% between 2015 and 2020. In the smart appliances ecosystem, smart home and smart kitchen appliances play a vital role."
This report provides us some very important details about the smart home appliances and how things are looking really good for the smart appliances market in 2020. In 2014 the smart appliances market was valued at USD 7.7 Billion and the same market jumped by 16.8% between 2014 and 2020, showing us the trend where people are purchasing more smart devices than before. Here we are not only talking about smart products like Amazon Alexa or Google Assistant or Apple HomeKit but products like smart washers and smart dryers which accounted for the largest share in the market.
Now, let's move forward with the article. Here is the list of 5 Smart Home Appliances that could turn your home into Smart Home.
Amazon Echo Dot (3rd generation)
Echo Dot is Amazon's entry-level smart speaker that could be useful in several ways when installed in your house. This $40 smart speaker could also be grabbed at a discount as it's on sale most of the time on Amazon. Depending upon the size of your house or number of rooms you can install 2 or more speakers which can be linked to each other with a simple click. But two paired speakers is what we recommend as they give you a better experience and connectivity.
Most of the time you won't even notice it is there lying in the side table in your living area or dining room. Most of the time you will end up asking it about today's weather, or set a reminder, or play a song or two, that's it. But that doesn't mean you will only use it for these little things, because they might seem like little tasks, in reality, when you are sitting by the side of the window enjoying rain with a cup of tea in hand, and suddenly you want to listen to one of your songs, with just one voice command you can make that happen without you getting up from your place and ruining the perfect 'me time'.
Samsung High-Efficiency Front Load Washer with AddWash Door
Next on the list, we have the Samsung Smart Washing Machine that comes with a front load washer with the AddWash Door feature. Just because we are staying at home, it doesn't mean we don't have enough clothes to wash. We know what a task washing our dirty clothes is, and just to ease that process of yours, we have brought this product from Samsung that is the best in the market and has made washing clothes enjoyable.
The best feature of this washing machine is the option to connect it with your home WiFi. All you need to do is install the Samsung SmartThings App on your smartphone and you are good to go. You can control the cycle, schedule the cycle, and could see how much time is left for the cycle to get completed. Of course, you'll have to put clothes and detergent by yourself, other than that there is nothing you have to do. You can control all of its features through the app.
Talking of other features about this machine, you can wash a full load in less than 36 minutes with the "Super Speed" feature, where the bottom of the machine releases steam to the tub for a better saturation process. And let's not forget about the "AddWash" feature which lets you put clothes after the cycle has started. Click here to read about ifb washing machines.
Ecobee SmartThermostat
Ecobee SmartThermostat is a Wifi enabled thermostat that lets you control your home temperature system over your phone through its integrated app or with your voice. Here are some of the features that really make it stand out.
This smart thermostat can itself read the room temperature and can adjust it accordingly, but if you want to have a different setting for each of your rooms, it gives you the option to do that as well. Ecobee supports all three major voice assistants available in the market such as Alexa, Google Assistant, and Siri.
However, the most amazing feature about Ecobee SmartThermostat is that you can use it the same way you use Amazon Echo. Though its voice won't impress you, it does the work for your house.
Arlo Pro 3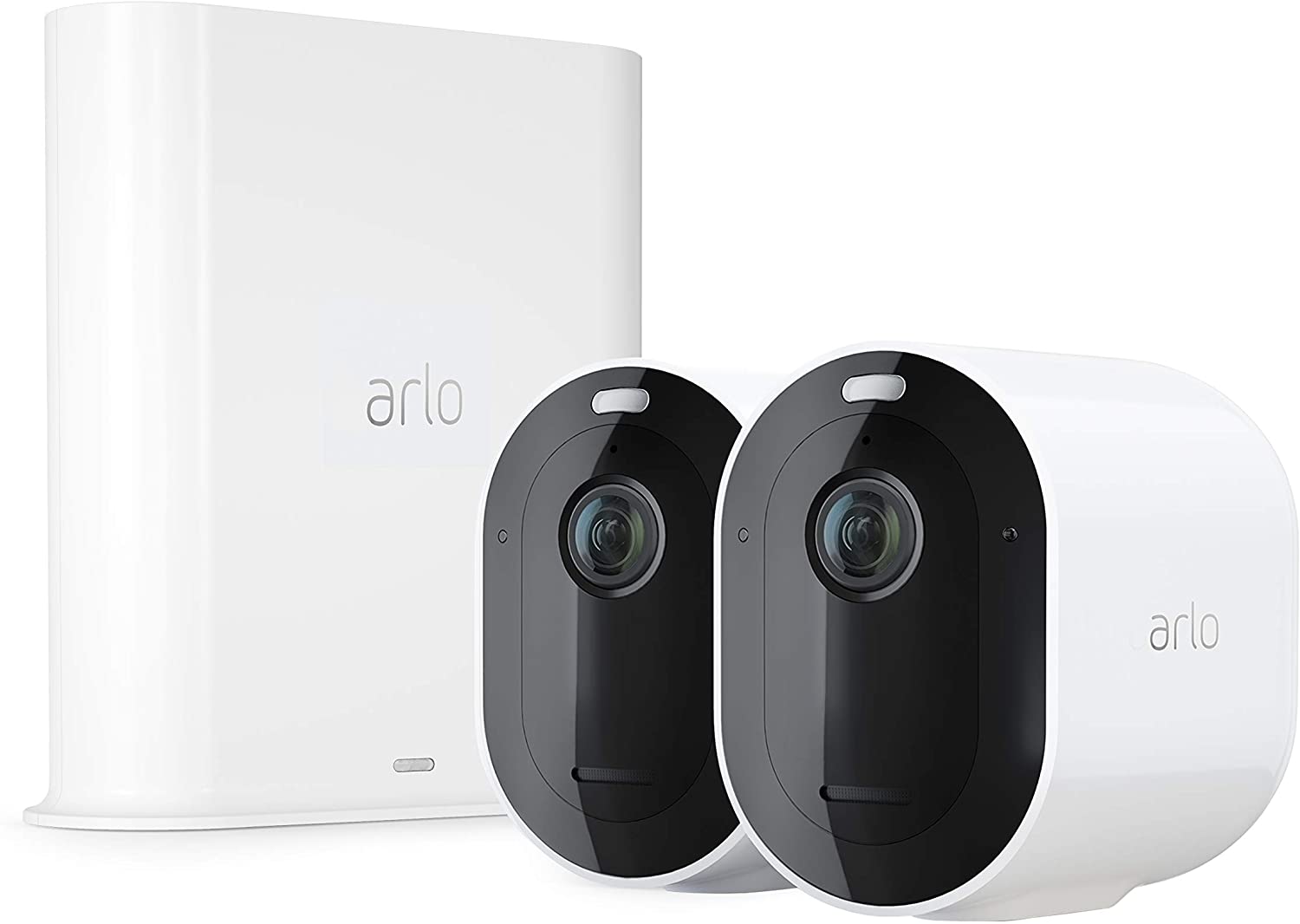 Arlo Pro 3 is an expensive but powerful security camera that can be controlled over your home wifi which we think is very useful. You can easily keep an eye on and around the house and can control the camera angles over your smartphone.
It has an easy-to-install magnetic base that can easily stick to the surface. It has a waterproof design so that you don't have to worry about putting a shed over its head to save it from rain. You can either power it with wires or rechargeable batteries that have 6 months of battery life (included with the cameras).
Taking picture quality, Arlo Pro 3 records the video in 2k which is really impressive. It also comes with an in-built siren for better security. If security is what you want for your house then spending on Arlo Pro 3 is something you shouldn't think twice.
GE Smart Front Load Energy Star Washer with UltraFresh Vent System
Not only Ge Smart Front Load Washing Machine is Wifi enabled but can be controlled with your voice with the help of voice assistants like Alexa or Google Assistant. It comes with an UltraFresh Vent System with OdorBlock that stops extra moisture inside the machine which makes your clothes smelly (happens when you leave your washed clothes in the machine for too long).
With this machine, you won't have to worry about putting the detergent for every wash as it can be preloaded with the detergent for up to 32 washes which the machine dispenses by itself after sensing the number of clothes you have put in. As we said it is Wifi enabled and with the help of GE's SmartHQ app you can control it remotely and monitor its function over your phone. You also receive alerts on the phone and can easily schedule the wash with a click.
Disclosure: We might earn commission from qualifying purchases. The commission help keep the rest of my content free, so thank you!