HAVA is one of the best countertop dishwasher brands in the market today. With over 100,000 happy customers, HAVA makes this washing convenient and easy. It also makes the kitchen space appear tidier.
Besides, the HAVA countertop dishwasher is compact, making it the ideal companion for road trips on RVs. You could also use this dishwasher in boats and small apartment spaces where a dishwasher is a necessity.
It also does not require any difficult form of installation, so you don't need to employ the services of a plumber to install this dishwasher.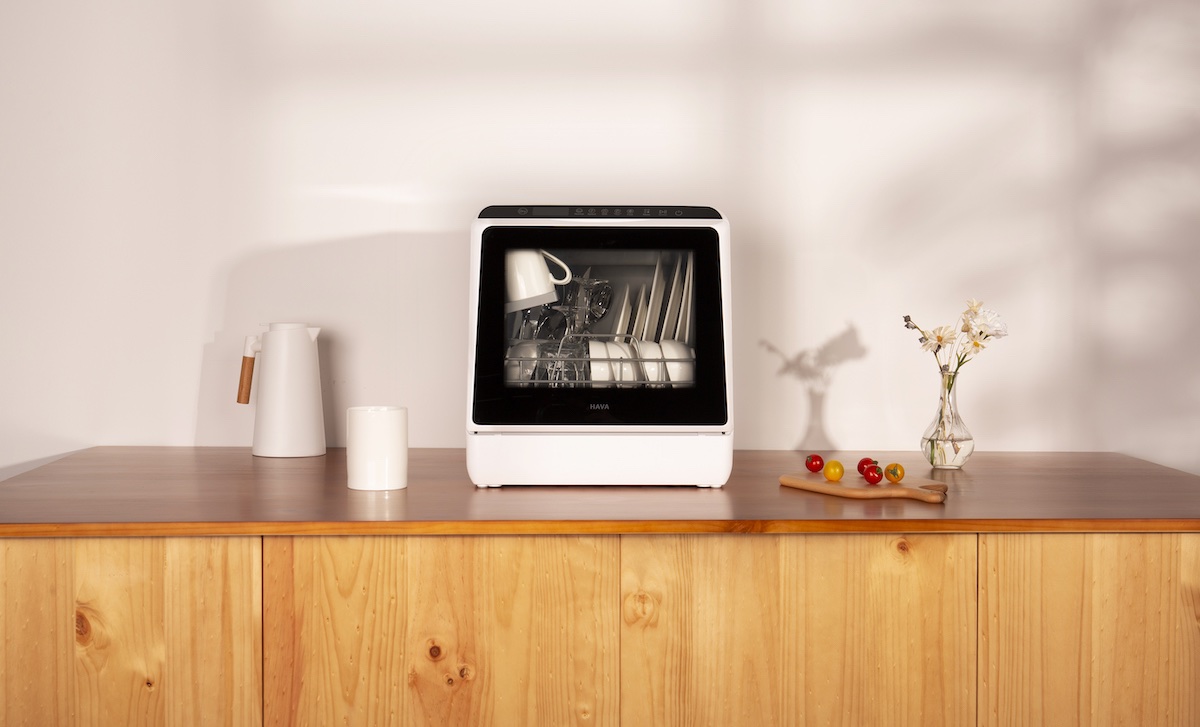 HAVA Countertop Dishwasher: The Verdict
HAVA countertop dishwasher is one of the best dishwashers on the market. This compact dishwasher is both aesthetic and functional. It comes with impressive features that ensure your dishes always appear great.
You will love this dishwasher because it offers the option of using either the built-in water tank or connecting it directly to a water faucet. Another reason is that it cleans dishes efficiently using its top and bottom spray arms, coupled with five wash cycles.
Pros
It is a quiet dishwasher
Features a built-in 5 L water storage, which is handy if you do not have the leverage of direct connection to a faucet
It is not selective of detergents. You can use common detergents with HAVA
Cons
Limited tray layout. Hence not a suitable option if you always need to wash many large dishes.
Lack of color options. The HAVA countertop dishwasher is available in a single color.
Having reviewed several dishwashers, the HAVA tabletop dishwasher is one of the most efficient washers we reviewed recently. It is more compact than most dishwashers, helping you save space in the kitchen. You don't need to connect this dishwasher directly to a water faucet as it comes with a 1.3-gallon water tank, making it user-friendly. This water tank feature also saves you from installation stress in a place where you might find it difficult to connect to a water source. Thanks to the automatic water level indicator feature, you can also know when the water tank is full to prevent waste.
The HAVA countertop dishwasher also has five wash cycles, coupled with upper and lower spray arms. The 5 wash cycles offer you a variety of washing options: Normal, Speed, Soft, Baby Care, and Fruit. The Baby Care and Fruit washing mode come in handy if you want to wash baby dishes or fruits. The upper and lower spray arms encourage 360-degree washing, ensuring your dishes are thoroughly clean. These features and programs rival those found in other best dishwashers like Farberware countertop dishwashers, ensuring your dishes come out spotless after going into this washer.

It also features a dry mode that ensures your dishes dry rapidly without the customary hazy or spotty film usually found on dishes left to dry. These features also ensure your dishes are always ready for use in a short period after wash.
The HAVA countertop dishwasher has two place settings with standard-sized dishes loaded at an angle. It features racks and a cutlery basket that make for easy organization, which helps unclutter spaces in dorms and small apartments.
Another feature you would find handy in the HAVA tabletop dishwasher is LED illumination coupled with a dual-layer glass door. The LED illumination allows you to view the interior in low light conditions, while the dual glass gives you a view of the dishwasher interior.
HAVA RO1: Dimensions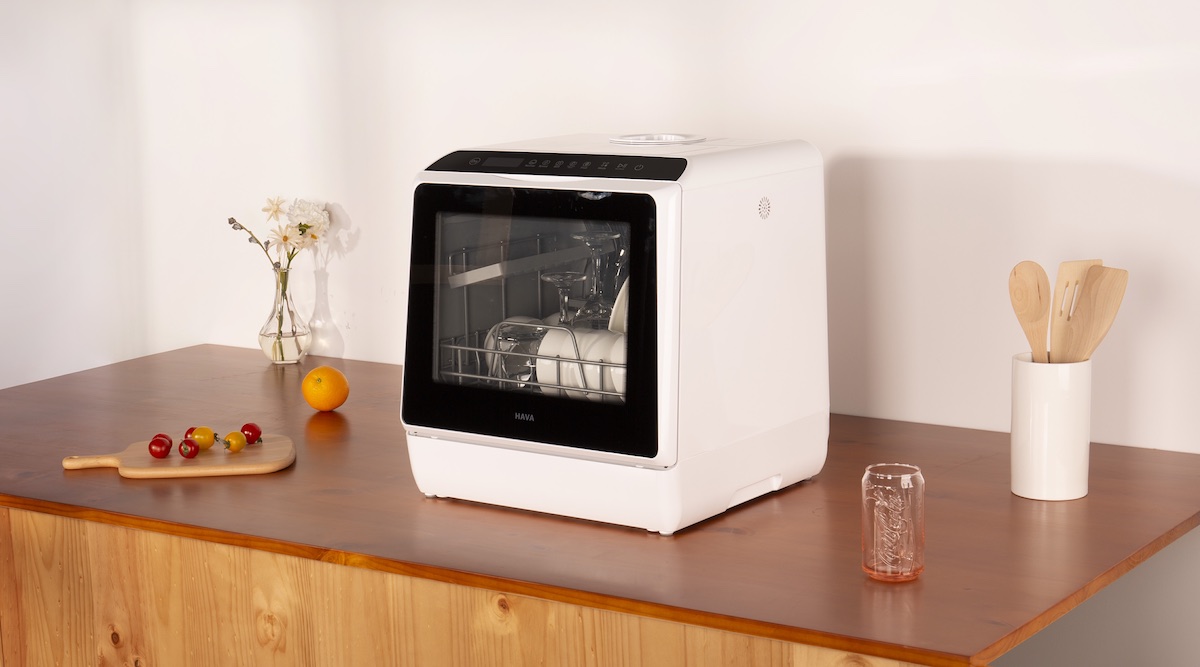 Width: 16.87 inches
Depth: 16.75 inches
Height: 18.05 inches
The HAVA countertop dishwasher with water tank is compact and has space for two place settings. You can fit four serving bowls in the HAVA dishwasher comfortably and still have enough space for four cups, four small plates, and four dinner plates. The interior of the HAVA countertop dishwasher also gives you space for 7 spoons, forks, and knives.
However, it is important to note that while the HAVA countertop dishwasher provides enough space for washing your dinnerware and cutlery, it still has limitations. One major limitation is that it is difficult to fit any dish larger than a small saucepan inside this dishwasher due to its compact nature.
So, if you have bigger dishes than a small saucepan, you would have to consider other dishwasher options. But if your dishes are mainly small in size, then the HAVA countertop dishwasher is just perfect.
HAVA R01: Easy Installation
You can easily install the HAVA countertop dishwasher by connecting it to a water faucet through a hose and connector valve. These accessories also come with the dishwasher. You can empty used water into the sink through the drain hose. This easy installation process saves you money on plumbing fees for installing a conventional full-size dishwasher.
Also, since the HAVA countertop has a built-in water tank, its installation is more flexible. This means you can add water to the dishwasher using the plastic jug accessory.
It is a portable dishwasher countertop, which makes it able to sit on most level kitchen surfaces with minimal space consumption. Furthermore, its compact nature makes it ideal for use in RVs and other small spaces.
However, being compact does not mean you should position this dishwasher beneath a standard kitchen cabinet. It has a height of 18-inch and keeping it under a kitchen cabinet would not be ideal. Another reason why you should not place this dishwasher under a cabinet is because its water tank is on top, and placing it under a cabinet makes the water tank inaccessible.
HAVA R01: Advantages
There are several advantages to using the HAVA R01 compact dishwasher. Chief among them is the flexibility of the water supply. With this dishwasher, you have a choice between a direct connection to a water faucet or filling and using water from the tank. You will also fall in love with the appearance of the HAVA R01 compact dishwasher. Its shiny white exterior, smart angles, and LED light give your kitchen space a futuristic appearance. The HAVA dishwasher's compact size makes it inconspicuous in the kitchen, ensuring it does not obstruct your view.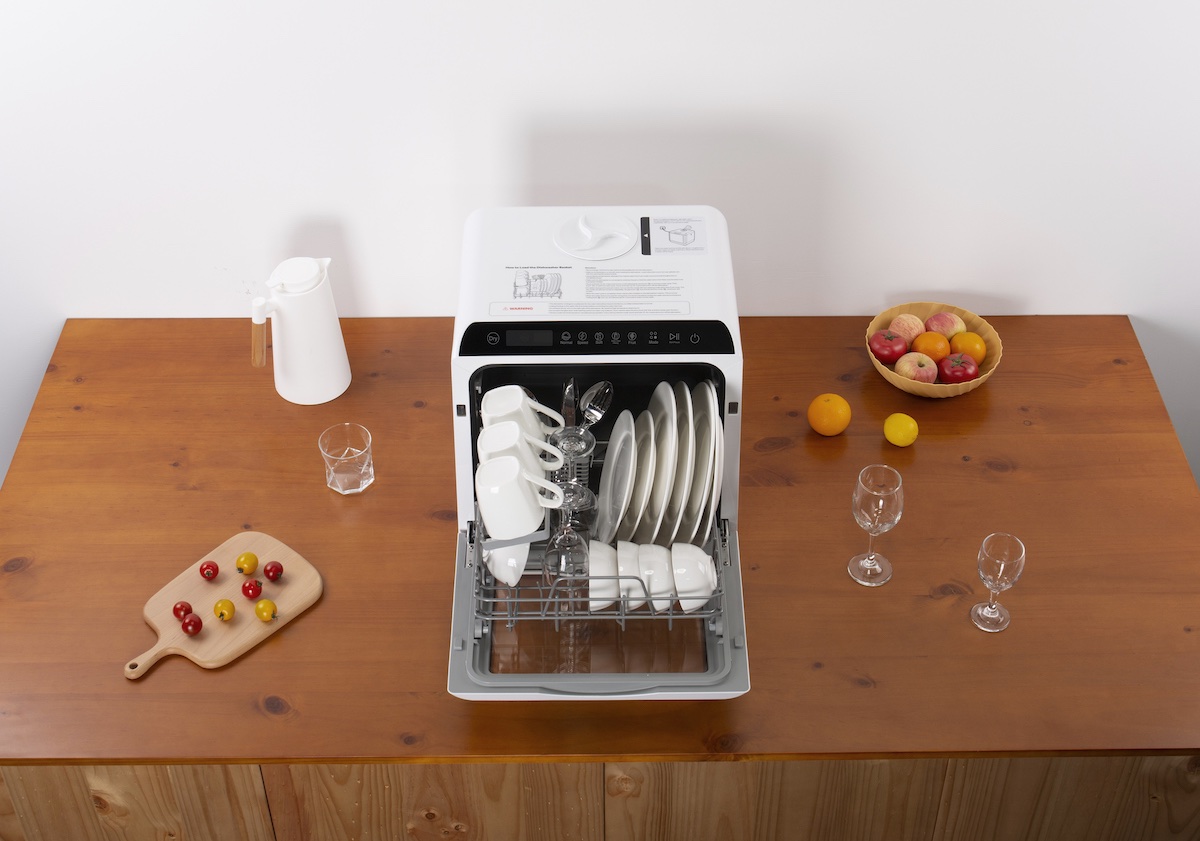 The two spray arms featured in this dishwasher remain an engineering marvel, especially when you consider that the interior of this dishwasher is quite compact. These spray arms, one above and one below produce water that can get to a temperature of 167 Fahrenheit degrees , for thorough dishwashing. Washing with this hot water helps eliminate streaks and other unpleasant dish appearances, ensuring your dish is spotless.
Another advantage using the HAVA R01 offers you is the dry function. This feature not often found in most countertop dishwashers gives you peace of mind knowing that your dishes would not develop a foul smell even if you load them for a while before washing.
The HAVA dishwasher has five washing programs, ideal for different wash needs. For instance, you can use the speed cycle when time is short. You can use the Baby Care cycle when you need to wash baby bottles or other baby accessories. Irrespective of your washing need, there is an option available for you. There is also a fruit basket accessory, with which you use the fruit cycle wash program for washing your fruits. It also features a fruit rinse option for rinsing your fruits.
Noise level is another aspect where the HAVA R01 dishwasher is extremely good compared to most other dishwasher models. The noise level is about 50 to 60 dB and makes a sound akin to that of the hum of a refrigerator.
HAVA R01: Disadvantages
Although the HAVA R01 looks beautiful in shiny white, we would prefer it has a few color options. Our suggestion would be a stainless steel exterior with black color. However, most users like the white color of this countertop just the way it is.
Another downside of this dishwasher is its limited capacity. A few users on the internet say using the dishwasher gets a tad frustrating when they want to wash larger receptacles or pots. Also, cups like the coffee mugs are larger than the space allotted for cups within the dishwasher. Hence, you might have to improvise using the bowl rack to wash such mugs.
Is It Worth Buying HAVA R01?
The HAVA R01 is a budget-friendly dishwasher that provides a balance between elegance and functionality. If you are on a budget and looking for an efficient dishwasher, you should go for this dishwashing machine. At $399.99, the HAVA R01 is a complete steal.
The extra option of choosing what kind of water supply you would like to use for the washing process places this dishwasher's heads and shoulders above many. This option, made possible through a built-in water tank, makes this dishwasher ideal for use in most office and home spaces.
You no longer have to guess which button performs which action with its LCD controls. This makes the HAVA R01 easy to use and control. It also features a LED light, which some people do not like, but serves to display the inner workings of the dishwasher.
If noise is a factor you consider when buying a compact dishwasher, you would be happy to get HAVA R01 since it has a low noise level of 50 to 60 dB. This noise level is one of the lowest among other dishwasher models we've reviewed. Hence, you can make a good conversation in the kitchen without experiencing any disturbance.
Disclosure: This is a sponsored post; We were compensated to publish it on our website.
Disclosure: We might earn commission from qualifying purchases. The commission help keep the rest of my content free, so thank you!