Passbook was a program that has been highly awaited for as long as a couple of months to even a year before its release. Prospective users had the hope that the application would be an option that, in turn, could create a platform for mobile commerce and NFC. However, now here, the hopes of users has decreased a small bit regarding a possible NFC iPhone with Passbook. However, aside from this, minor glitch and compatibility issues have made Passbook a bit less popular. Today, we will look at Gyft, the gift card focused cousin of Passbook, to see how it stacks up.
Briefly About Gyft
Gyft is an application for iPhone, iPod Touch, and iPad that allows you to store gift cards that you already own, that you receive, and that you purchase on your own. Plus, and the reason behind the name, Gyft also allows you to gift any of the gift cards in your arsenal for a quick but much appreciated holiday, anniversary, or birthday gift that is sendable through Facebook, Twitter, email, and even text message. Let's go a bit into how to begin with Gyft, using the gift cards, and a bit about what we like and dislike about the application.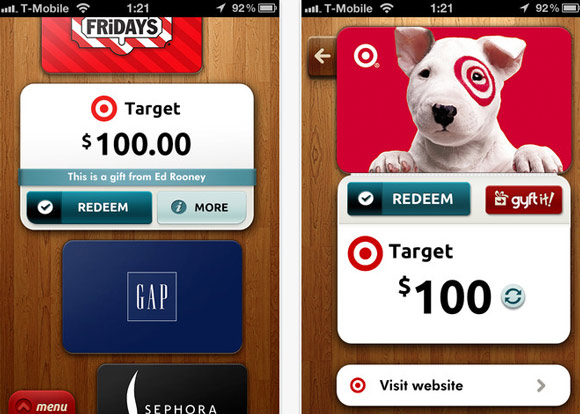 Getting Started
You have a couple of ways to add gift cards onto Gyft. The first way is by adding some of the gift cards already in your tangible wallet. This is made easy in Gyft, requiring you to only have to add the pin code, value, and card number. From there, the card will get verified and sent to your Gyft virtual wallet. The second way to add cards to your wallet is by purchasing the gift cards within the app. Gyft, with multiple partnerships and agreements, has been given the allowance to make available these gift cards from multiple retailers and stores throughout the United States, international locales are expected to have Gyft capability within the beginning of next year.
Where to send your cards?
Just as there are multiple ways to add cards to your Gyft wallet, there are even more ways to use the cards. The first, and most common way, is through purchasing things. There is nothing much to this, simply find the card you want to use, tap it, this flips to reveal a bar code that is scanned. Balance totals usually update to the minute. For more purchasing power, Gyft also has Passbook support, this allows you to send your gift cards to Passbook, even without having to have the store's corresponding application downloaded on your iPhone.
Gyft, as shown by the name, allows you to also send the gift cards as gifts to friends and other individuals. This is made easy through three options, social media, email, and text message. When done through social media, you simply will go choose the card you want to gift, then when choose "delivery options", for example Facebook, you have the ability to choose the recipient, and then set how you'd like its delivery. After being confirmed, the card is gifted!
The Good and the Bad
Some things I love about Gyft is the ability to have everything taken care of within the application itself. From the set up process to the purchasing and gifting process, you'll never have to leave the application. I also love the design of the application, not only aesthetically, but also in user interaction and experience. The Passbook integration is also a major plus for Gyft. Finally, the ability to purchase as well as add gift cards you already have is a genius idea.
The bad with Gyft is that it's focused solely on gift cards, this means that if your focus was a Passbook competitor, I would beg to differ. Gyft is better yet a Passbook complement for a better sense of a designation. The application also isn't available outside of the US until next year. However, the ability to keep your gift cards in a virtual, but safe (pass-codes feature is available) place is a free application that is hard to pass up!
Disclosure: We might earn commission from qualifying purchases. The commission help keep the rest of my content free, so thank you!