Overly suspicious Internet users usually get scared when Google's current red screen pops out to warn them of potential risks from malware and phishing sites. The search giant is trying to alleviate that fear, if not entirely eliminate it, by redesigning the way the warning is displayed on screen.
At present, Google displays a white page against a red background where a warning message indicates potential threats from visiting a certain Website that has been compromised by malware or phishing campaigns. This in no way means that your computer has been infected already.
The warning page is only a message advising you not to visit the website ahead because it might inject viruses into your computer system or, worse, lure you into too-good-to-be-true promises of wealth only to get robbed online, as in most phishing scams.
Read also: Google forms Project Zero team to scour for Internet vulnerabilities
Google plans to replace the white-against-red-background display with an entirely red page, showing an X at the top of the page where it can be more easily seen. The warning message has also been changed for a simpler form. As usual,  clicking the details button of the warning page allows users to choose whether to skirt the warning and proceed to the website ahead with acknowledgment of the risks or heed the warning and stop right there.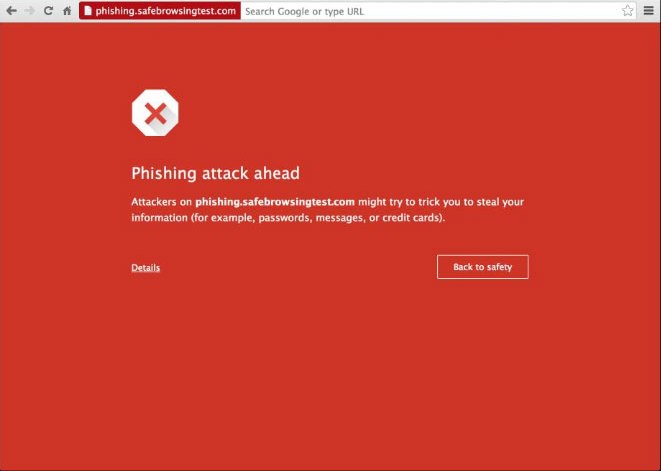 The new design has been mounted on the Canary and Dev versions of Chrome, pending results of a series of tests to see if the change is stable enough to go into full application on the browser.
The warning uses the detection capability of Google's Safe Browsing API to guide its behavior toward a certain website in question. The API works to update its list of suspicious websites that might have been compromised by malware or phishing campaigns.
However, most users tend to disregard serious advisory from Google most of the time, especially if the warning concerns a highly reputable website. They seem to ignore the possibility of a high-reputation website getting compromised. But we have seen such cases recently, such as the compromise that befell CNET's website, and other attacks in the past against other prominent websites like the New York Times.
Google also takes its cue from new studies highlighting the importance of changing how a warning is to be displayed if it is to be respected by the intended audience.
Google hopes that the redesign changes the users' perception of an attack taking place already when they see the warning page. Instead, users could be prompted to take precautionary measures to protect their computer from the threats looming in the corner.
Disclosure: We might earn commission from qualifying purchases. The commission help keep the rest of my content free, so thank you!