After surviving recent Google Panda updates, I thought that my blog would never be affected by Google's algorithm dance as I am always trying to provide good content to readers. However, it seems to be not enough for Google and they just announced another change in the ranking algorithm. The new change can help users a lot but absolutely will bring giant headache to webmasters and bloggers. Specifically, it is affecting seriously the organic traffic to my blogs and makes me desperate. Therefore, I see the need to write this article to notify bloggers about the update and its possible effects to their sites.
Google's New Algorithm Update
Amit Singhal, a Google Fellow, announced on the official Google blog that there has been the new freshness update in the search engine algorithm. It is built upon the Caffeine web indexing system, which is used to crawl the mass and complex contents quickly, that Google completed last year. Depending on the search queries, the new algorithm will decide which one requires the most recent results. Therefore, newer indexed posts will have more chances to get higher ranking so that searchers can easily find up-to-minute relevant information for their queries.
If you own a website with evergreen content, trending topics, recent and recurring events or any other topics with frequently updated content, you don't need to worry much because the freshness update won't affect all queries. Each search query has a different freshness level and the algorithm is designed to distinguish those kinds of queries.
For example, if you do a search for presidential election or NFL scores, the algorithm will understand that you need latest information, not the results from years ago. Of course, you still can find older information by setting a custom date range in Google's search tools. On the other hand, when you search for some evergreen information such as pizza recipe, the freshness level is set lower and some years old pages could get higher ranking on SERPs.
Effects of the Freshness Update on my Site
The updates is stated to affect roughly 35% of searches on Google and my site can't escape this time. For the last few weeks, the organic traffic to TechWalls has dropped dramatically by about 40%. It used to get over 4,000 pageviews but now it's got just over 2,000 views daily. For instance, my pages got very high ranking for some keywords related to the new smartphone Motorola Droid Razr because I publish an article about it very soon. However, the situation has changed very fast and some brand-new articles could beat my post easily.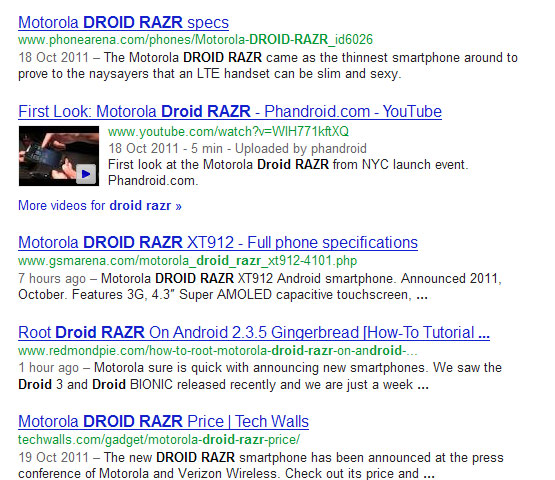 This is just one of many important keywords my site has lost in the last week. The poor performance really makes me disappointed and it could lead to a significant decrease in my online earnings this month. Anyways, this change is necessary for Google searchers including me and I have nothing to complain about it. Moreover, old websites dominating some important keywords now have less advantages and there are now more chances for new websites and bloggers to compete for high competitive keywords.
I also have some ideas in mind to deal with the freshness update and will try them soon next week. If they are successful, I will absolutely share the solutions with all readers. At the moment, I just recommend bloggers to work harder and write more quality and useful content, the solutions could work in all cases.
Is your website affected by the Google's ranking algorithm update? How will you fix it?
Disclosure: We might earn commission from qualifying purchases. The commission help keep the rest of my content free, so thank you!