Google just announced that it will be opening access to its camera and developers would be able to access almost all the camera features, like getting pictures in RAW format from the phone and make new and improved burst image modes.
The new Google Nexus 5 just got out and customers were not that satisfied with the pictures taken by its camera, this is not because Nexus 5 is lacking in hardware but Google thinks it's a software issue.
By opening to the access what Google is trying to do is allowing developers to come up with much better and deeper apps for its camera. Right now Nexus 5 is equipped with a camera that comes with a better sensor and some new features like the burst shoot mode and the HDR+. Now the sensor of the camera plays a huge role in the image quality of a picture but the availability of good software is also needed to control the camera and take full advantage of its hardware.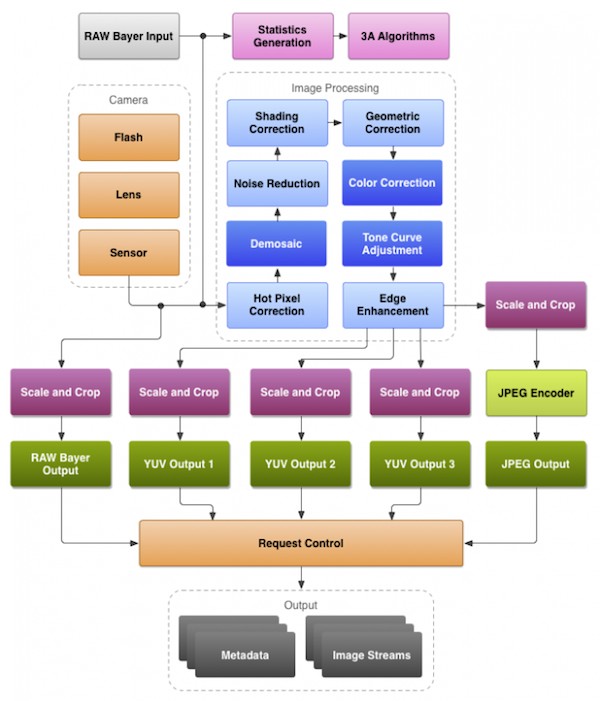 What the diagram above is trying to show is that when Google will open its access to its camera developers will be able to interact directly with the camera and would be completely able to ignore android image processing. On the other hand Google RAW images will help users to use the actual pictures that are uncompressed and edit them with their own apps created by the developers. The advantage of a RAW image over a normal image is that it's uncompressed and because of that it's bigger in size which makes users to take advantage of it and they can edit the image without ruining the image quality of the picture.
Google new burst mode is not just for taking a lot of pictures at the same time but with the new OS kitkat and its new feature called the HDR+ users will be able to take pictures at varying exposures and combining them into one in order to come up with a picture that will be sharper and have a better dynamic range.
Looks like Google have some big plans this year, for now we don't exactly know when this will happen but Google said that they are going to do it in their future updates and we are sure that guys at XDA can't wait to get their hands on it and come up with better camera apps.
Disclosure: We might earn commission from qualifying purchases. The commission help keep the rest of my content free, so thank you!