Just when everybody thought satellite TV and HDTV were the ultimate blessing of the higher power to the nocturnal TV viewer, Google had to up the ante by marrying YouTube to TV directly.
Traditionally, people are used to watching TV programs passively. By having a new tool, Google's Chromecast, it to spice up their TV habits enabling them to switch over from routine TV programs to PC programs (or videos, which till now were exclusive to PC), and enjoy a large screen experience with all the benefits like crystal clear picture and crisp sound.
What is Chromecast?
Chromecast is a nifty device created by Google primarily to stream programs or videos from several devices such as mobile phone, tablet, desktop, laptop, etc. directly onto the television or HDTV through the Wi-Fi. Users can select a program or video from sources such as Netflix or YouTube, while controlling it from an app on the mobile or from the Google Chrome web browser from a PC or laptop. and beam it across the big screen of the TV (which has arguably the largest screen in the living room of most folks).
When was it launched
Google announced the launch of this revolutionary little dynamo on 24th July 2013, and started selling it on the same day in the US. Priced at an aggressive $35, it is a cinch and a winner written all over it. It is the cheapest in the market as of today, as the nearest rival is priced well over $100.
Who are Chromecast Competitors
Chromecast may not be the first device in this genre (Roku and Apple TV and a few other devices were launched earlier) but it certainly is the most exciting of the lot. Till now viewers either had the luxury of watching videos on laptops, or to save it on a pen drive, and then stick it into the TV slot and watch. With the content from such sources as YouTube, Netflix, etc. becoming more interesting than the typical TV programs, there was a need to come up with something to enable broadcasting of this content on the TV screen with much ease and flexibility. Hence the birth of Chromecast.
This device is a leap in not only in technology, but more so in imagination & creativity. With its low price and ease of integration, it is set to change the habits of the population permanently, by enabling them to control what they watch, and when they watch, instead of being passive viewers of TV programs.
How to use Chromecast
Small in size
Chromecast is as big as a dongle, ie the size of one's thumb. It can be plugged in directly into the HDMI port of a high Definition TV. For powering the device, a USB cable needs to be inserted at the back of the device, and connected to a power source, either an outlet on the wall or the USB port of the TV.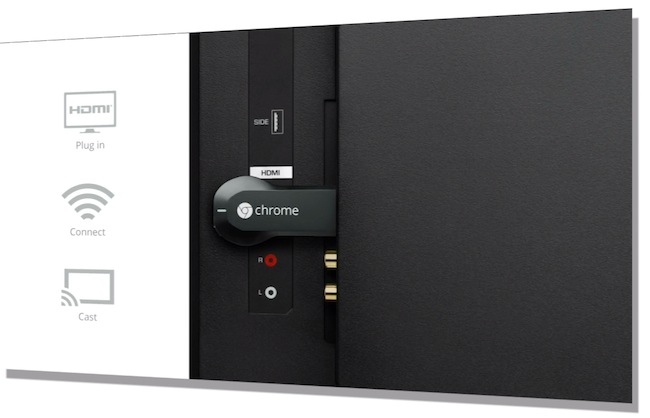 Easy to synchronize
It is terribly easy to synchronize Chromecast with any android device in your possession or even through use of Google Chrome browser. All you need to do is download an appropriate app from the store, install it on your device, plug in the Chromecast and follow the instructions from the provided manual for ease of synchronization
It protects copyrights
One safeguard which Chromecast prominently imbibes is that, it does not stream what are known as Sideloaded programs. Sideloaded programs are those programs, about which Google is not completely certain that they have been legally purchased, or have the right to be viewed. This safeguard is in keeping with Google's policy of adhering to strict copyright standards, and shows its concerns with respect to illegal use of videos.
Windfall for Google & Online Advertisers
Google's main source of revenue is through online advertisements. With Chromecast Google may hit the jackpot yet again! Once viewers shift their preferences from watching conventional TV programs to streaming programs live from Web Browsers, Google can start charging more for online advertisements. The launch of Chromecast would rejuvenate the online advertising industry, which had till now been depending on users clicking on the advertisement links. Of late there have been many doubts being expressed regarding the effectiveness of online advertisements. With Chromecast set to take the world by storm, much action can be expected at the online advertising fraternity. Google would also be in a position to charge premium rates for the advertisements featuring on YouTube and Google Chrome browser, given that its audience reach would get exponentially bigger.
As of now there are only a few apps available for use with Chromecast but with the device ready to take off, many more apps would be lining up to be added to this revolutionary device. Chromecast's launch may take time to sink in, but as it starts becoming available around the world, it will become the defining way; what the Sony Walkman did to the Tape Recorder. At the very least makers of conventional TV programs will have a sturdy competitor on hand.
Disclosure: As an Amazon Associate, I earn from qualifying purchases. The commission help keep the rest of my content free, so thank you!