The Google Authorship program has been available for over a year and many bloggers are taking advantage of this program for benefits of their websites. I check out the news feed on Facebook everyday and it seems like many people can't make it work for their website, some others proudly post screenshots of authorship markup on Google search result pages.
Actually, establishing your Authorship on Google is a pretty simple process in case you do the right way. It will take just 2-3 days for you to see the results. It is simple but the benefits are huge, so this post will address why Google Authorship is important for bloggers and the easiest way to see it in action.
Why Google Authorship?
You probably heard about Author Rank, the new term has been creating a lot of buzz recently among bloggers, SEO experts and internet marketers. In essence, this is the way you can claim authorship over your content, even it is written on your blog or you guest post on other websites. When people make a search on Google, your face will appear beside the link and description of your article. Here is what I mean:

All your works will be graded and Google will use it to determine the usefulness of your content. So, there are now 2 ways to get higher ranking on Google Search, which are Pagerank-based ranking and Author Rank.
Besides, your face photo beside search results will absolutely help increase click-through rate (CTR) because people know who wrote this article and they will more trust in value of your content. People can also click on the author byline to get to your Google Plus profile, they also can find out other articles that you have written. Moreover, when people click on your link and spend some time to read your content, they will see three more links to your articles if they return to the search result page. Therefore, this is a great way to gain more loyal readers for your blog as long as you are writing useful stuffs. Don't waste it!
Get Google Authorship for your Blog
This is the welcome email I got from Google just 1 days after signing up for Google Authorship.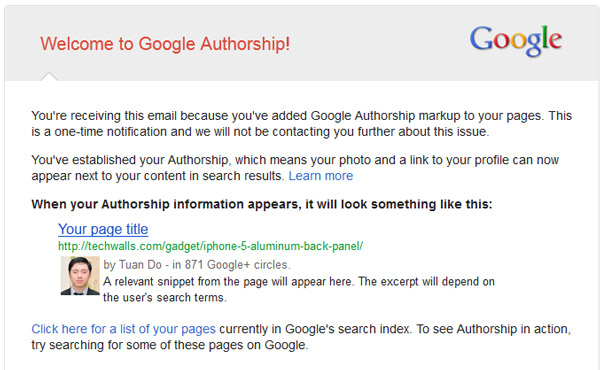 It was more complicated earlier to get authorship markup for your website. Google used to request mutual links with some parameters between your website and Google Plus profile to verify you are the author of specific posts. Now it will take you just 10 seconds to verify. You just need to make sure you have the following requirements:
A clear headshot for Google Plus Profile
Posts on your site must indicate author clearly, such as "By Tuan Do" or "Author: Tuan Do" and the name must match the name on your Google Plus Profile
Visit this page and fill in your email to sign up for authorship. Notice that you must use email on the same domain to verify, for instance [email protected].
After 1 or 2 days, you will receive the confirmation email from Google and you are good to go. No linking required at all.
Disclosure: We might earn commission from qualifying purchases. The commission help keep the rest of my content free, so thank you!