I'm going out next month, so I have been on the search lately for some travel apps to load onto my iPad for the plane ride and even for during the trip. One app I encountered was Flight+, an app that hopes to be the flight focused better alternative to Flight Track Pro. However, It makes me wonder if the application will do well in terms of making the flight experience smoother. From my experience with Flight+, it seems like an app that really makes the flying experience more simplified and enjoyable than before.
Key Features
The main feature of Flight+ is to track your flights. Flight+ does this by making sure that the status shown on the app is up-to-date, making sure you know whether your flight is delayed, on-time, or even cancelled. This is done by adding the date of departure, from which airports, to which airport, and the airline. Your scheduled flight would then appear at the bottom of the screen, allowing you to view more information on them. You now have the ability to see tracking info, gate information, and other essential information involving timing and location. Let's go a bit into how Flight+
Flight+ Interface
The paper-like interface with the black backdrop makes the app very reminiscent of Reminders for iOS. The interface makes use of a tabbed system, allowing you to flip between flight details, airline info, alert settings, and trips & notes. The bottom is also tabbed according to flights, airports, airlines, and maps. In the airline bottom tab, you have the ability to look at info, flight boards, weather, terminal and flight maps.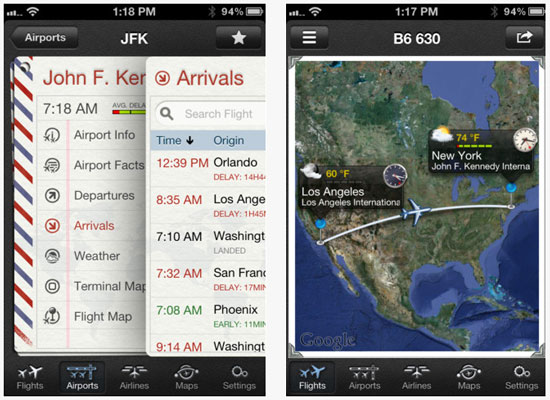 The main page of the airlines section allows you to see the airport's local time, their code, average delay, location, and a couple of links about the airport. The airline tab allows you to see basic info and the airline's twitter feed (great for getting up -to-the-minute info and deals). All of these features, in a wonderfully designed interface, allows you to stay updated and informed about your flights.
Final Thoughts
All in all, I feel that Flight+ is a must have app for individuals looking for a quality flight tracker. With the iCloud compatibility, you have the ability to apply changes and additions across your iOS devices. TripIt compatibility allows you to have trips imported and exported between Flight+ and TripIt. With the well informed app also having integration in other parts of your iOS device, it makes it a key addition to your trip packing list.
Disclosure: As an Amazon Associate, I earn from qualifying purchases. The commission help keep the rest of my content free, so thank you!