It seems like you can't evade your friends any longer with Apple's new creation, Find My Friends. Find My Friends for iPhone now allows you to see the relative location of your contacts that also have the application (and iOS 5). The user is able to manually hide and show their location to their followers, so security worries are minimal. The software is considered a blessing to many individuals, including the preying caring eye of many parents wanting to know the location of their children. Let's take a look at what this application has to offer.
Downloading Find My Friends
You have two ways of downloading the application. Either through the iCloud website on the iOS device you want to use it on, or through iTunes. I downloaded it through iTunes and found that to be the easiest and most familiar way. Besides, They both end up in the same place, in iCloud. Once downloaded, make sure to have your Apple iD credentials ready and sign in. Once logged it, the rest is easy to use.
Features
Find My Friends allows you to add and request to see the locations of your friends. Their location, if they opt in for it, will be shown on the map. You can also choose to share your location for a short amount of time. This is the perfect way to schedule a meet up with friends, maybe at the cinema or a restaurant. The page shows you how far they are from you as well, just in case you don't know the location they are in. Events can be made in the application, for example "Dinner with Friends"; your location can be temporarily shown just for the event.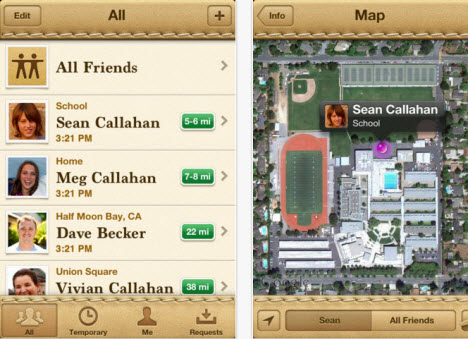 Parental Control
This application may not be geared toward parents, it is called Find my Friends, not Find my Children. However, it is an application that parents will find to be a great tool in keeping up with where their kids are. But, as we know, teens are tech savvy these days, and will know how to disable this feature. But Apple also added Find My Friends in parental settings, allowing you to lock the settings in to prevent any tampering.
Wrap Up
Overall, if you find use with knowing the location of friends and family, this is the application for you. Unlike other applications, it's not something that you'll grow into using. You'll either find it necessary or no use in it at all. Parents will find it perfect for keeping up with their children, friends will find it a perfect way of spark a spontaneous meet-up. If you are interested, download Find My Friends on the App Store today!
Disclosure: As an Amazon Associate, I earn from qualifying purchases. The commission help keep the rest of my content free, so thank you!