Mobile Internet speeds falling short of user expectations are nothing new at least in the U.S., yet the Federal Communications Commission keeps turning a blind eye on this habitual shortcoming and fails to implement consumer protection measures.
It has been a popular source of inconvenience for mobile Internet users to subscribe to a 10 megabits per second plan, for example, as purported by a brochure they grabbed from a promotional stand and end up surfing at only 5 Mbps. Switching then to another service provider is the most viable option. But what guarantee do you have that the same bad experience would not occur with a new mobile Internet service?
Addressing this growing concern among users requires an effective tool to gauge which service provider gives the best Internet speed among others. Which the FCC should have acted on long ago.
Speed Test App and How it Works
Thankfully, at least, the commission has released the FCC Speed Test App for Android devices as part of a wider broadband program aimed at appraising the performance of mobile networks. The app is built to run in the background, gathering data on a smartphone's connection speed, latency and packet loss and transmitting the test results to the cloud for an analytical comparison with other datasets collected from various other devices.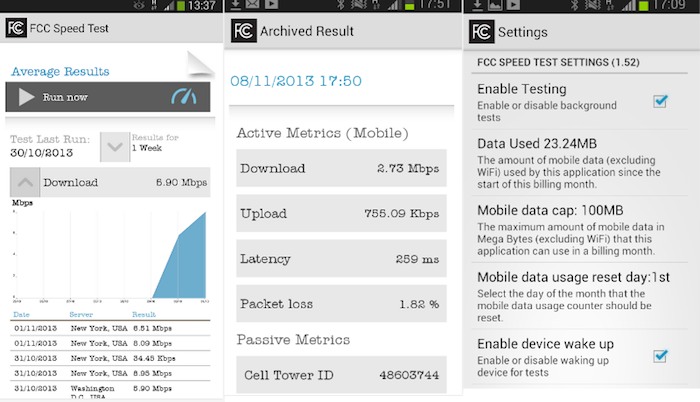 The evaluation not only will help consumers choose the best service provider for them, it will also aid in FCC's initiative to aggregate significant data from all mobile carriers, especially the big four, with the goal of drafting regulations sooner or later as the need arises.
Previous Speed Test Results
There is not yet any conclusive data on which specific carrier provides the fastest Internet speed. A report, however, released by Root Metrics in March has elucidated with satisfactory figures which carrier is faster than which one.
According to the LTE speed test, AT&T provides the fastest download speed of 18.6 Mbps and an upload speed of 9 Mbps, followed by Verizon Wireless with 14.3 Mbps of download speed and 8.5 Mbps of upload speed. Sprint placed third, reaching a 10.3 Mbps download and 4.4 Mbps upload speeds. Ranking fourth in the tests, T-Mobile registered a download speed of 7.3 Mbps and an upload speed of 1.5Mbps.
Again, those results are not unmistakable. The results from the FCC speed test app might display entirely or slightly varying connection speeds, depending on the users' location and several other factors contributing to Internet services. The most important thing is that consumers get the value of their subscriptions at the end of the day, without excess or shortfall.
Disclosure: As an Amazon Associate, I earn from qualifying purchases. The commission help keep the rest of my content free, so thank you!