Facebook isn't contented with allowing you to just send messages or photos to friends via its Messenger app, it now wants to let you send payments as well.
Tech giants are of late turning their attention to the mobile payment arena, which is rapidly attracting many consumers for its ease of use and quick process. At the same time, the emergence of mobile payment services poses a threat to traditional institutions that have long been providing this kind of service at a relatively longer pace.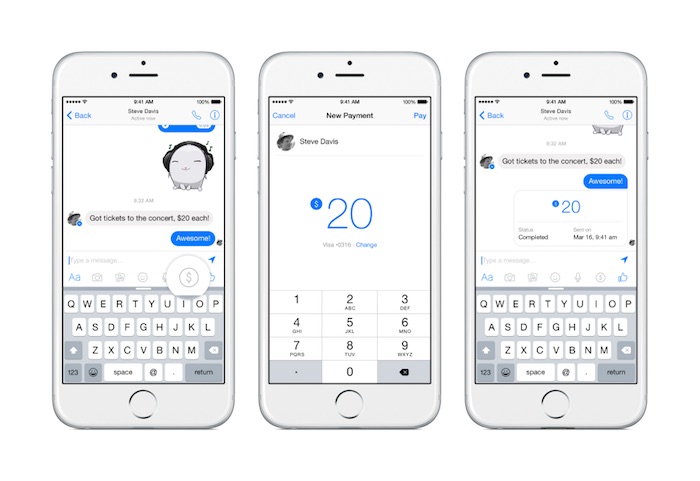 But while Apple and Google were ahead in time to enter the race, Facebook is doing it in its own way. While other tech companies are focusing on establishing business partnerships with retailers in order to entrench their payment system in almost all locations, Facebook intends to expand the use of its Messenger service.
On Tuesday, Facebook users in the United States began to have access to the service, though it would take months before the mobile payment becomes available to users worldwide. It is available on Android and iOS devices, as well as on computers.
At present the mobile payment isn't tailored for business enterprise, meaning it is optimized for casual transactions such as paying debts to your friends, for example. This occurred to Facebook's team that developed the service following observation that most messages exchanged via Messenger has been involving money.
As to how Facebook came up with that conclusion remains unclear, but could mean one thing: it is eavesdropping on your private conversations? It is hard to tell at present.
Mark Zuckerberg and his team might have been tempted into creating the mobile payment system amid the growing trend among its peers. If you are using, for example, PayPal, it is safe to expect that its days of glory are numbered. Enter the era of mobile payment.
The Messenger payment works by displaying a dollar icon on the media tray at the bottom of the Messenger window screen. By tapping on the icon, you will see an option to enter an amount for payment. You will have to also enter your MasterCard or Visa debit card information in order to complete the transaction. This is a one-time set-up so that you won't have to repeat the process in your next payment. This means Facebook will store data about your card. In order to secure the process, you have the option to add a four-digit PIN to wrap up the process.
The mobile payment does not work with credit cards.
Disclosure: We might earn commission from qualifying purchases. The commission help keep the rest of my content free, so thank you!