Twitter has been holding the crown for discussion about music and tv shows. But this reign is about to end, at least by the looks of it. Now its rival Facebook has launched a new feature to get users to talk about music and tv shows more on its platform.
A Shazam like tagging feature is coming to the iOS and Android status composer can activate your phone's microphone, recognize a TV show you're watching or song you're listening to, and tag it in your News Feed post. Friends can then listen to a 30-second preview of songs or see a link to a TV show's Page.
Facebook is using its own identifying engine built from scratch in its own headquarters that it will roll out to iOS and Android users in the coming weeks. It's an extension of thefeeling and activity sharing features that were rolled out last year. Facebook says 5 billion posts have used the options to share what you're feeling (proud, excited), doing (Drinking soda, playing soccer), or what media you are enjoying. Soon that last activity type will be much easier to share thanks to the audio ID.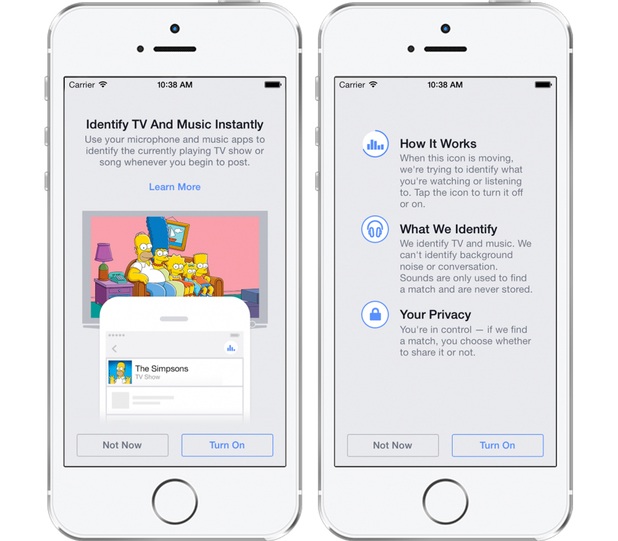 This new feature is opt-in, meaning If users do not turn it on from setting in the app, nothing will change about their Facebook experience. But if they do, they will see a little audio levels indicator when they open the status composer that can identify any of millions of songs or TV shows. The song on the TV show will then show up as activity in the status composer which you can then post.
Facebook has also integrated with Spotify, Rdio, and Deezer. This means the users will be able to listen to 30-second audio previews of songs which are shared on their news feed. For TV shows things are not as simple, due to licensing issues, rather than showing a clip of the episode Facebook just links to a show's Facebook Page instead. This a a step in the right direction from Facebook and will bring a more seamless experience of sharing music and tv shows experience than Twitter.
Disclosure: We might earn commission from qualifying purchases. The commission help keep the rest of my content free, so thank you!