Sony has a number of high end phones slated to be launched this year. Among them, the first is the Sony Xperia Z which has just been announced at CES 2013 and named as one of the best product of the show.
It is the latest addition to the company's flagship Smartphone series and it is set to right all the disappointments last year's Xperia T had delivered. With an array of impressive specifications, critics and enthusiasts are all equally excited to see this phone take the market by storm. But does it really have the specs and quality to match up to the reigning giants of the industry? Let's take a look.
Sony Xperia Z Design
Sony Xperia Z has a sprawling 5inch TFT capacitive screen, which puts it in the league of the big boys like Samsung Galaxy S3 or Nokia Lumia. Although, the 5inch may also seem a little too big to a few users, its 7.9mm thickness may just be its saving grace. It weighs more than Galaxy S3 and iPhone 5, but its 146g heavy build is still much lighter than Lumia 920. There are no physical buttons on the front, which makes the continuous glass covering more aesthetically pleasing. It has a minimalistic plastic back cover which looks surprisingly sophisticated.
Display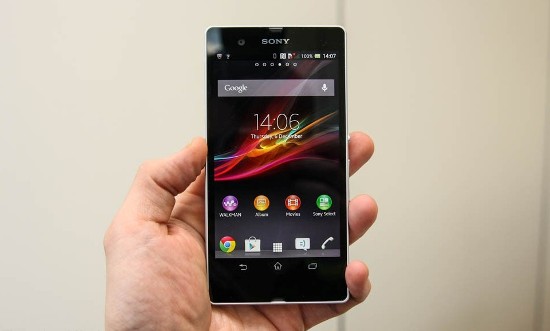 The screen has always been an important aspect of all Sony Xperia phones and Xperia Z does not disappointed either. It has a 5inch screen of 1920 x 1080p full HD display compared to which iPhone 5, Galaxy S3 and Note 2 fade into the background. It is vivid and chock full of colors at 441ppi pixel density. T Sony has dealt a very smart move by incorporating its widely successful television engine Bravia into Smartphones (Mobile Bravia Engine 2).
Hardware
Sony Xperia Z is powered by a 1.5GHz quad core Snapdragon S4 Pro CPU. It has 2GB of RAM; some may think Sony went overboard with it, but this excess of RAM means graphics-heavy games, especially 3D, run beautifully. The Adeno 320 GPU also ensures excellent graphics. It also helps multi-tasking and shuffling between apps without terminating any of them. It also has 16GB of internal memory which can be extended up to 32GB with the help of a micro SD card.
Software
Sony Xperia Z  uses the latest Android 4.1.2 JellyBean. Some users are disappointed because although Android 4.2 JellyBean has already been launched with Google Nexus 4 last year, Xperia Z will not have the latest version of the OS. Android 4.2 has some neat little features that will appease photography enthusiasts with features like 360 degree panoramas and in-camera photo editing. There have been rumors of an OS update, but nothing has been officially confirmed. Xperia Z has been equipped with Sony's Experience Flow UI, which provides a long leash for the OS.
Camera
Xperia Z is a powerful photography tool with a 13MP camera on its back. With the help of Sony Exmor RS image sensor, it adds richness and vibrancy to colors and reduces noise level in low light conditions. However, these are all listed specs and until the phone actually goes on sale, we won't know for sure. Its True HDR technology allows you to take three images- dark, average and light- and superimposes them to give you an even image or video. It also has a 2.2MP secondary camera.
Battery
Soy Xperia Z has a non-removable 2330mAh Li-Ion battery. As the official websites claims, Xperia Z has 'outstanding battery life' thanks to a curious Battery STAMINA mode. It automatically shuts off battery life chugging apps when the screen is in stand-by; once the screen in back on, the apps come back to life. This, apparently, increases battery life three or four fold.
Verdict
It seems as though Sony has finally managed a phone which will surpass expectations and check all the boxes its predecessor has missed. There is little to speak ill about in this phone; the lack of the latest Android is certainly a prominent complaint. It does not allow very wide angle viewing either. However, it looks fantastic, with a massive full HD screen, yet sophisticated build. The camera is obviously a big USP, especially as it can record HDR videos. It is also waterproof up to 1 meter depth of water. Overall, even though the exact price has not been announced, we can say it will surely be worth the buy.
Disclosure: As an Amazon Associate, I earn from qualifying purchases. The commission help keep the rest of my content free, so thank you!