We at TechWalls have tested a few headsets from EKSA and they all are decent budget products. At this time, they are offering two wireless headsets, namely H1 and H6. The H6 is the more expensive one and we're going to check it out in this review.
Disclosure: We received the EKSA headset in exchange for this review. We spent time testing it to make sure the review is honest and unbiased.
Unboxing & Testing Video
Features & Performance
Unlike the EKSA H1, the H6 comes with two earcups with boom arm attached to the left one. Inside the box, we also have a carrying pouch, a USB Bluetooth dongle, and a USB-C cable. I connect the headset to my laptop via Bluetooth, so I don't need to use the included dongle. That dongle will be useful for PC users as they often don't have Bluetooth.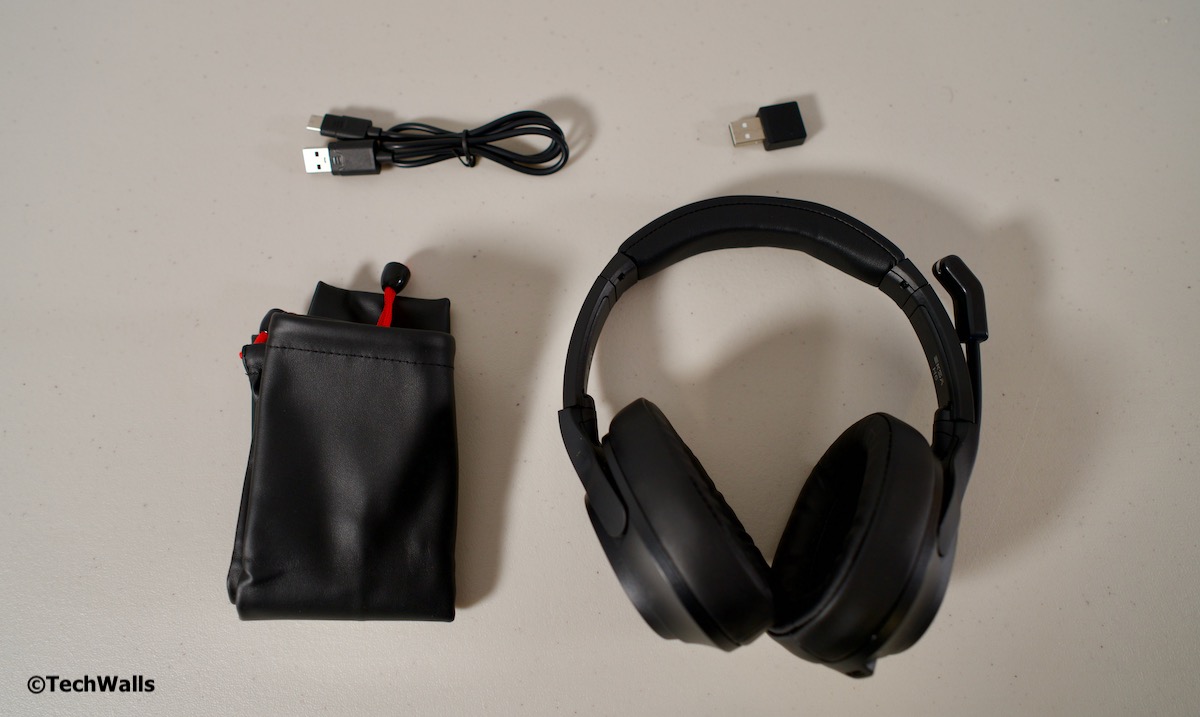 Once pairing with the laptop, the H6 headset with its built-in microphone is ready to use. I was really impressed with its lightweight body; I didn't expect a wireless headset could be such lightweight. Specifically, it weighs 141g (~5oz) and that's the reason why I could wear it for a whole day without any discomfort. This is extremely important if you have to answer phone calls, attend online classes or meetings for hours. This is undoubtedly among the most comfortable headsets I've ever used and sometimes I even forget I'm wearing it on my head.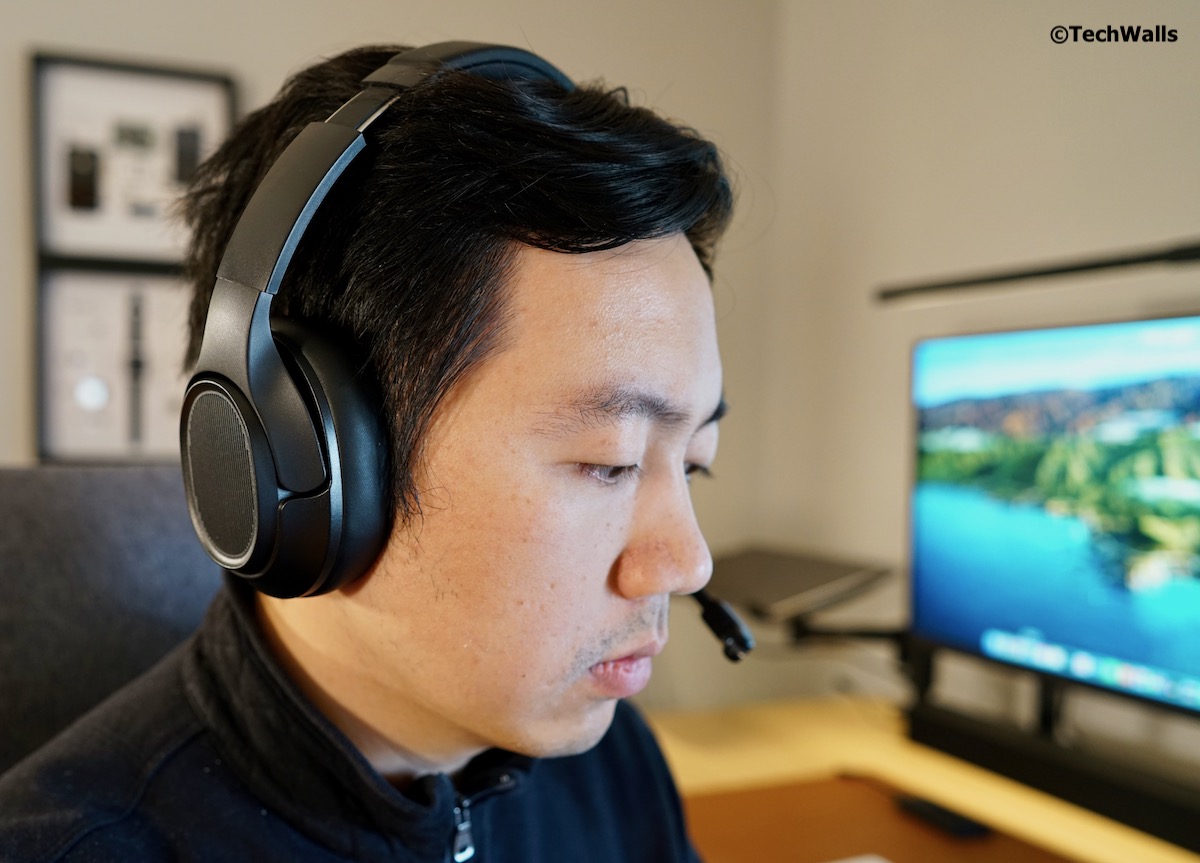 The manufacturer makes it lighter by using mostly plastic on the exterior. Obviously, the headset can't compete with others in terms of aesthetics but its ergonomics would absolutely increase your work productivity.
To start using the headset, you will just need to press and hold the power button to turn it on, rotate the boom arm to the front to turn on the microphone, and you can press the button on the outside of the left earcup to enable the busy light. There will be voice prompts for every action, so you will always know you are doing it right.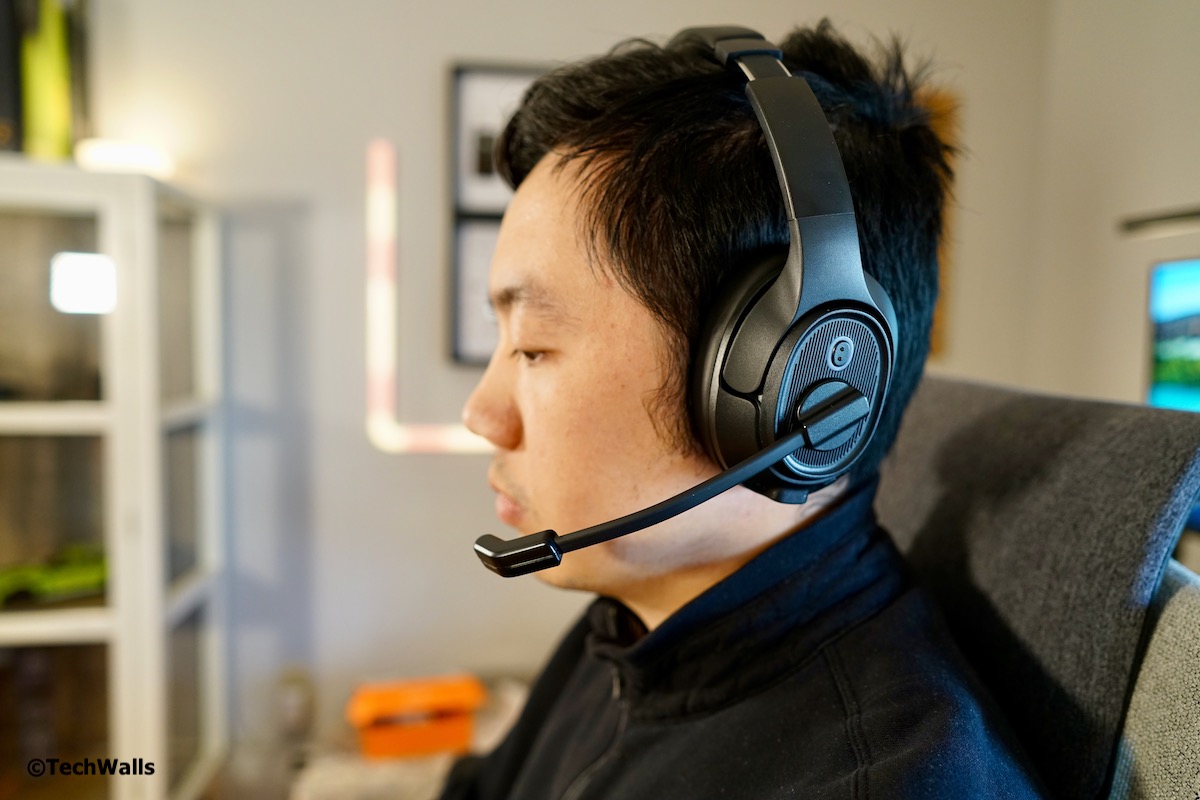 The H6 uses Bluetooth 5.0 connection and it works consistently. I used the headset for a long period of time and haven't seen any interruption. It is powered by a 500mAh battery with admirable battery. According to the brand, the battery could last up to 30 hours of uninterrupted calls and 55 hours of non-stop music. That means you won't need to recharge it for a few days.
Microphone quality is among the most important feature of a headset. The H6's microphone is outfitted with AI-powered environmental noise cancellation and it does a good job filtering out background noise and making our voice clearer. You can check audio sample in the video on top. This is not suitable for podcasting, streaming, or vocal recording; However, it is more than enough for phone calls and meetings. The noise-canceling feature is really helpful when you use it in a loud workspace. The sound might be a bit robotic in that environment but people will still be able to hear what you're saying.
Regarding audio quality of the 2 drivers, it is actually a flat and unenergetic sound. The bass is almost non-existent while the mids are fairly weak even when I crank up the volume. Obviously, this is not ideal for watching movies or listening to music. An advantage of the sound is that it doesn't cause ear fatigue over extended usage.
Conclusion
Pros
Lightweight and comfortable
Noise-canceling microphone
Good battery life
Cons
The EKSA H6 is another decent wireless headset for low budget. However, its price tag of $45.99 is a bit expensive in my opinion because there are some similar headsets in this price range. I'd recommend the product if it drops to around $30.
Disclosure: We might earn commission from qualifying purchases. The commission help keep the rest of my content free, so thank you!