Microsoft is soon phasing out the Internet Explorer browser for Windows 10 to make way for Edge, the software giant's new baby. The Edge browser is still in an early development stage, so it is understandable if you are not familiar with the name. But this early, it's worth taking a look why Edge is the IE replacement we've all been waiting for.
Although it sports a logo relatively similar to that of IE, Edge is said to introduce new ways of doing things like browsing with such a great leap from its predecessor. It will become the default browser for Windows 10 once development is completed, but will not work in previous versions of the operating system. Sorry Windows 7/8 users.
But for users who have already switched to Windows 10, you might want to ditch the legacy IE browser in favor of Edge. One reason is that it is faster. That is so because Microsoft decided not to include backward-compatibility in Edge, which would otherwise greatly hamper its operations and sacrifice speed for more crucial tasks.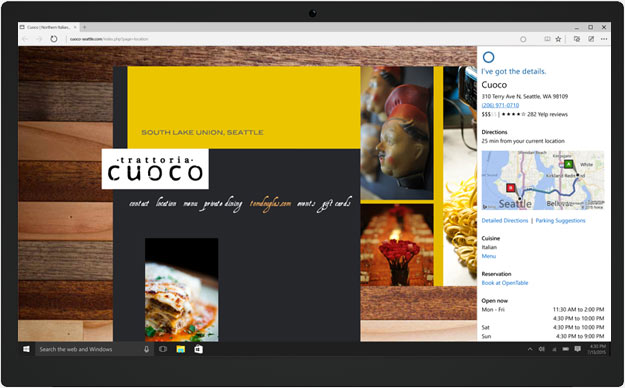 That is also why Edge won't support older versions of Windows. Its code base has been enhanced to run the browser faster and load pages more quickly. In other words, Microsoft tweaked the MSHTML rendering engine for Edge. As a result, Edge now complies with Web standards and displays Web pages in a more uniform format than IE does, even on various devices and platforms.
IE has been constantly plagued by the overload of legacy support, which takes its toll on browser performance. On the other hand, competitors such as, Safari, Firefox and Chrome have releasing updates without much support for old version systems. Microsoft's latest move to level the playing field in this respect is hoped to gain more users in the future.
Other technologies not in the support list of Edge are the ActiveX, Browsers Helper Objects and VBScript, as well as third-party toolbars for IE11, while Adobe Flash and Personal Document Format will get all the necessary support.
Also, Edge will now support JavaScript-based extensions, unlike the IE which did not mind extensions in its previous update releases. If you are a developer, this is especially good news because it means you will now be able to customize web page appearance and functions.
Then there's the personal feel to Edge that Microsoft hopes will attract more users. There is a deep integration between Edge, Bing and Cortana. With these services combined, users will find more smooth and tailored assistance from Microsoft.
Disclosure: We might earn commission from qualifying purchases. The commission help keep the rest of my content free, so thank you!