After many delays since past year, the Harry Potter series finally have arrived in digital form and the e-books are being sold on J.K. Rowling's Pottermore store. Fans of the famous boy wizard now can download e-books and audio books of all seven books to their supported mobile devices.
The first three books of the series are sold at £5.03 each while final four books are sold at £6.29. The prices are much cheaper than printed versions as the printed books are sold at £6.99 and £8.99 respectively. If you want to own the complete collection, you will just need to spend £36.21. Thanks to selling exclusively through her own website, Rowling can receive the highest profit because she doesn't have to share with other booksellers.
This is considered a game changer in the e-book publishing standard because the e-books are not locked with encryption and compatible with most devices, including Sony Readers, Amazon Kindle, Barnes & Noble Nook, Apple iPhone, iPad and Android devices.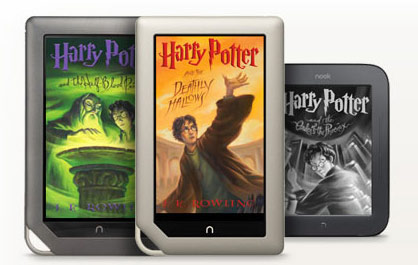 The deputy editor of The Bookseller said this is a new milestone for the digital publishing industry as the series will reduce printed book consumption and be the bestselling e-books in the history. Charlie Redmayne, the chief executive of the Pottermore website, also showed his optimism by telling that there is still a great demand to buy Harry Potter e-books, even for people have already owned the printed version. He promised that the enhanced version of Harry Potter e-books will be available soon, possibly this autumn.
Although the Pottermore store looks quite outdated, it could still get successful due to the popularity of the franchise. Moreover, they have partnerships with leading booksellers like Amazon and Barnes & Noble to make sure that the e-books are compatible with all devices. When you buy the books on the stores, you will be redirected to Pottermore store to make the purchase. The books are not protected by Digital Rights Management (DRM), the standard of digital e-books since 2008, therefore, we can download them in some different formats and read on any devices. As Apple and Google Play stores are not promoting the ebooks, you can download them as ePub files and import to your reader apps. The major experiment in DRM-free ebooks could be an important mark as many people expect this could become the new standard.
So far the Harry Potter series has sold 450 million copies worldwide and this is one of the bestselling of all time. There is no reason it can't do the same thing in the digital world. If you are a fan of Harry Potter, will you get the digital e-books for your mobile device from Pottermore?
Disclosure: We might earn commission from qualifying purchases. The commission help keep the rest of my content free, so thank you!