Douni is almost an unknown brand in the audio world; they released a new speaker called Douni A5 earlier this year and suddenly it has received overwhelmingly positive reviews on Amazon. Are those fake reviews or this is such an amazing speaker? Let's find out in the review.
Unboxing & Sound Test
Design & Features
The Douni A5 features a modern design with control buttons on top and a metal grille wrapping around the body. It even has metal contacts on the bottom that allows us to charge the speaker by placing it on top of a charging cradle. The accessory is nowhere to be found on Douni's website but you can get a compatible charging dock like this one. The speaker has a very solid build and it is quite heavy for its size; In this case, the weight is important because it will help the speaker stay stable at a high volume level.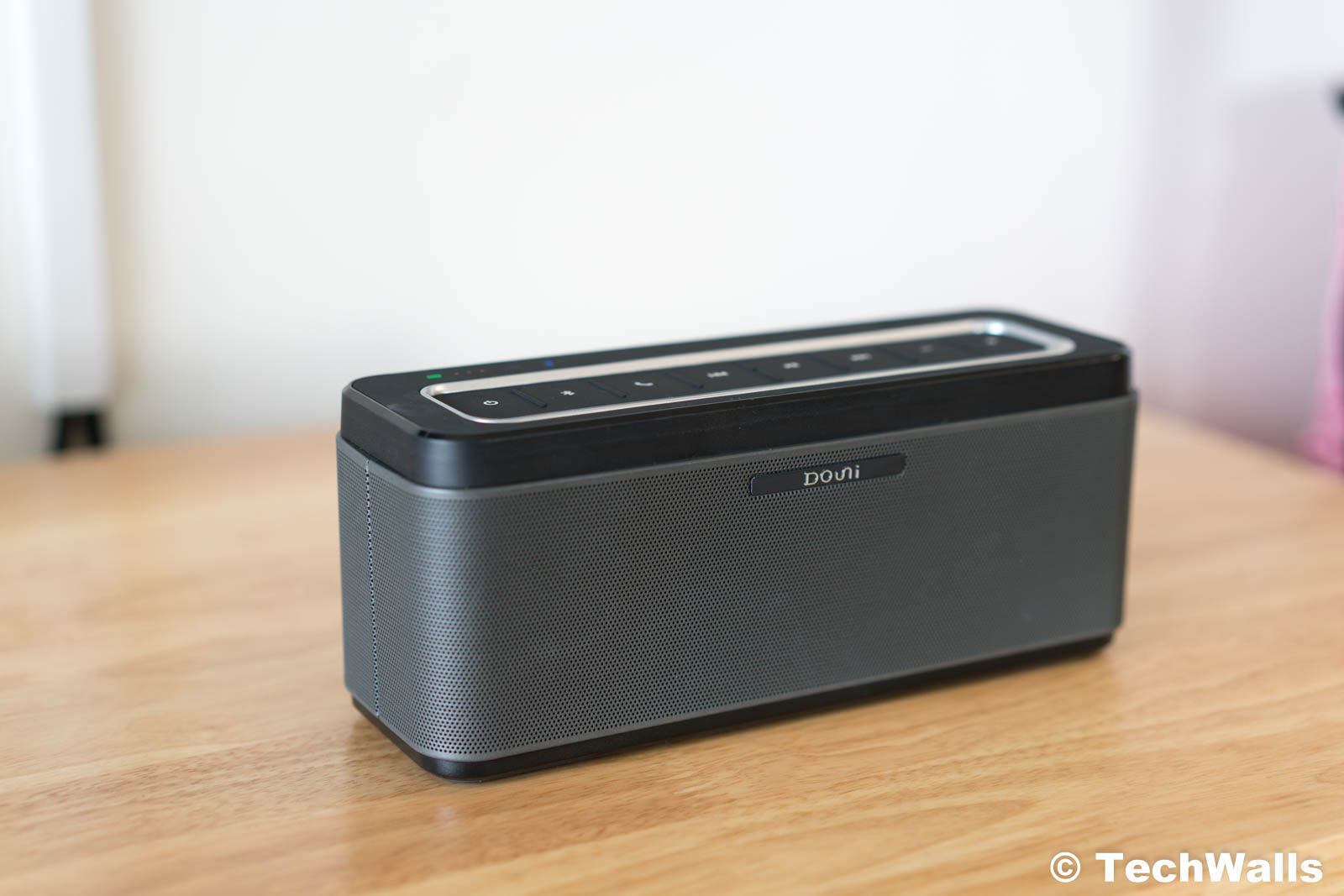 My only concern is that the plastic on the exterior looks cheap, so the speaker doesn't have the feel of a premium product.
On the back of the A5, we can spot an AUX-in, an AUX-out, a charging port, a USB port to charge mobile devices, and a reset button.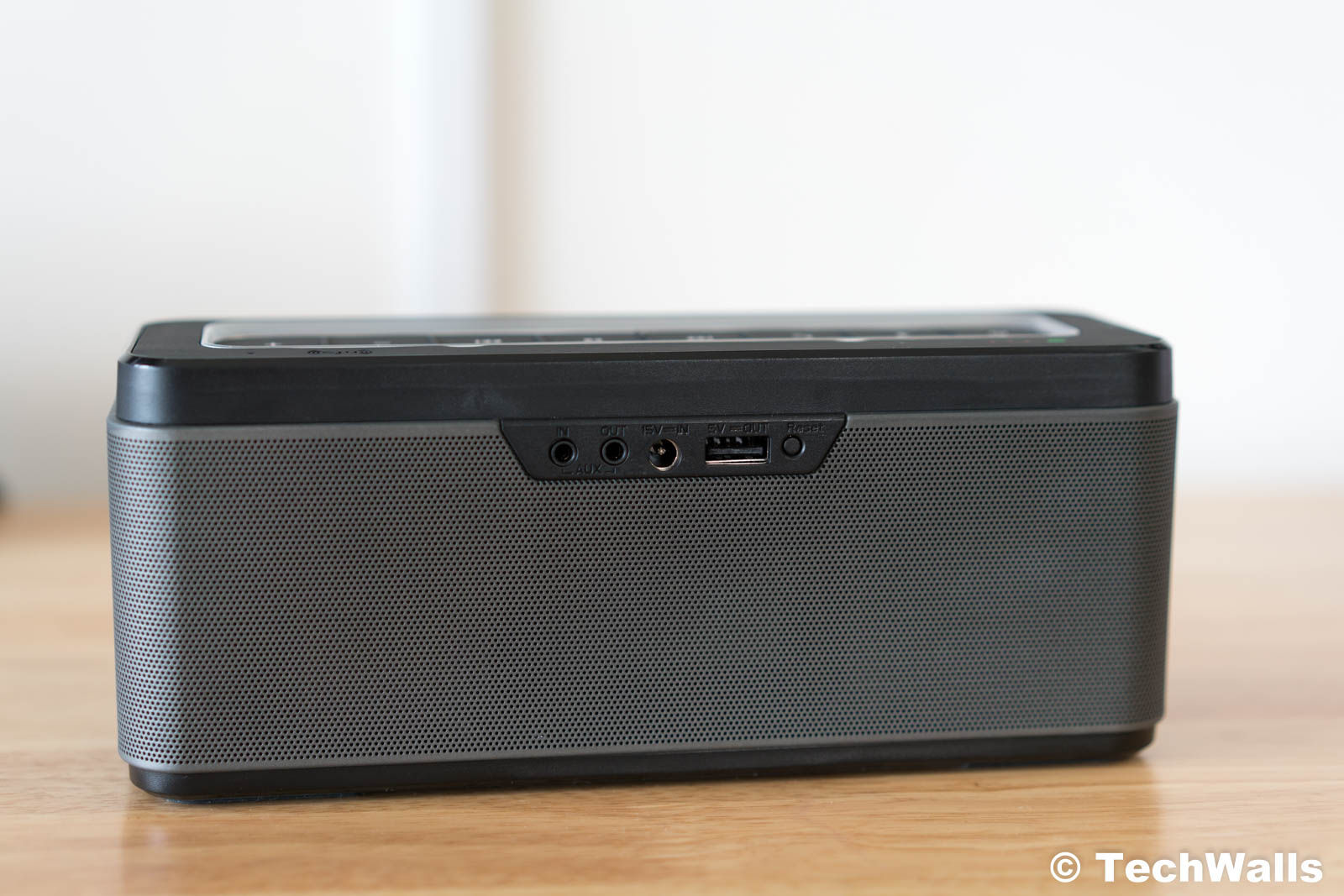 The top panel of the Douni looks quite interesting. As usual, we have control buttons like power, Bluetooth, phone call, previous/next, play/pause, volume up/down. On the right corner, there are a microphone hole and an NFC tag for quick pairing. This is also one of a few speakers that show the current battery level; I really appreciate this feature since I don't need to install any app to check the battery.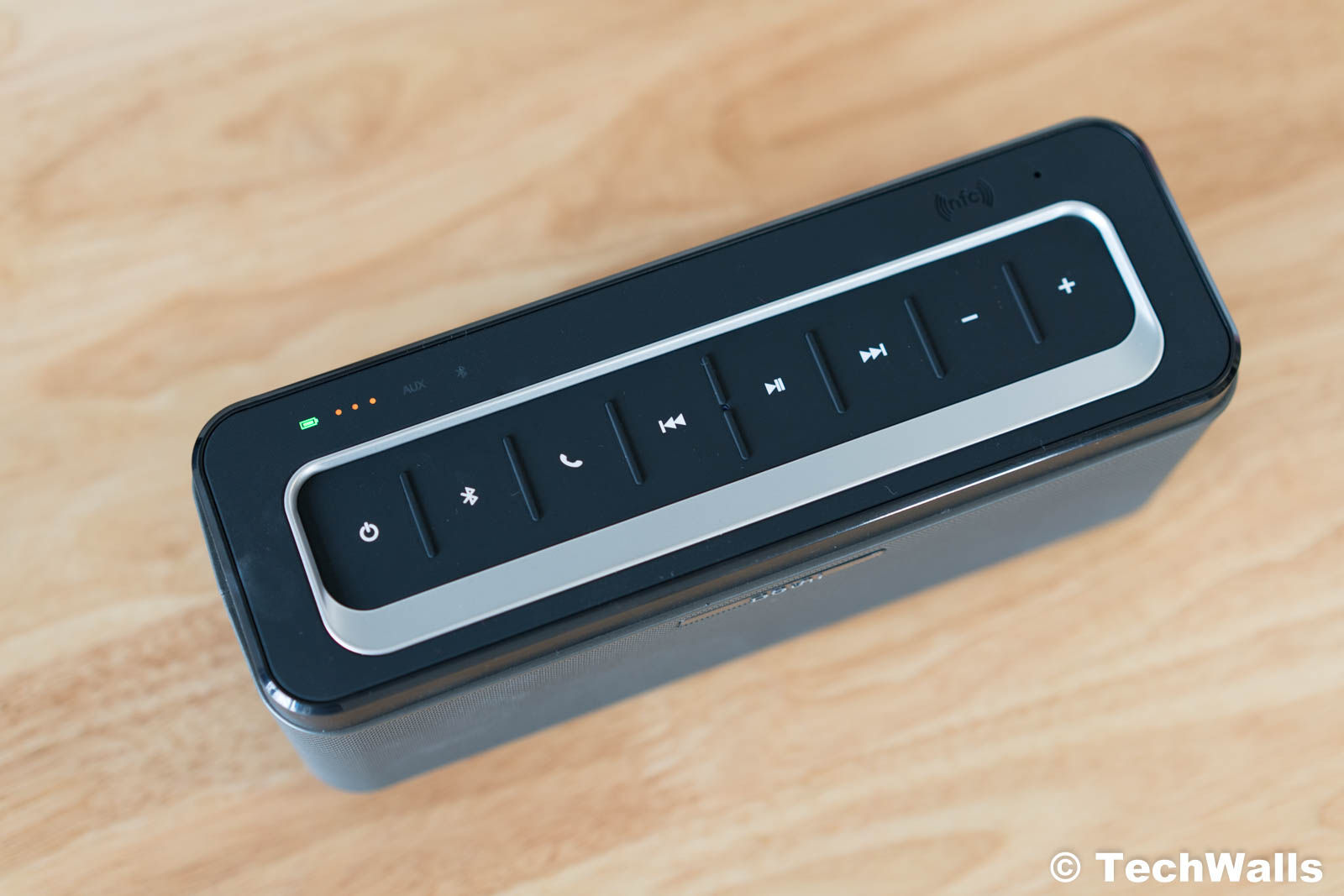 I'm just a little disappointed with the Bluetooth range of the speaker. I use it most of the time with my Android smartphone and it works perfectly in the same room. However, when I go to another room which is about 20 feet away, I start hearing interruptions.
The battery life of the A5 is quite good as it could play music continuously for about 12 hours. You can also use the 6,600mAh battery to charge your smartphone.
Audio Quality
I set my expectation bar pretty low when reviewing the Douni A5 because I used some beautiful Bluetooth speakers that have a very bad sound. This one is surprisingly good, really I didn't expect I could enjoy music from such an affordable Bluetooth speaker.
If I have to find two words to describe the sound, they will be powerful and clean. The speaker can easily produce a room-filling sound and even a high volume level, the sound is not distorted at all. The mids are well present and they are even clearer as compared to my bigger soundbar system. The Douni A5 doesn't lack bass as it is equipped with two passive radiators on the front and back. The bass is not really deep but it is punchy and adequate. The treble is also rendered beautifully and very well-controlled. The two 12.5 watt drivers really did a great job to deliver a powerful sound with very wide stereo imaging. Of course, some limitations of a small speaker still remains but this is already amazing in the world of portable Bluetooth speakers.
Conclusion
Pros
Good design
Solid build
Excellent sound
Affordable price
Cons
Some cheap plastic parts
Average Bluetooth connection
Undoubtedly, the Douni A5 is among the best Bluetooth speakers I've ever tested. It is priced reasonably and sounds better than many expensive speakers out there. We at TechWalls highly recommend the product.
TechWalls Rating
Design & Features - 7
Audio Quality - 9
8
Great
A low-priced Bluetooth speaker with an amazing sound.
Disclosure: As an Amazon Associate, I earn from qualifying purchases. The commission help keep the rest of my content free, so thank you!