Apple's trend of announcing a single iPhone, and sticking to it was broken last year when they announced two new iPhones; iPhone 5S and iPhone 5C. According to rumors stemming, it seems Apple will follow suite and announce two different iPhones this year as well.
It's already well known that Apple will be opting for a larger 4.7-inch display this year, while the other will be 5.5-inch phablet. The 4.7-inch iPhone 6 has been leaked numerous times, and we already have a pretty good idea about its build and looks. While the 4.7-inch iPhone 6 was enjoying the spotlight, albeit not officially, its bigger brother has remained hidden. With all its reach, the rumor mill came to nothing, until now that is.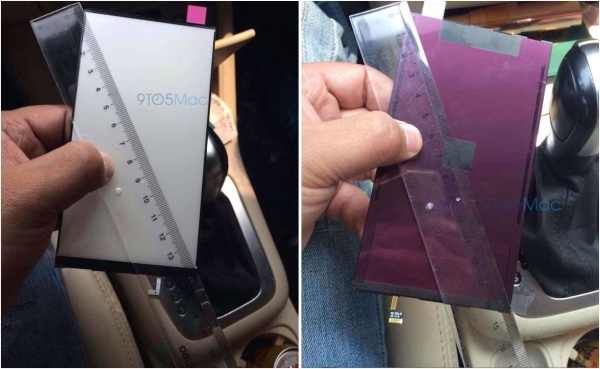 That's right folks, the 5.5-inch iPhone 6 has been leaked, specifically its display component. For convenience a ruler has been placed so you can clearly see its 14cm diagonal dimensions. Although we were hoping for more, the rumor didn't bring anything else.
The new iPhone 6's are said to share a similar design language, albeit its phablet counterpart being a bit bigger. Specifications have also remained a mystery, but its rather surprising to see Apple finally opting for larger displays, even amusing is the fact that a 5.5-inch phablet is also coming. After years of sticking with 3.5-inch and 4-inche display sizes, Apple it seems has finally moved on. Still you might wanna take this with a pinch of salt, but rumors do have a funny way of becoming true.
Apple has historically announced new iPhones in September, but rumors are claiming that only the 4.7-inch iPhone 6 will be announced, with its phablet counterpart to be announced at a later date.
Disclosure: As an Amazon Associate, I earn from qualifying purchases. The commission help keep the rest of my content free, so thank you!