To start with, I have no idea why Dell introduced this new desktop monitor when it is evident that in another couple of years, the concept of PC will extinct. Keeping that in mind, Dell gave birth to this new product which all in all is a masterpiece within 4k range.
There are several 4K desktop monitors with higher end IGZO displays – one of them being Dell's very own Ultrasharp 32″ with ultra-modern design but they are simply too big for desktop monitors. To me, 32 inch Desktop monitor is much larger than what's needed (for professional use its good). Something around 27-28 inch is more than enough. Dell made this loophole their target and came out with an X-Gen 24" UHD monitor the UP2414Q whose pictures got leaked through their Belize website (in their US website with the compatibility of a Sound bar). Trust me, if you are into PC's, this will be the monitor you've always looked up for.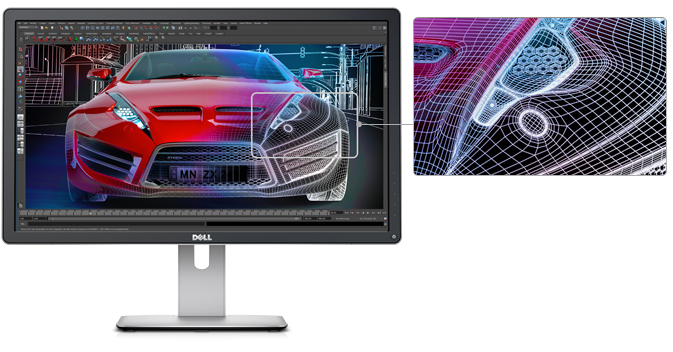 Without going into much analytical debates on whether a person needs a 24 inch monitor spending 4k or not, lets dive into the what Dell has to offer –
3840 x 2160 in 24 inches = 183.58 pixels per inch, compared to 204 for the IBM
178º/178º Viewing Angle
T220/T221 and 137.6 for a 32″ UHD
 99% AdobeRGB and 100% sRGB
10-bit, 1.07 billion colors
HDMI, DisplayPort, mini-DP
Four USB 3.0 and 6-in-1 card reader
Factory Calibrated to Delta-E < 2
As there is no official news regarding this monitor, the specifications of UP2414Q known are limited. Some websites claim this as an IPS panel. These are rumors or true – that only time will tell.
I can speculate that at last a 24″ high end panel is making its way into the business. The 32″ UP3214Q is only 30Hz at full resolution. I am assuming this to be the same.
Though the release dates and the prices are not yet released, it can be well assumed that it will be somewhat near $4000 (as the 32" models are priced near $3500). I personally think they will price this 24" model at a lower tag than $3500 but the upgraded technology and space optimization factors may give the price mark a little bit upthrust.
Disclosure: As an Amazon Associate, I earn from qualifying purchases. The commission help keep the rest of my content free, so thank you!