Dead trigger is a zombie killing first person shooting game from MADFINGER GAMES. This is one of their most graphics intensive games made by unity engine. The game was made for ios also and has two different versions for android. One version is optimized for tegra 3/2 devices and other version is available for other devices having different gpu units like mali-400 etc.
Now the android version of the game has been updated from version 1.0.1 to version 1.1.0 which brought a host of new features and what made us happy is that the game is available on Google play store right now for FREE. Now you got the License to kill zombies free-Ly isn't it? :)
Besides being free, this update came out with new features and bug fixes.
1. New weapons: new weapons have been added to the gun shop like –
Chain Saw T-800-can run out of gas any time but the fun of killing zombies with this machine is endless. Needs level 6 and $5000 (not real $, lol) to unlock
Lewis Machine Gun –a machine gun from the First World War era. Needs level 12 and 50 gold to unlock
Marine Engine with blades – a 30 kw motor attached to turbine blades makes it a perfect killing machine (needs level 12 and 50 gold to unlock)
American West Rifle-or WINCHESTER rifle (The Gun that Won the West) is available at level 10 and can be yours for only 50 gold
2. New gadgets: Head-Flatter(X100) is a creepy new gadget that can make the heads of the zombies flat and big. So that you can kill them more precisely
3. New zombies: In the time of zombie apocalypse not only the civilians but also the mobsters or armored SWAT members turned into zombies. Watch out because they are very hard to kill. To kill a SWAT member you need to destroy his helmet and vests first. So don't forget to reload your gun when they come.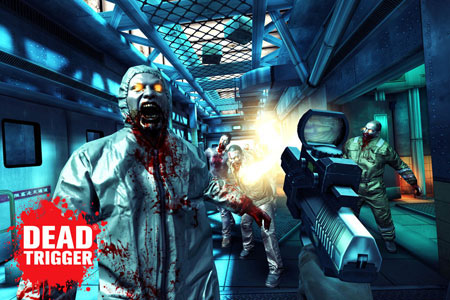 4. New environments:
underground car park and
secret research base
5. Survival arena: where you can kill hordes of zombies
6. Daily rewards: This is the fun part. You get extra rewards every time you open the game or complete a mission.
You can now signup for an account to get more extra rewards and features. Save your game data with cloud backup (Although after signing in I'm getting fewer rewards than before-don't know why. Are you listening developers?)
7. Last but not the least Support Adreno 205, including Sony Xperia Play. Although the xperia play users still having issues(force closing)
The developers also warned Android 4.1 Users and told them that if they already have version 1.0.1 then they shouldn't update to 1.1.0 as the game is not working on android 4.1.
They said on their facebook page "GNexus and Nexus 7 with 4.1.1. is Google's side issue and we are working with Google together to remove this bug."
How I played the game
Get all the rewards and gold but don't spend any gold. Don't buy anything. After the level when gun shop opens you are going to lose the COLT M4 gun. Buy only scorpion gun as it costs no gold. Save your gold and go to the BANK and get $20 by liking and following dead trigger and MADFINGER GAMES on facebook and twitter. Then from tapjoy, download some games and you will get enough gold to buy the COLT M4 gun again. You can also buy guns, items, and characters by spending real money! But if you don't want to spend real money the above process will get you atleast one powerful gun for free.
Pros
New weapons , zombies, environments and gadgets
Support for Adreno 205
Now you can go to settings and choose the graphics level –low, med or high
At high graphics level you get the particles, extra blood, lighting but still no water effects( for that you are gonna need a tegra 3 device)
Cloud syncing-go to "NEW HOPE", sign up and you can back up your game data to cloud servers
Free rewards
Last but not the least-It's free to download and play now
Cons
Xperia play users still having issues.
Android 4.1.1 users can't use this update
Still no multi-player
Some lags here and there when playing in high graphics mode
Decrease the volume while playing, otherwise your device can become very hot
So, what are you waiting for? click here to get the game and tell us how are you enjoying the new update for Dead trigger.
Disclosure: We might earn commission from qualifying purchases. The commission help keep the rest of my content free, so thank you!