I was so worried about my car battery as it'd been dead a few times for different reasons. I forgot to turn off headlights the other day and the battery was dead after just 15 minutes. Then I left it for a week in freezing outdoor temperatures and the car just didn't turn over when I came back.
It is so frustrating, especially when you prepare for a beautiful day trip, then find out you can't start your car. If you don't have enough patience to flag down a passing car, you can call road services or nearby auto repair services to get help. They can come and help you boost your car for about $40 to $100, depending on the distance from your place to the store.
I tried to look for some portable boosters but they are quite bulky and I gave up on the solution. Fortunately, I received the Cyntur JumperPack Mini Lithium-Ion Jumpstarter for testing and it could be a very useful product for me. Let's check it out.
Unboxing and Testing
Design & Features
A new class of portable jumpstarters started emerging last year and the Cyntur JumperPack is a new product introduced just a few months ago. It uses Lithium-Ion battery, so it is much smaller and lighter than other products. You even can put it in your pant pocket or easily store it in the glove compartment in your car. The product measures 6 inches long, 3.3 inches wide and 1.3 inches thick, and weighs just 0.9 lbs. Notably, it features the IPX3 weather-resistant case design.
Inside the box, you can find the jumpstarter, SafeJump battery clamps, compact carrying case and wall charger. There is a function button on top of the product, you can press it once to turn on USB charging or check battery, and hold for 3 seconds to turn on the flashlight. On the side, there are a flashlight and connections hidden under a flap, including a charging port, a USB port and jumpstarter port.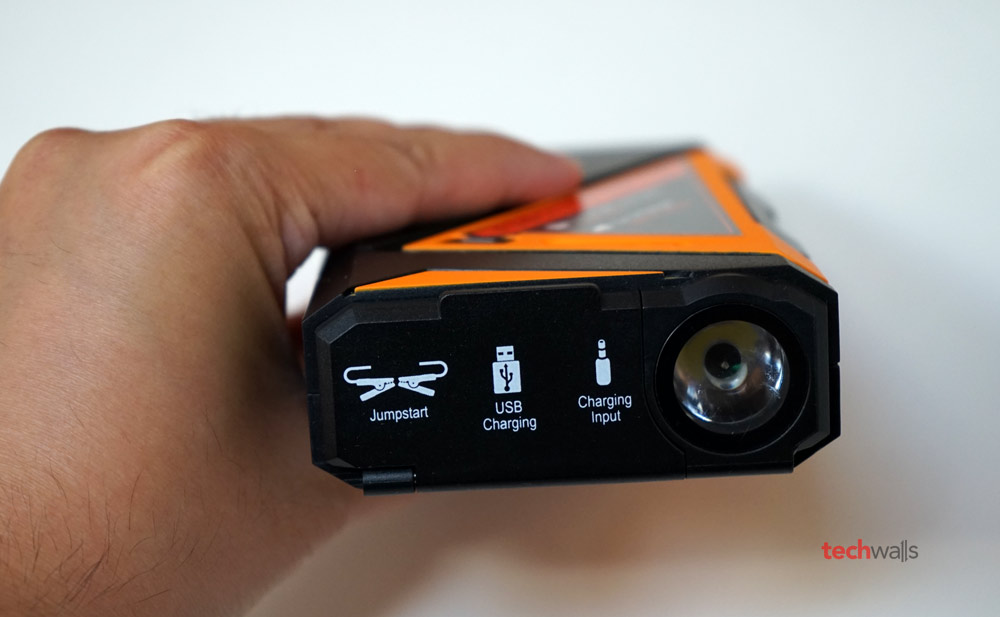 The capacity of its lithium polymer battery is 12,000mAh and to jumpstart a car, it cranks out 250 amps. The starting power is not as high as some battery booster but it is said to be able to jumpstart up to 8 cylinder engines. When I tested the jumpstarter on my Toyota, it worked perfectly. To jumpstart the engine, you just need to turn off your vehicle, place the jumpstarter on a flat surface near the battery, connect the clamps to terminals of the battery, then crank the engine for a few seconds. If the engine doesn't start, you can try cranking again, just make sure to rest the jumpstarter for about 1 minute.
Apart from boosting engines, you can also use the Cyntur JumperPack as a 200-Lumen LED flashlight and a backup battery for your mobile devices. The USB port can provide up to 2.1 Amps of current, so it can charge high-end smartphones pretty fast.
I left the mini jumpstarter for over a month and it could hold its charge very well. The battery level didn't drop at all. A full charge of the jumpstarter takes around 4 hours.
The Cyntur Mini Jumpstarter is on sale on Amazon for $99. This is a must-have device for every driver and smartphone users, so I highly recommend it.
Disclosure: We might earn commission from qualifying purchases. The commission help keep the rest of my content free, so thank you!