Creality has been known as a leading consumer-level 3D printing brand focusing on 3D printers. Their products have been quite popular among hobbyists and home users. People still hesitate to buy a 3D printer because they find it difficult to get access to 3D models; Most don't have enough computer skills to create a 3D model by their own, so the only option was to download free models or buy them online. There are some professional-grade 3D scanners out there but they are complicated to use and cost a fortune to buy it. Creality has released the CR-Scan Lizard, a much more affordable 3D scanner for hobbyists so that we all can recreate the finest detail with stunning precision.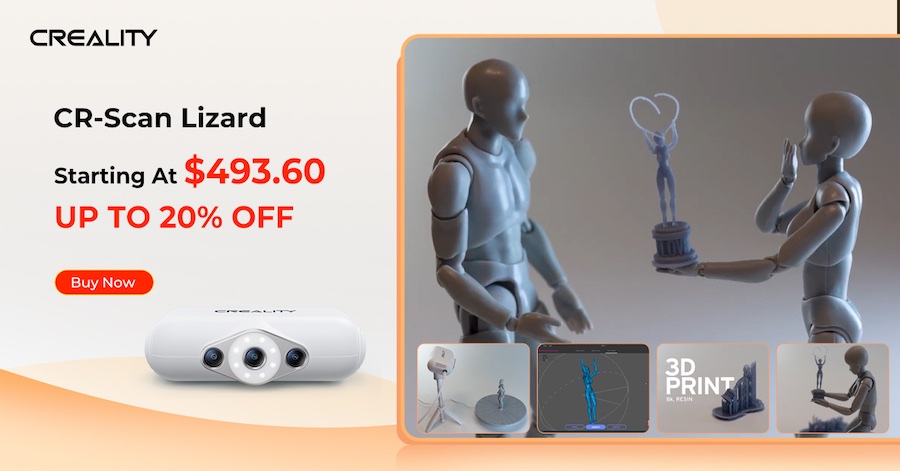 The CR-Scan Lizard is the successor of the CR-Scan 01; It has a smaller design but many other features are improved such as accuracy up to 0.05 mm, and better scanning dark objects and in bright environments. High-precision 3D scanners are so expensive, so the fact that they improve accuracy on such a portable and affordable scanner is truly amazing. It can capture details from objects as small as 15 x 15 x 15 mm, or large 1500mm objects like car doors or engines. They invisible light sources of the near-infrared help protect our eyes, and it has excellent light compatibility.
As mentioned earlier, the CR-Scan will maintain excellent performance when scanning black objects or under bright sunlight. This is achieved by using a high-precision binocular camera system with a self-developed multispectral optical system, vastly improving light adaptability, allowing CR-Scan Lizard to have more scanning targets and even can scan outdoors.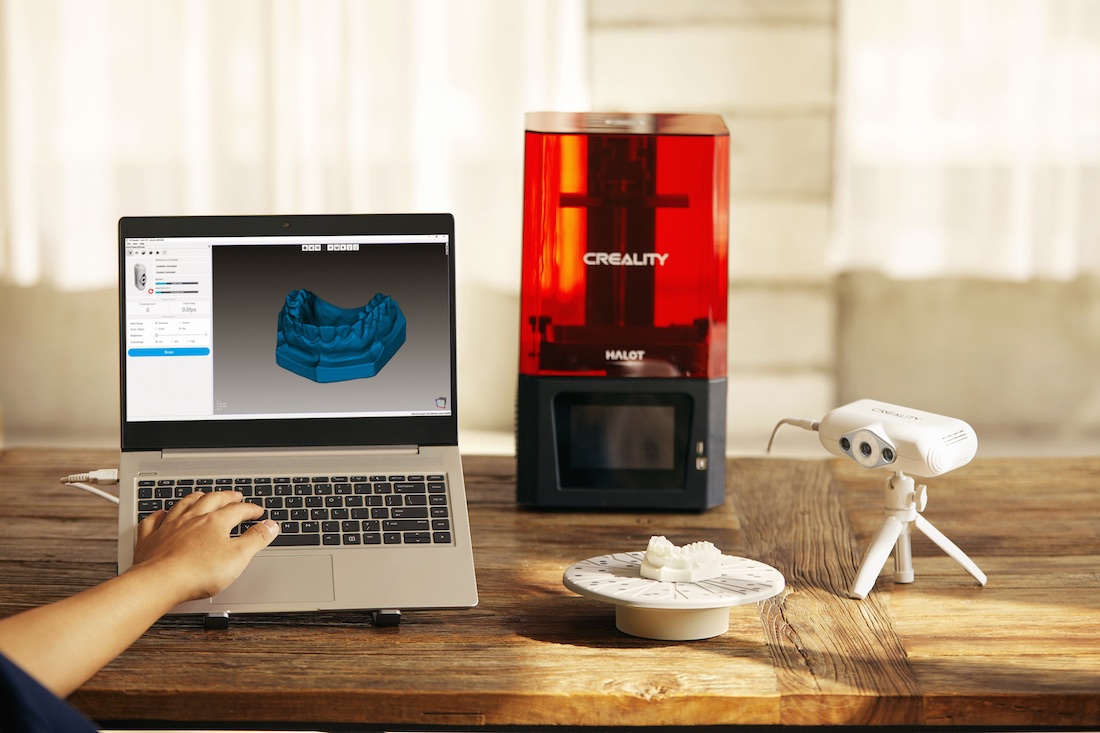 Since many users have trouble scanning an item, the Lizard makes it easier with 3 scanning modes. You can either use the turntable mode, hand-held mode, or a combination of both. For small objects of less than 300mm, you can just place it on the turntable, adjust the distance and height of the tripod, and start rotating the turntable for scanning. For larger objects, it will be more convenient with the hand-held mode.
Another nice feature is that no-marker scanning. Previously, we had to pin a bunch of stickers on an object so that 3D scanners can work properly. The Lizard gets rid of the tedious process thanks to its visual tracking. Now you don't need to use any sticker and just scan the item just like when you record a video. CR-Scan Lizard can acutely and comprehensively capture fine details of the target with the 3D model built up perfectly, successfully realizing no-marker scanning.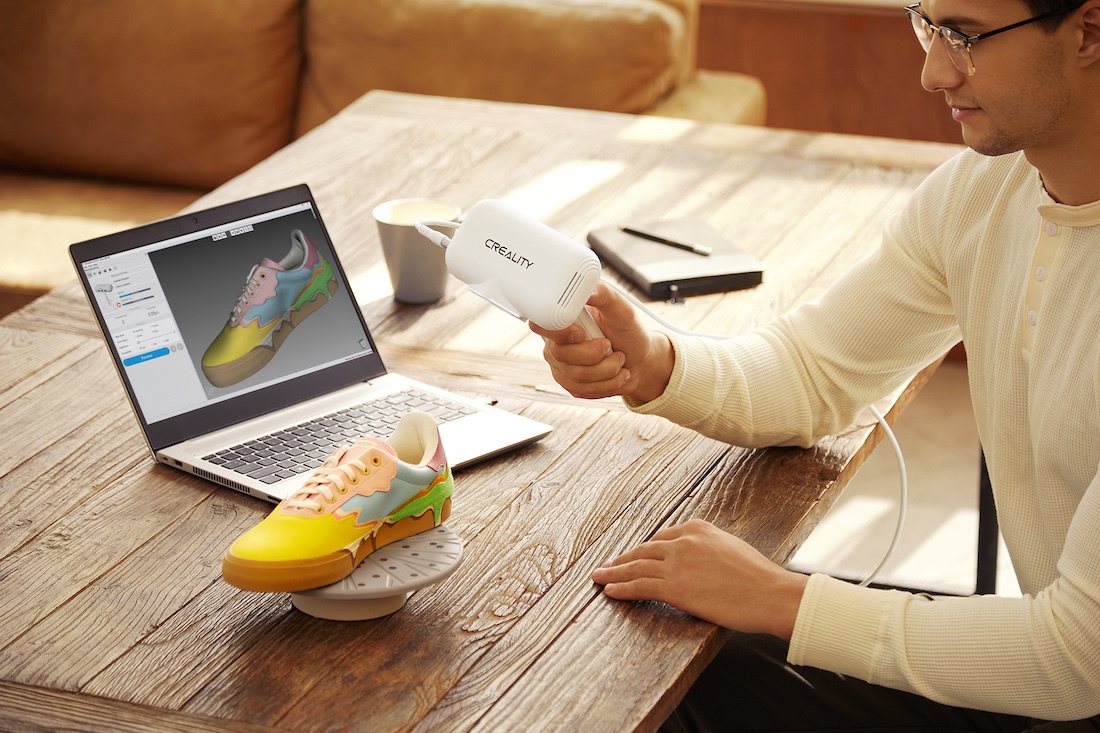 On the software side, the scanner runs on CR Studio 2.0 with a brand new UI design, which is clearer in visual presentation and easier to edit 3D models. The optimization algorithm guarantees a complete model scan and avoid losing track. It supports free OTA online updates with more improvements in the future. It features one-click model optimization; During the process, the software will apply a bunch of optimizations like multi-positional auto-alignment, auto-noise removal, auto-model simplified topology, auto-hole filling, and auto-texture mapping. Finally, the 3D model can be uploaded to the database (Creality Cloud) with slicing and printing completed so that you can share it with others.
Overall, the Creality CR-Scan Lizard is a very promising 3D scanner with an affordable price and some industrial-grade features. It has a listing price of $699 but at the time writing this post, you can grab it for just $599 with Black Friday and Cyber Monday deals. After the special discount, you can use the promo code LizBlog on Creality official site or 15OFFSCAN on Amazon to get 15% discount.
Besides, Creality launched the "Who Are Creators of Masterpieces" activity. Everyone who joins this activity will get a chance to win a free 3D printer, 3D scanner, laser engraver, and coupons up to $100! They'll pick three of the best creators and invite them to become their products ambassadors and get the priority of testing of their next-generation new products and a chance for long-term cooperation. Click the link and follow the steps to unlock entries: https://gleam.io/competitions/Yt2cl-giveawaywho-are-creator-of-masterpieceshallothanksgivemas 
End date: 30th Dec 2022
Disclosure: We might earn commission from qualifying purchases. The commission help keep the rest of my content free, so thank you!