The Chinese government, through its official mouthpiece Xinhua News Agency, has announced that from then on all government-owned computers would be rid of the Windows 8 operating system, citing as reason the Windows XP end-of-life-support that Microsoft announced last year and implemented on April 8.
The real reason behind the ban could be well just what China says. But arouses one's curiosity that such a move would take place not a few days prior to or after the death of Windows XP last month, but a few days after five Chinese hackers were proclaimed wanted.
The official statement from the Chinese government says the ban is only effective for government-run computers, except for the private ones.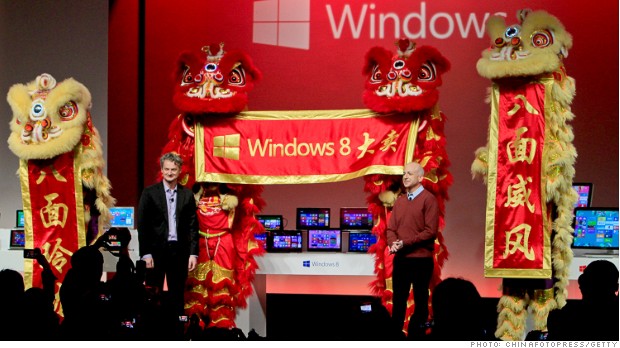 Last week, the FBI reported that Chinese military officials were responsible for the cyber attacks aimed at hundreds of U.S. firms. The five were charged with infiltrating into several U networks of U.S. companies with the intent of stealing trade secrets and intellectual property.
A few days later, China's Central Government Procurement Center would require all government desktop, laptop and tablet computers to uninstall Windows 8 and replace it with some non-Microsoft software programs, reasoning that Windows 8-powered systems consume more energy than other OS, though it did not talk about the legacy Windows 7 or Vista.
But the main reason that Chinese government offers for banning the Windows 8 is Microsoft's recent move to retire Windows XP last month. In China alone, XP is used for 70 percent of desktop computers, Xinhua news says.
Allegedly, China is only preempting the widespread use of Windows 8 among its central government computers and prevent the state from suffering future apocalypse of the operating system, just like what happened to Windows XP, which resulted in millions of computers having been left without life support.
It is, indeed, a lucid cause, one that seems to raise concern about the security implications when an OS runs out of technical support. And there were rumors also that Microsoft would continue to fix Windows XP-based computers except those in China, probably out of spite with the country, but the software giant belied such allegations.
Currently, China is developing a state-sponsored operating system that builds on Linux.  The buzz about the Red Flag Linux has been floating around since 2000, but the project did not take off up until now. Of course, it is always better for a government to run its own operating system developed through its own funding. But as to how it will stand comparison with Windows 8 remains to be seen.
Disclosure: As an Amazon Associate, I earn from qualifying purchases. The commission help keep the rest of my content free, so thank you!