I often trade Bitcoin on popular exchanges like Bitfinex or Bitstamp, however, they haven't supported many other cryptocurrencies. Therefore, when I tried to sell Bitcoin Gold to buy more Bitcoin, I couldn't use those services.
There are less than a dozen of exchanges supporting the new cryptocurrency and I picked Changelly because it seems to be a legit website. After some more research, I decided to give it a try because it has a very clean and easy-to-use interface.
Availability
The service is available worldwide. However, it supports just a few dozens of countries if you want to buy Bitcoin or other cryptos with Visa/Mastercard. This is because Changelly uses Simplex service to process payments.
UI
UI is among the strongest features of the Changelly service. It offers a super easy way to buy or exchange cryptocurrencies. For instance, to convert from Bitcoin to Eth, you will just need to fill in the amount of Bitcoin and your Eth's wallet address; Then, the site will show you fees and the amount of Eth you will receive; The last step is to send Bitcoin to the wallet address on Changelly. The whole process is pretty simple and even beginners can follow without any problem.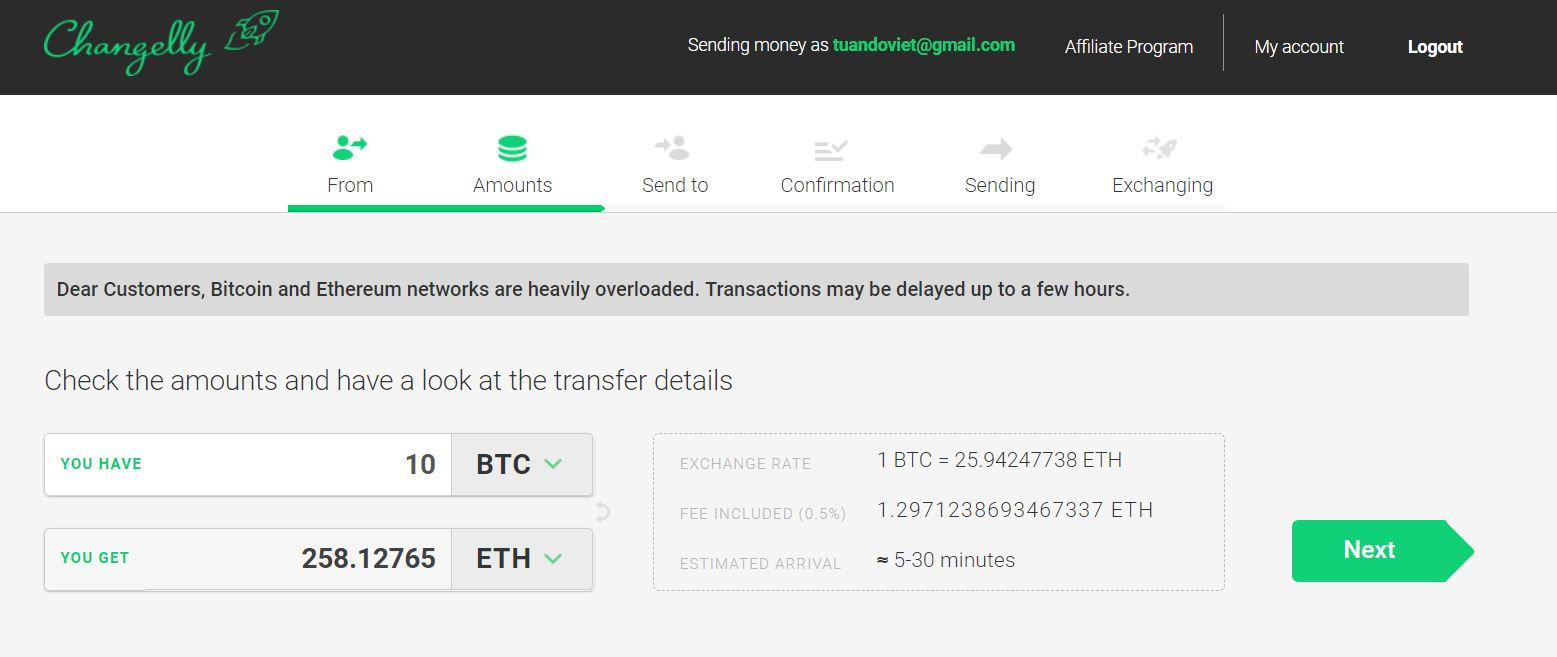 Processing Time
I had some transactions on the website and all of them went smoothly. Some transactions took less than an hour and some others took just 2-3 hours to process. Notice that transactions might be delayed when networks are overloaded.
Support
All cryptocurrency exchanges have the problem with slow support and Changelly is not an exception. I tried to contact support but never received a response.
Pricing & Fees
I really appreciate that this service provides an easy way to buy cryptocurrencies with Visa and Mastercard. However, when I tried to buy Bitcoin with my debit card, I had to pay an 8% premium. Therefore, buying from exchanges like Coinbase is still a much better solution.
On the other hand, exchanging between cryptocurrencies has a lower fee. I used the service because I needed to convert all my Bitcoin Gold to Bitcoin, and the exchange rate here is quite competitive. There was almost no difference between this service and other exchanges. They just charge a reasonable fee of 0.5%.
Conclusion
Overall, Changelly is a reliable, easy-to-use, and fast exchange for beginners. I was nervous doing transactions on the site after reading a lot of negative reviews on the Internet, however, my own experience with the service is not bad at all.
TechWalls Rating
Service - 8.5
Price - 8
8.3
Good
A simple and reliable exchange.
Disclosure: As an Amazon Associate, I earn from qualifying purchases. The commission help keep the rest of my content free, so thank you!