So the CES fever is on! The companies are preparing themselves and their 'unique' products for a perfect launch at the CES 2014 and mark a great start to this New Year. But the hot news is coming from the world's one of the biggest appliance manufacturer LG.
The company has already launched the giant Ultra HD TV's (4K) at the CES 2014 which started today. But till the last moment, they fiddled with the screens of the TV which are hosting the companies very own webOS software.
LG mentioned that its curved cinematic 21:9, 105 inch screen with resolution 5120 x 2160 will be combined with flat screen of 65, 79 and 98 inch 4K models. LG named this model as a 5K version and said that it will be showing off its new eye popping resolution index of 3840 x 2160. I can't say it with full confidence but these screens are rumoured to be backed by LG's indigenous Tru-ULTRA HD Engine Pro processor which guarantees to uplift the standard definition content to a higher level which will easily mask the lack of 4K content i guess.
The patented 105 inch TV model of LG will sport the new technology developed and implemented by LG – the front-facing 7.2 multi channel ULTRA Surround which the company made in collaboration with the renowned Harmon Kardon. Though people are very sceptical regarding the outcome of the project, LG showed odd its confidence and promised an amazing experience both in viewing and listening which will take "the viewer deeper into the onscreen environment." I believe LG has delivered it in the past and this will be no exception.
LG's CES 2014: Lights, Camera, WebOS
Yes and this time LG grabbed the spotlight of CES 2014. I believe that LG's giant UltraHD sets are just simple devices with highly powerful screens running the webOS software (HP's former smartphone and tablet OS). With this powerful OS and big screen, LG is planning to make portray this device as 'simple', 'easy' and 'user-friendly'. As the full-specs are not yet officially released by LG, still an overview can tell us that this will be a power-packed homely all-purpose device. Wait till its finally released in the market!
At Las Vegas, LG has already fixed its tent and are looking forward to a wonderful CES 2014 with the grand opening with its 105 inch smart TV. In the banner, LG and webOS logo occupy the same quantity of space which defines the importance of it. On the other hand, the new webOS logo also promises of easy navigation, fun setup and simple connection though we will have to wait till the announcement to know what it is actually.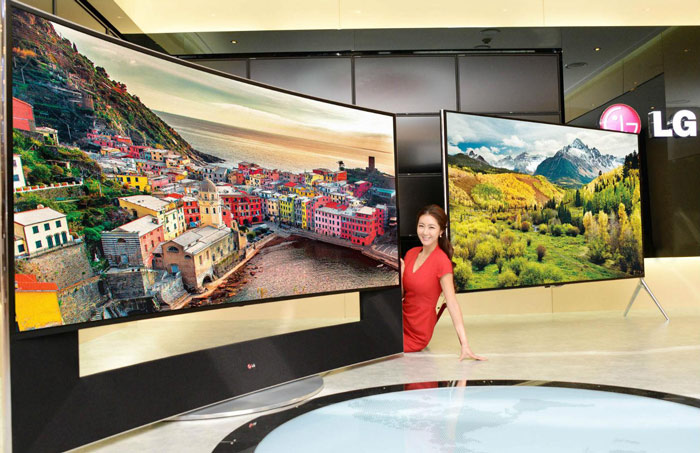 Regarding the price it has been set a bit too high which may repel many interested customers. LG stated it would be priced somewhere around $70,000. Very high indeed!
Footnote
LG has thought of revolutionizing the concept of smart TV's with the help of webOS and I think they have succeeded partially, if not totally. Starting from the change of grid apps to line apps to the smart OS base, everything is so picture perfect. But still some reviewer's think (not me) that this TV is a small ambition for a big screen like 105 inch. Till now, so far so good. Let the CES decide the fate of LG's new advent in the smart TV market.