Intel has rolled of its dice at the CES 2014 with a bang! Yesterday at Las Vegas, Intel's CEO Brian Krzanich has confessed that his company is targeting to make wearable computers in the coming days and the work has already started, full-fledged.
And the most striking news – at the core of Intel's wearable computers, there will be an SD-card sized PC called Edison. You might be thinking  what this 'Edison' is all about! So here comes your answer
Edison – a tiny chip that will change the outlook of the technological world
Edison, a low-power small package which comes with a Quark Technology is a SD card sized PC designed specifically for making wearable computers such as smart watches. I remember that Intel unveiled this powerful chip for the first time on September 2013 and then used CES 2014 to reveal it completely in front of the tech world. It is a simple device with dual core, 22nm built on an SD card housing for the sake of easy development.
Supporting multiple OS'es, this device also has a built in Wi-fi, Bluetooth and its own app store loaded inside for easy use. The best part – it comes with a pre-loaded Wolfram Alpha Mathematica baked in it. As far as the release in CES suggests, Edison would be available somewhere around the middle of this year. When asked about this new find of Intel. Krzanich said –
"It's a full Pentium-class PC in the form factor of an SD card. We believe that Edison will enable rapid innovation and rapid product development."
Read also: Why did Intel kill the internet TV project?
Concept behind the making of Edison
CEO Krzanich admitted that wearables though being a very proactive thing couldn't capture the market and minds of the tech-people simply because of its dependency on another master device. He asked the crowd at CES – "Why aren't wearables everywhere, what's holding back wearable's in this market place?" He answered the question all by himself. He inferred that this dependency of wearable's on other devices makes it heavy and doesn't solve the real life problems. So what Intel did on the first place is to make a wearable independent of the master device. From there, Edison was born. He requested the industry to make devices 'smarter' because at the end of the day simplicity makes technology desirable.
Like a leader leading from the front, Intel just didn't talk but released their list of next gen 'smarter and simpler' devices. Krzanich at first released a pair of earbuds ( connected headset) that could track biometrics such as your pulse and heart rate while playing an audio in the background. The data will be directly stored to any smartphone (if you are carrying any). The best part is the earbuds can harvest energy from your body itself, so they won't be needing any external power source. Strange but true!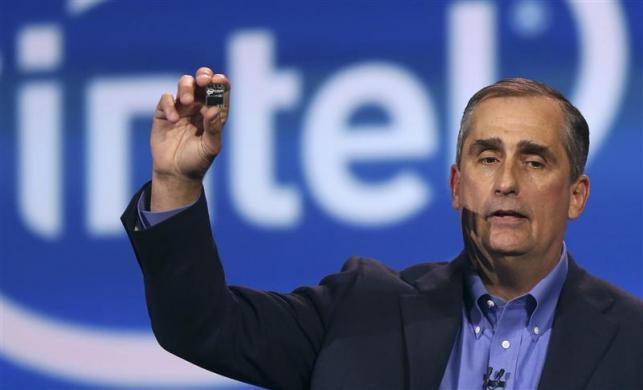 This is not the end of the surprises! The second concept device which Krzanich released is a smart bowl which would any smart device wirelessly. Drop your earbuds there and charge it in no time!
He said –
"It's a very simple device you can leave on your counter, and it will go ahead and charge what you need. This is one of those key deliverables that will make wearables work."
Third demo he showed off in CES 2014 is a smart watch using Edison. This smartwatch will have its own connectivity and therefore it won't require any tethering. It also adds a special feature called the geo-enforcing that will allow the device to track the wearer. For example, your child walks to school and if you let him wear this smart watch, it will send you notifications whenever your child gets deviated from it's standard path or doesn't reach school on time. Now this is what we call being smart. Intel, take a bow!
Smart turtles – Best concept wearable till date
At the CES stage, everyone was left in awe when Krzanich showed off Intel's concept device – the 'small turtle'. It is a simple yet highly powerful baby-monitoring system created by a MIT based research firm named Rest Devices using an early version of Edison chip. Krzanich named it Nursery 2.0 and showed the world how it can be used. The turtle shaped monitoring system can be adhered with the baby's clothing to keep a track of its pulses, breathing rate and its movements. The signal received from the body will be sent to a coffee cup that will display all the measured parameters. The best part is it will also tell you when the baby is hungry or angry or unhappy. Only almighty and Intel knows how this is possible.
The system of turtle could also be connected to a Edison powered bottle warmer which would start warming the bottle of milk as soon as the baby feels hungry and much before the parent realizes that the baby is hungry. We could easily guess how important find is this for the world and Intel made all of it possible and makes it look like nothing in front of us at the CES. Really Intel shows the world how much it matters when it's Intel inside. More to see, more to know, more surprises awaits us at the CES but this would be the find of the 2014. Great Great start from Intel!
Disclosure: As an Amazon Associate, I earn from qualifying purchases. The commission help keep the rest of my content free, so thank you!