Individuals and organizations who want to fund a certain project or cause and fulfill that goal by creating a campaign online now have the option to do so with Facebook's newly launched Fundraiser tool, a move seen to be in direct clash with Kickstarter and other crowdfunding services.
The fundraising tool enables nonprofit organizations to create a page on Facebook for their campaign, upload a video clip that explains in detail the goal of the campaign and embed buttons to allow other people to share the campaign within the site, not through an external page that will interrupt the Facebook experience of users.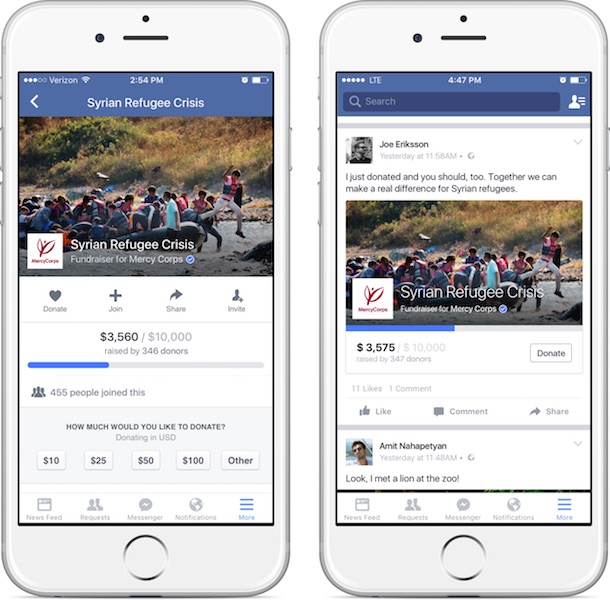 Although the new service is made to focus on nonprofit organizations to help them bring a certain cause to reality, the Fundraiser still has room for other purposes when Facebook deems it necessary to change in the future. The reality is that Facebook sees big potential in crowdfunding, where social networks play a crucial role to drive the campaign.
The contributions generated through sharing using the social networks are greater than the ones generated through search engine browsing activities. That means Facebook, or any other social networking platforms for that matter, has far greater aid to help spur a campaign to its fruition than a Google search can have.
That is why most online campaign owners rely on social media to reach out to as many potential contributors and donors as they can to raise dollars, search engines like Google and Bing in the sidelines only.
In the most recent past, Kickstarter and Indiegogo campaigns shared via Facebook requires interested donors to leave their Facebook page in order to visit the respective websites and make their contributions there. This has proven ineffective mostly, because users find it cumbersome to navigate through web pages just to give money.
Once on the landing pages at Kickstarter and Indiegogo, they might be required to enter credit card details and billing information if necessary, and that can create even more gap. Facebook is trying to address this concern with the new Fundraiser tool. And the move is win-win for both Facebook and its users: Facebook retaining its engagement with people and users not having to leave their Facebook engagement.
Aside from donating money to a campaign, users can also help to spread the word by just clicking the "Join" option in order to invite more people to contribute to the campaign or share it even further.
Disclosure: We might earn commission from qualifying purchases. The commission help keep the rest of my content free, so thank you!