I bet you have always dreamed of traveling back in time. With the help from Google we are going to experience it. Google Maps was launched seven years ago. From its inception it has collected multitudes of photos and location data.
We, the users however, only see the most recent photo of a building or a location. The older photos remain Google warehouses collecting dust (hypothetically). In order to provide users access to all that data, Google has today launched a new feature in Google Maps.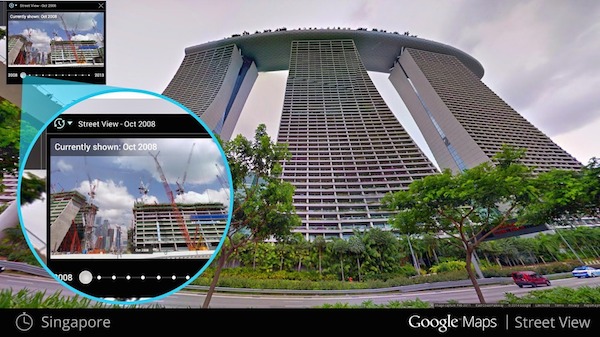 With the new update, users can have all visual information about a location's past in Google Maps. You want to see how a garden looked 3 years ago, no problem you can view it. According to Google, you can see a landmark's growth from the ground up, like the Freedom Tower in New York City or the 2014 World Cup stadium in Fortaleza, Brazil. This new feature can also serve as a digital timeline of recent history, like the reconstruction after the devastating 2011 earthquake and tsunami in Onagawa, Japan. You can even experience different seasons and see what it would be like to cruise Italian Roadways in both summer and winter.
This new feature will only be available on the desktop Maps service at first, says Google. To access the new feature, you have to click the newly added clock icon on the Street View images. Once clicked, you can move a slider and select the different thumbnails of a location in a particular space in time. There is no information when this feature will become available on mobile devices. But it would not take much long as Google has already unified the Google Maps experience across desktop and mobile device. Therefore, for now you can only use it from the comfort of your home or office computer.
Disclosure: As an Amazon Associate, I earn from qualifying purchases. The commission help keep the rest of my content free, so thank you!