The new iPhone 7 and 7 Plus have been officially available worldwide. You can hit the store to get one or place the online order right now to avoid the crowd. While you can easily pay full price to get a factory unlocked iPhone 7 in other countries, there are some confusions in the US.
At the moment, there are 4 different model numbers of the iPhone 7 and 7 Plus in North America, which are A1660, A1661, A1778, and A1784. The model you receive will depend on your carrier. You can check out this post on the differences between iPhone 7 models for more details.
So exactly how you can purchase a factory unlocked iPhone 7/7 Plus?
Order Online
This is the easiest way to own an unlocked iPhone 7. Just head to Apple Store's website, choose the version and place the order. However, if you are on AT&T, Verizon or Sprint, you are required to provide existing account information, including the wireless number, billing zip code, and SSN, even when you choose to pay full price. Foreigners won't be able to purchase this phone because it still requires an existing account. The great new is that most of them are unlocked, either you pay full price, choose Apple iPhone upgrade program, or Apple iPhone installments.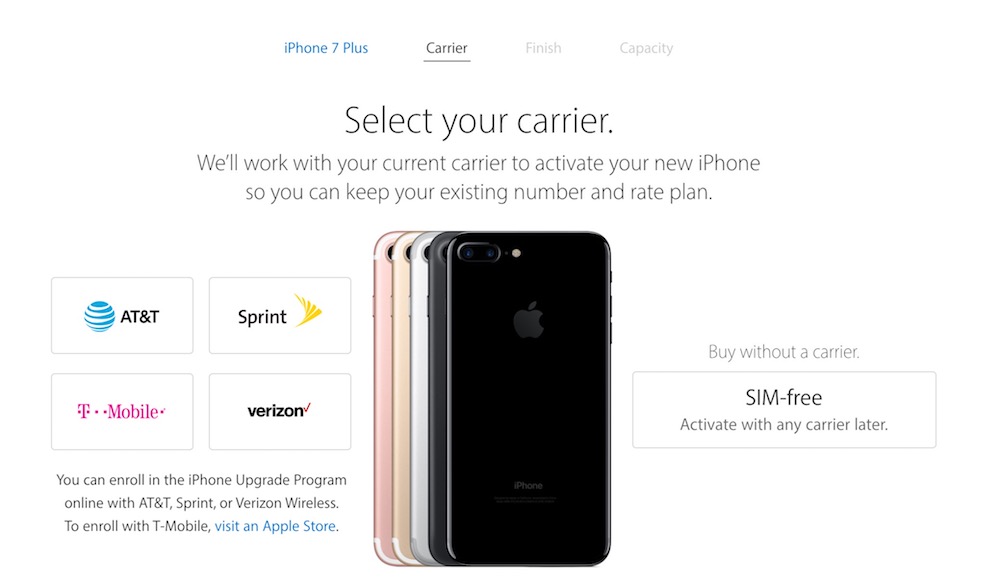 In case you choose T-Mobile, you only have the option to pay full price to get the unlocked iPhone 7/7 Plus with T-Mobile SIM card inside. Unfortunately, the T-Mobile version is not compatible with Verizon and Sprint networks, and it also doesn't work well in China.
The unlocked SIM-free version (A1660/A1661) is officially available since late October 2016, this is almost the same phone as the Verizon version. It is the most comprehensive model and you will be able to use it on almost any carrier in the world.
Buy iPhone 7 and iPhone 7 Plus Unlocked on Amazon
Walk into Apple Retail Store
While you can't buy an AT&T, Sprint or Verizon iPhone 7/7 Plus online without an existing contract, you can do it at the physical Apple Store. Just walk into the store and ask to pay full price for the new iPhone 7.
The Verizon version (A1660/A1661) is preferred at the moment because it covers most cellular bands in the world. When I bought my iPhone, they didn't require an existing plan to activate the phone, so I managed to bring home a sealed iPhone.
So, how did you buy your unlocked iPhone 7? Share with us in a comment below.
Disclosure: We might earn commission from qualifying purchases. The commission help keep the rest of my content free, so thank you!