There are a lot of chat services out there, however, just a few of them are usable for businesses, teams, and organizations. They are just some simple services to communicate with your friends while provides no tool for business collaboration or effective communication. Brosix is a multi-platform instant messenger app that can meet requirements of businesses looking for a robust messaging tool. Let's check out its features.
The messenger app is available for both personal and business use. You can try it for free on almost all platforms, including Windows, MacOS, Linux, iOS, Android, and Web.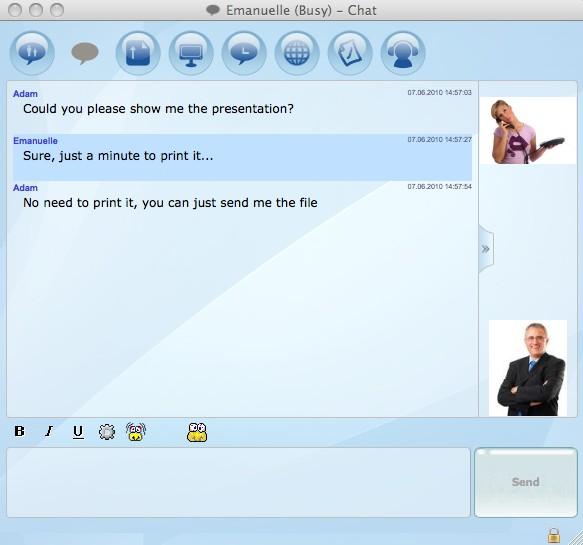 The app is free for personal use but the features are limited. You will be able to use it as a secure chat communication tool with no ad. You can send encrypted text messages to your contacts, open a chat room with other members, send and receive files, browse websites together with someone else, share a screenshot instantly, share your screen with your colleague or view and control his device remotely. Besides, you will have the conference chat features that you can make voice calls and video calls. You can also use Whiteboard to visualize ideas with your friends or colleagues. The collaboration tool is very useful as all people can see and edit pictures and drawings in real time.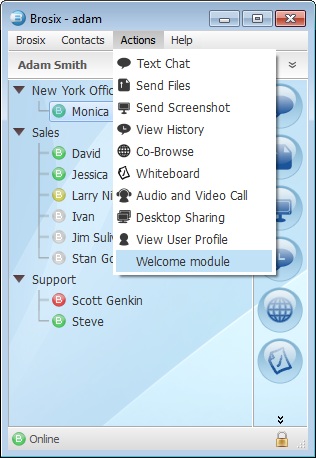 The free app has almost all features but it lacks enterprise features. You won't be able to run your own private and controlled chat network and don't have premium tech support. There are 3 paid business plans at the moment, including Basic, Pro and Ultimate with the prices of $0.99, $2.10 and $2.99 per user per month respectively. The Basic plan is quite simple and you will just be able to use the text chat features. The Pro plan includes more professional features like file transfer, screenshot, screen sharing, voice and video calls, Whiteboard, and Co-browsing. The most expensive Ultimate plan will have broadcast message, web guests, external networks, as well as more control options. You can control who can join the private network and what features are available for each of them.
Features
Secure instant messaging
Encrypted chat rooms
Unlimited file transfer
Screen sharing
Co-browsing
Whiteboard
Audio and Video Chat
Private messaging network
Welcome Module
Users activity log
Users control messaging features
Import/Export network users
Why Choose Brosix Enterprise
Brosix enterprise has great features that helps businesses in having a secure communication. Instant messaging is an effective way to make this happen. Time is precious for businesses. Brosix Enterprise makes sure that this standard and demand is met. They provide a faster and reliable way of sending messages quickly.
Included in their plan is the Enterprise Network Control. Businesses have important and confidential information stored in the system. Through this one, the administrator or server is able to control the users activities. This means that it has the capability to secure stored data against hacking or unauthorized changes.
Using this will help the business synchronize all data while securing them at the same time. They provide an efficient, manageable and exceptional instant messaging and file transfer no matter how big or small the content may be.
They provided a web control panel to set up a private network for the users while making sure that the actions done are still controlled and monitored as an additional safety.
Their instant messaging will help business support their customers in a timely manner. Using this will also lead to a faster and easier business transactions while reducing the costs of setting up a conference at the same time.
For more info of the Brosix messenger, check out the website for more details.
Disclosure: We might earn commission from qualifying purchases. The commission help keep the rest of my content free, so thank you!