Do you remember Safe Mode in Windows which we used when our computers failed to respond or showed some critical errors? Up to Windows 7, it was pretty easy to boot into Safe Mode, but after the launch of Windows 8, people were so confused with the Start screen that they forgot options like Safe Mode, which were made somewhat inaccessible.
What is Safe Mode?
For those who do not know what Safe Mode is, here is a simple explanation. Safe Mode is a type of repair mode that allows you to repair your system in order to minimize damage. In Safe Mode, there will be no applications running on Start-up. If you want to connect to the internet, then you will have to boot into Safe Mode with the networking option.
How to Boot into Safe Mode
In Windows 8, you are offered two different ways to boot into Safe Mode. These were also present in older versions of Windows, but many people do not about know them. I will explain each one.
Boot into Safe Mode Using Run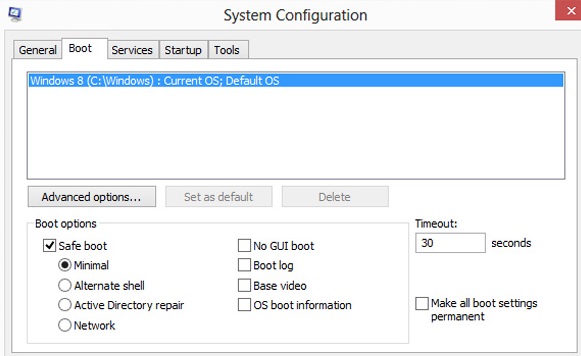 To boot into Safe Mode, you will have to use Run. For that, you can use the shortcut Win+R, and then type msconfig. After that, click on Ok. Now, in the System Configuration box, head over to the Boot tab. In Boot options, select the Safe boot option and any of the other various options available.
Boot into Safe Mode Using the Shift and Restart Combination
Another method, which is simpler and easier, is to click on the Power button from the Charm Bar, and then use a combination of Restart and Shift to boot into Safe Mode. When a new screen comes up, click on Troubleshoot. Then, from there, head over to the advanced option where you will see Startup Settings. Click on that. Finally, click on the Restart option which will boot your system into Safe Mode.

These are the two ways by which you can boot into Safe mode and repair your system so that it works efficiently. If you happen to get stuck at any step, then do not hesitate to ask us any questions you might have about this issue in the comment section below.
Disclosure: As an Amazon Associate, I earn from qualifying purchases. The commission help keep the rest of my content free, so thank you!