Massage guns have become so popular in the last year and even though there is no definitive scientific evidence of their effectiveness, many people find it to be a useful tool for their daily life. I myself used a few guns and were quite satisfied with their performance. In this post, we are checking out the C2 massage gun created by physical therapists Bob Schrupp and Brad Heineck.
Disclosure: This is a sponsored article; We were compensated to publish this post on our website.
Accessories
The C2 gun comes in a nice and compact two-zipper carrying case. The gun and all accessories are packed neatly inside; You can find the charger, a USB-C cable, and 5 head attachments. The wide range of attachments help us target a diversity of muscles more easily and comfortably. The small attachments perform well on areas like feet, hands, and calves while bigger and rounder attachments are effective on larger muscle groups like glutes, quads, and hamstrings. My previous massage guns often have just 4 attachments but this one has 5 with an extra air cushion head; This is similar to the flat head but has rubber cushion on top, therefore, you can use it for more gentle percussion on sensitive muscles.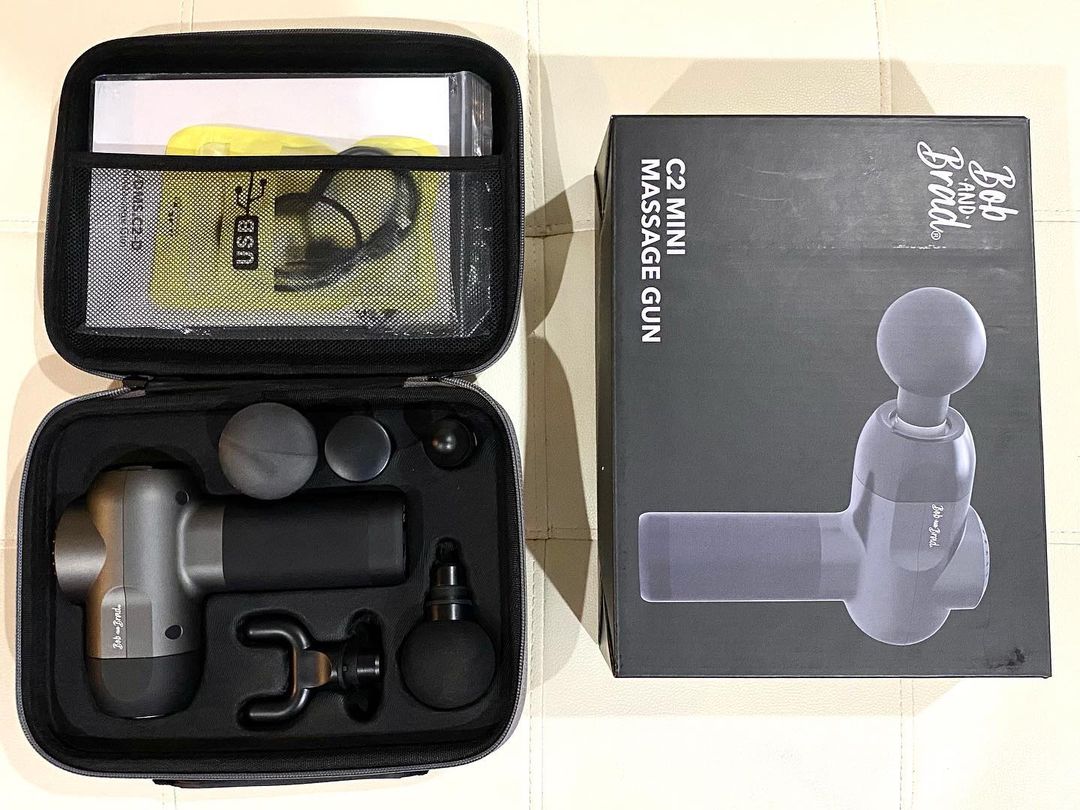 The ball head is the default head and is also the most popular one for different purposes. It offers moderate intensity and works well on most parts of our body. I often use this head 90% of the time with this device.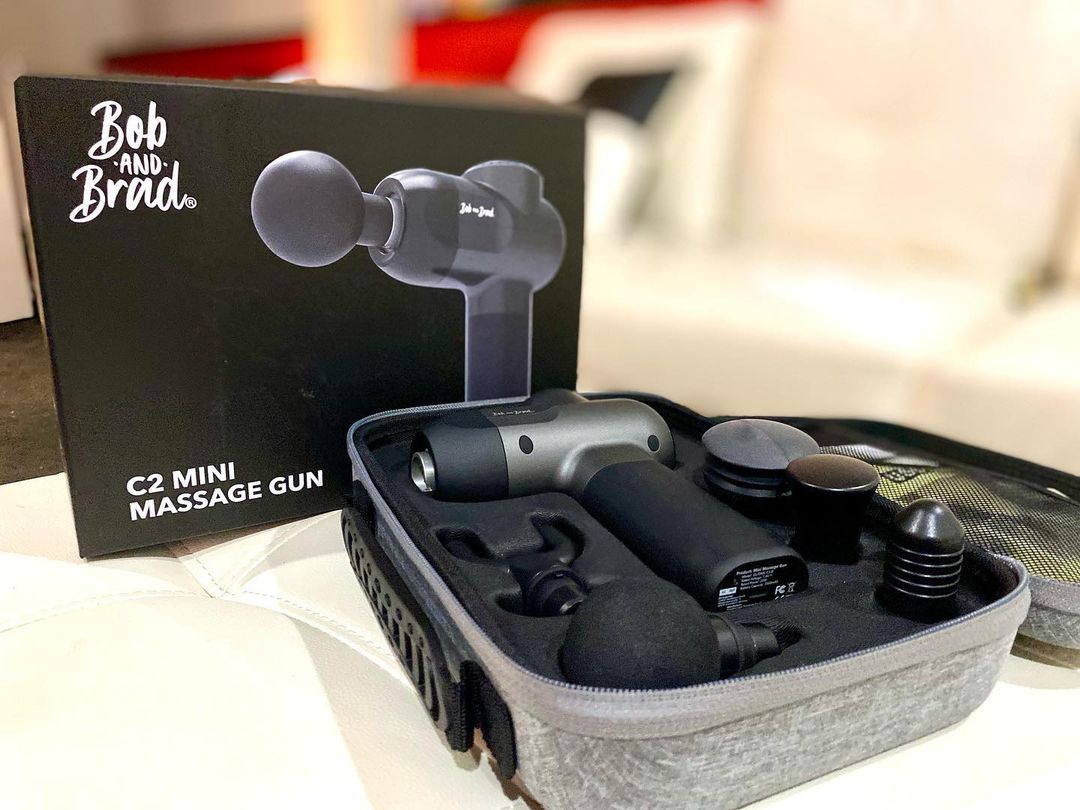 Features & Performance
The C2 is built with an intelligent chip, so it can power off automatically after 10 minutes to avoid overuse to our body. Besides, it features ultra-quiet operation with the noise reduction technology; The noise level can stay below 60dB even at the maximum speed.
The gun is easy to handle as it weighs just 1.5 lbs. It has just one button on the back; You can long press to turn it on/off. Once it is on, you can short press to change the speed. There are LED lights to indicate the battery level as well as current speed.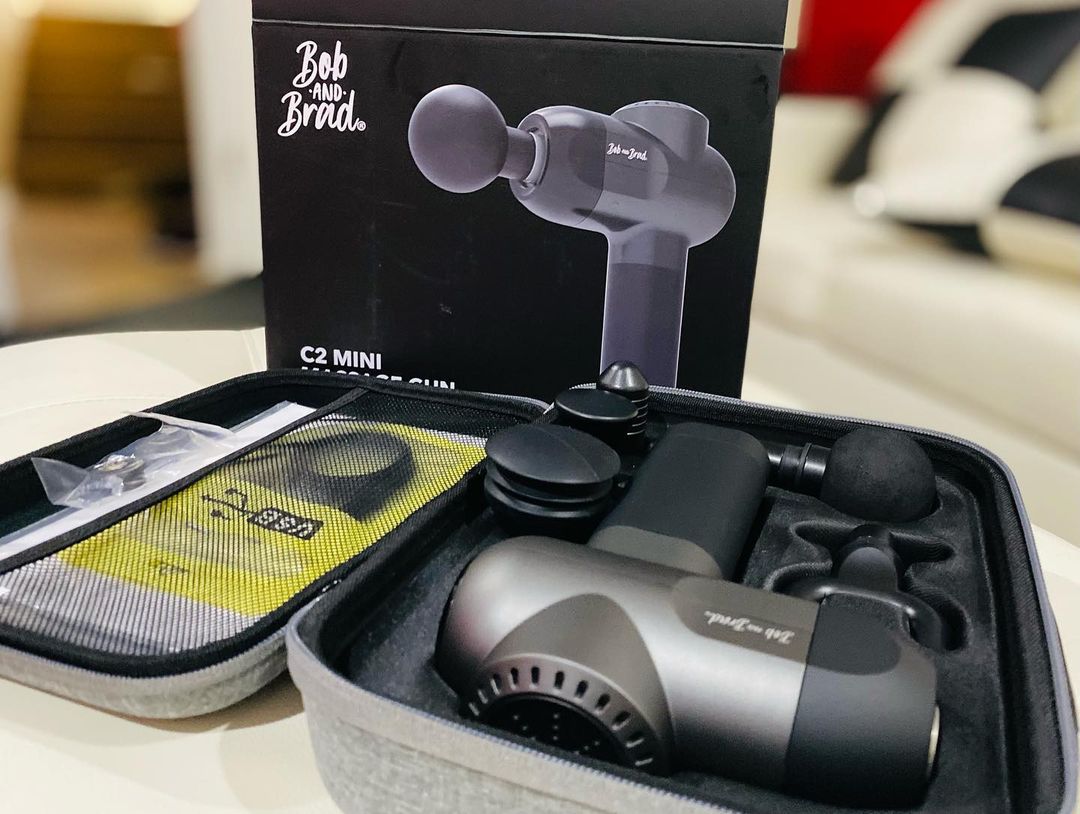 Another nice feature is the heat sink with an air vent on top to improve heat dissipation. That means you can use the device for a while without feeling the heat on your hand. This is helpful when you use it continuously for a long massaging session or for your whole family.
The Bob and Brad C2 has 5 speed levels with impressive 2000-3200 rpm. I rarely use it at the maximum speed as it is too intense for my body but many professional athletes might find it useful. You can use the gun before training to prime your muscles, or post-workout to preven any potential DOMS (Delayed Onset Muscle Soreness).
Unlike other products on the market, the Bob and Brad C2 prioritizes a physical therapy approach as they are built to improve patient and athlete's recovery process. It is heavily discounted on Amazon now and you can get it for less than $90.
Disclosure: We might earn commission from qualifying purchases. The commission help keep the rest of my content free, so thank you!