Taking a road trip is a great chance for our mind and body to let go of daily stresses. Therefore, you should plan everything carefully to have the best experience. It would be a nightmare if your weather radio battery or your phone runs out of battery in the middle of nowhere. Having portable solar panels and solar generators is a great way to keep all of your essential devices powered all the time. That would be really helpful during off-grid excursion. Of course, portable solar systems are not just used on the go. You can use them to complement rooftop panels at your house.
Disclosure: This is a sponsored post, we were compensated to publish this article on our website.
Bluetti has been well-known for their power station products and recently, we've seen more solar panels on the market like the SP120 or SP200. The SP200 was released in early 2021 with their first household power center EP500/Pro.
Bluetti has added 2 new products to there solar panel lineup, the PV120 and PV200 along with new expandable AC300 and AC200 Max power stations. We're going to compare features of these new products with previous releases.
| | | | | |
| --- | --- | --- | --- | --- |
| Model | PV200 | SP200 | PV120 | SP120 |
| Wattage | 200W | 200W | 120W | 120W |
| Cell Type | Monocrystalline | Monocrystalline | Monocrystalline | Monocrystalline |
| Cell Connection Type | Parallel | Series | Parallel | Series |
| Dimension (Folded) | 23.2 x 24.8 inch | 20.5 x 20.7 inch | 21 x 18.5 inch | 16.3 x 16.1 inch |
| Dimension (Unfolded) | 23.2 x 89.2 inch | 20.5 x 86.6 inch | 21 x 65 inch | 16.3 x 66.1 inch |
| Weight | 16.1 lbs | 14.3 lbs | 12.6 lbs | 9.5 lbs |
| Open Circuit Voltage (Voc) | 26.1V | 24V | 24.4V | 23.7V |
| Cell Efficiency | Up to 23.4% | 23% | Up to 23.4% | 23% |
| Warranty | 2-year worry-free warranty | 2-year worry-free warranty | 2-year worry-free warranty | 2-year worry-free warranty |
In terms of design, the two series have almost the same size but the new versions are slightly heavier due to new coating. The PV series features a one-piece waterproof coating design. The PV series has an integrated handle made from blue ABS material instead of black rubber handles. We can't find the metal rings that are used to hang up the solar panel. Another improvement of the PV series is the new snap fastener which allows placing the panels at some different angles.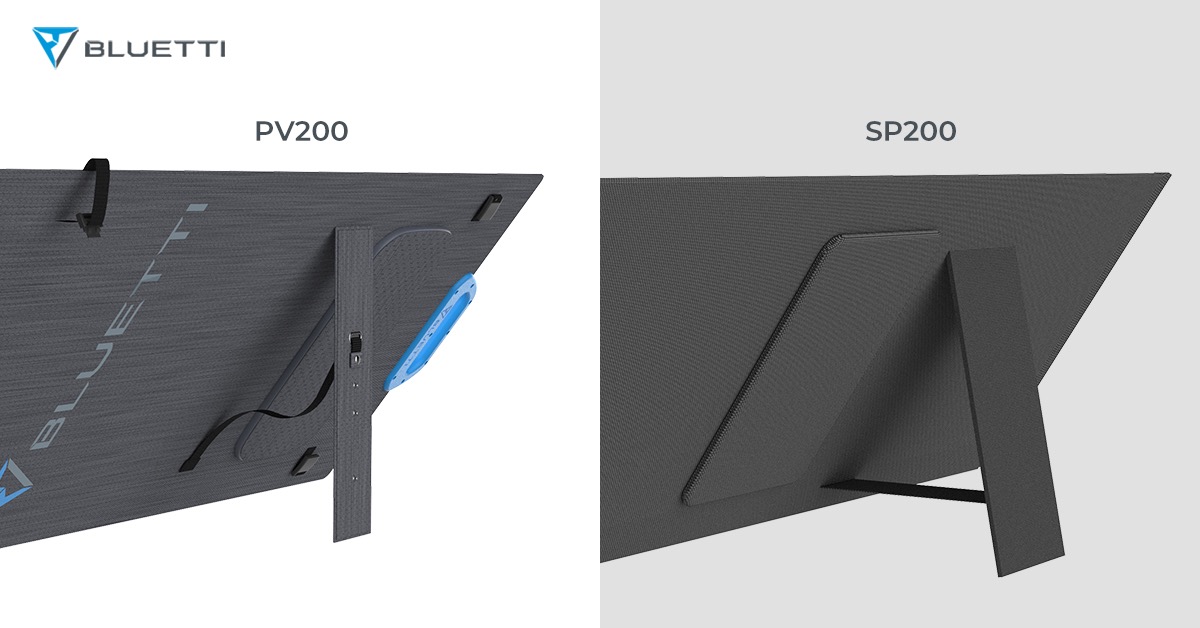 The Bluetti PV and SP series feature the same monocrystalline battery cell, therefore, they have the same overall efficiency of around 23%-24%. Among all popular cell types, monocrystalline still offers the best durability and least sensitivity to high temperature.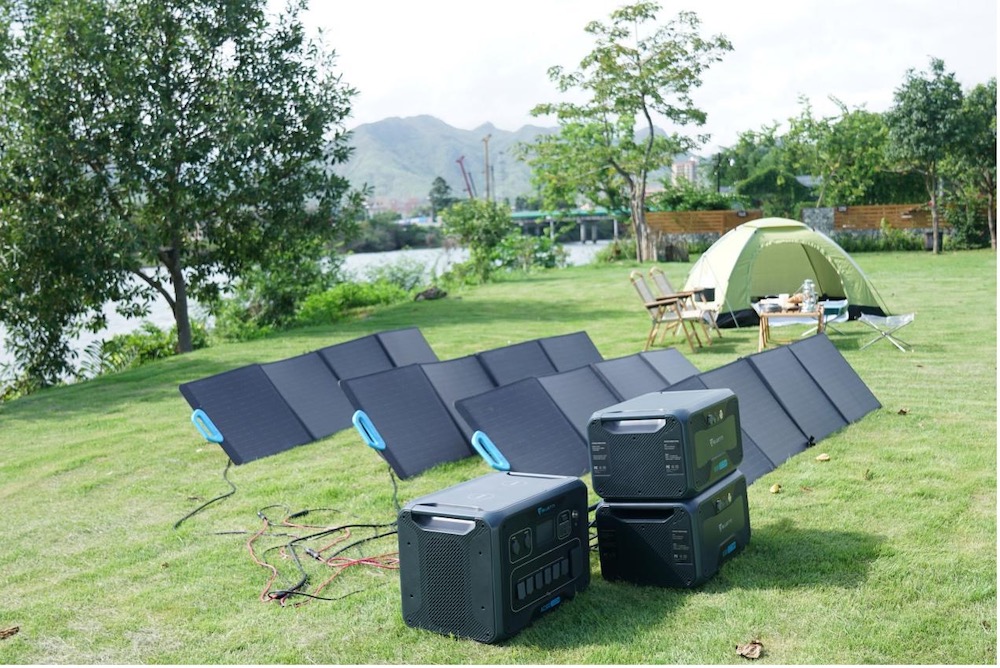 The biggest upgrade of the PV series is the change of connection type from series to parallel. That means each circuit on the panel can run as an individual and at the same voltage. We only lose power of the area with shadows, so the impact to the whole system is insignificant. Therefore, the production of the system won't be affected much when we have partial shading. The PV200 and PV120 perform well when they are exposed to shady conditions like clouds, trees, buildings, or other environmental obstructions.
Bluetti's new PV panels are now on hot sale with their solar generator bundles. The 200W PV200 was listed for $549 per piece, and the 120W version for $399 but with an AC200P and three PV200 bundle, you can get the 200W panels for as low as $425 each! The sale will end at PDT 7:00pm on September 30th. Grab your discount while it lasts: https://www.bluettipower.com/pages/ac300debutsale
Disclosure: We might earn commission from qualifying purchases. The commission help keep the rest of my content free, so thank you!