The Atlantic hurricane season is coming and it will peak from August to October. Forecasters predict this year could be an above average season and we all should be prepared in the event of a blackout. BLUETTI has got you covered as they've just released BLUETTI AC500, the second-generation of its modular power stations. The AC300 and B300 battery module were released just one year ago, and now we have the more powerful combo, AC500 and B300S module. They are going to be released on the crowdfunding platform Indiegogo.
Disclosure: This is a sponsored article; We were compensated to publish it on our website.
Specifications
AC500 is 100% modular and compatible with B300 and B300S battery packs for capacity of up to 18,432Wh.
5,000W inverter (10,000W surge)
Connecting with at least 2*B300S and charging via AC and PV simultaneously allows an 8,000W max input.
0-100% charging only takes 1.8~2.3 hours.
9 charging ways available.
Built-in advanced BMS and LFP battery to ensure higher security and longer lifespan.
Split Phase Bonding Function, connect two AC500s to double the capacity, voltage, and power to 36,864Wh, 240V/6,000W (a Fusion Box Pro is required and sold separately)
Monitor and control at the fingertips with BLUETTI App.
Weight/ Dimensions: 66.2 lbs (30 kg) / 20.5 x 12.8 x 14.1 inches (520 x 325 x 358mm)
The AC500 is considered the most powerful power solar generator by Bluetti, and therefore, it is an ideal solution for home emergencies and outdoor activities. It features the 24/7 UPS (Uninterrupted Power Supply) function, that means it will automatically detect power failure and take over 99% of your needs in just 20 ms; You probably won't notice the interruption at all.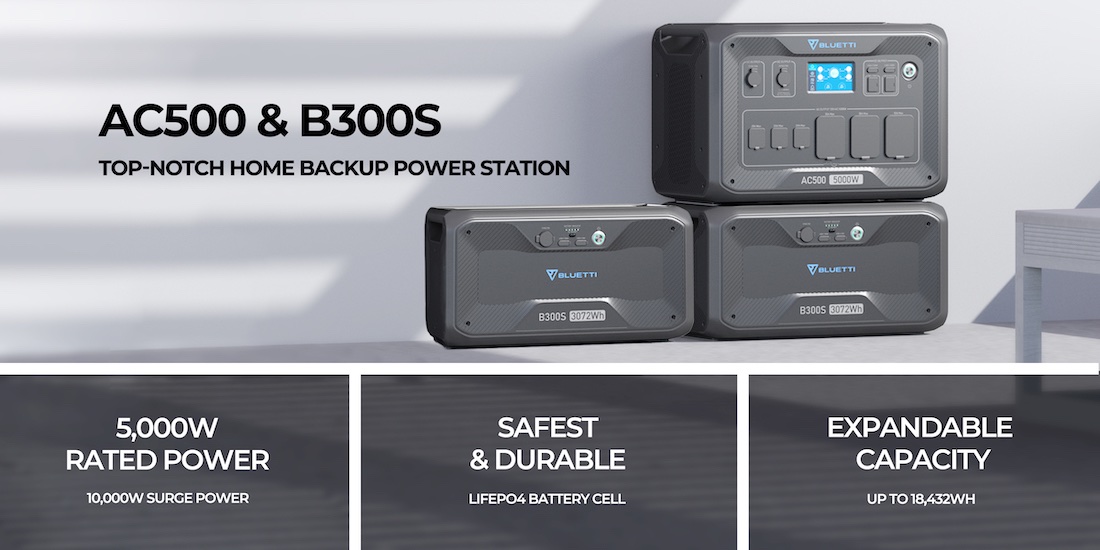 Similar to its predecessor, the AC500 has a modular design, so it can be connected to B300S or B300 battery modules for a maximum capacity of 18,432Wh. This design makes the power station more portable as you can carry each unit instead of a large device at once.
The AC500 boasts impressive power with 5,000W continuous AC output and 10,000W surge, which is enough to power all your household appliances like heaters, dryers, refrigerators, coffee makers, etc. Moreover, we can use the Fusion Box Pro to connect two AC500s in series to boost up to 240V/6,000W output and 36,864Wh capacity. This setup would become a solid power center to run your home essentials for days or weeks. When combined with solar panels, you can no longer rely on the utility grid because the unlimited energy supply will be available for your entire house, outdoor camping, road trip, etc. Of course, you still can use the BLUETTI App to monitor and control AC500 from your smartphone.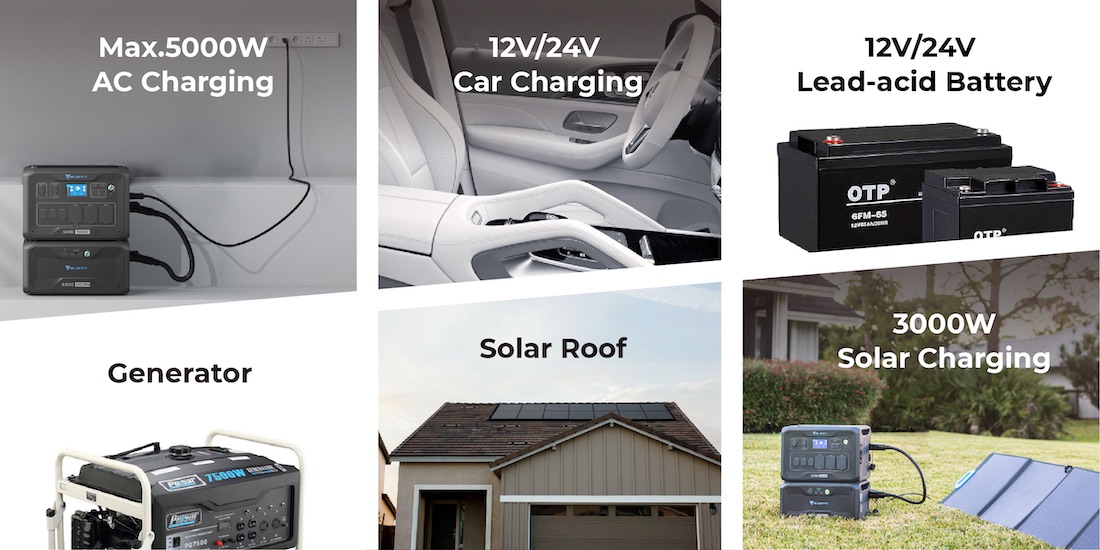 The power station uses a safe and reliable LiFePO4 battery for long-term durability and over 3,500 charging cycles to 80% of its original capacity. You can expect to use it for over 10 years. It can be charged by AC, solar, generator, lead-acid battery, dual, or triple charging methods. If you are recharging with 3,000W MPPT solar panels, the charging time for AC500 with two B300S is about 2.5 hours.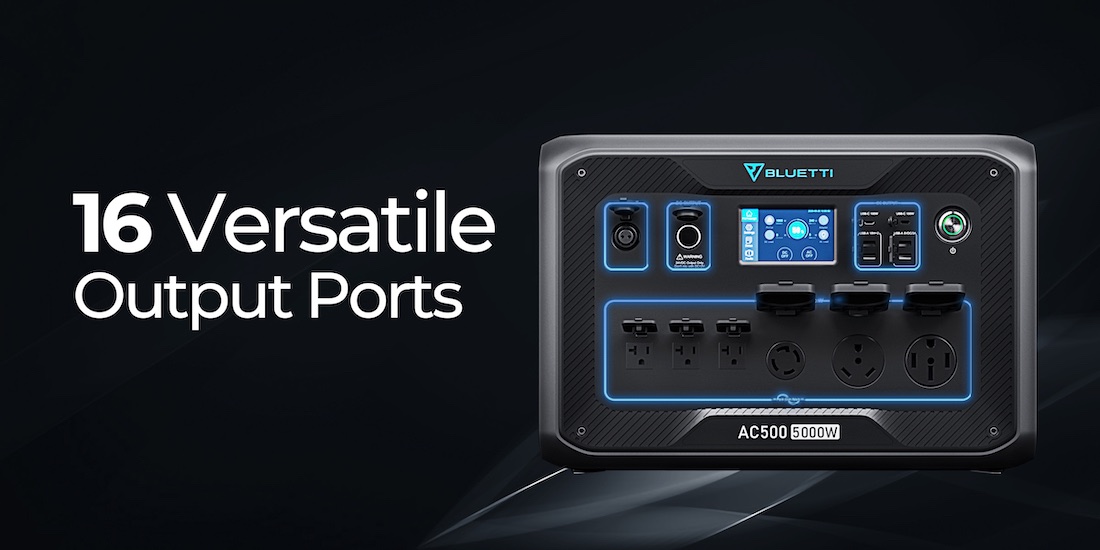 BLUETTI AC500&B300S will be available on Indiegogo very soon. Now you can visit the website to keep up with the latest information and receive an early bird price when it is available.
Disclosure: As an Amazon Associate, I earn from qualifying purchases. The commission help keep the rest of my content free, so thank you!