The average blogger looking for information or advice on the web would quickly be inundated with the idea that media is critical to each and every post that they put on the web. After all there are many experts giving bloggers advice to add more, more, more media to all of their posts. Put in more photos they enthuse. You have to have a video for each and every post, they exclaim with all of the intensity they can muster. The thing is that sometimes more is not always better and when you are writing to be read and posting to be seen you need to use a little bit of finesse and common sense to make your decisions.
While that advice is good in general the problem is sometimes it's just too much. As a blogger it is your job to know when to add more and when to let it go. So, how do you know?
Your Readership (and Their Devices)
Let's begin by considering your reader. If you readers on mobile devices such a smart phones and the odds are they do not want a lot of photos clogging up the load time. You can add a few photos that are relevant but if you go crazy be sure that you'll lose mobile readers. This goes double for users who are not on an unlimited data plan and have to pay more for each image by the megabyte. The same is true on the opposite end of the field. If you know that your readers are likely to be on older and slower machines more photos would be a hassle for them. Waiting is never fun. Analytics data is great here, since it can give you a reliable measure of what types of connections, and browsers are looking at your content.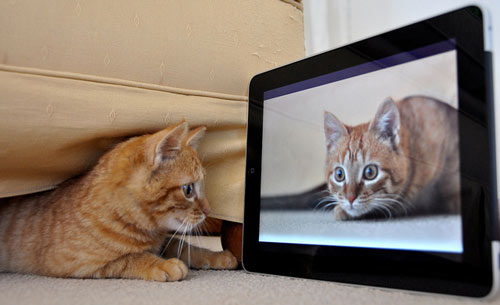 Relevance
Next you want to consider the relevance of the photos to your story. If you are doing a profile of s local painter one photos of him or her will do. If a specific piece of art is mentioned then you may want to, with the commission of the artist, put up a photo of that piece. It's not your job to give this person a digital gallery.
When it comes to videos your major factor is relevance. Having one relevant video is much more valuable to your readers than 26 videos only vaguely having to do with the topic. Unless for some reason you have a multipart video you probably want to limit yourself to one per post. You can always add links other relevant videos if you really need to.
Visual Clutter
You do not want to end up with a post that looks messy and unprofessional because it is cluttered. If you cannot find a layout that looks clean and professional you are going to have to cut some media, or break it up into multiple posts.
There you have it, your guide to using multiple photos and videos in the post. Of course, if your website's thing is having more media rich content, and that is the case for some photo or video blogs, then you may have to adjust these guidelines accordingly.
Disclosure: As an Amazon Associate, I earn from qualifying purchases. The commission help keep the rest of my content free, so thank you!