Gaming needs blockchain and crypto needs gaming. In 2020 platform-agnostic in-game microtransactions will redefine the term 'symbiotic relationship'.
Crypto and blockchain advocates frequently utter 'when moon?' as they collectively ponder the exact date that another 2017 style parabolic market frenzy will occur. Currently, Bitcoin price remains far below it's all-time high and the same can be said for the majority of altcoins. Since 2018 there have been significant accomplishments brought forward by a variety of blockchain and crypto startups but the sector has yet to pinpoint an exact use case that will lead to multi-sector mass adoption.
The idea of blockchains breaking the monopoly of big banks seems naively unrealistic, but funny enough, an area where distributed ledger technology could provoke a sea change is another equally massive industry, gaming.
In 2018 the gaming industry produced approximately $138.7 billion in revenue and data from Newzoo predicts that this figure will increase by 9.6% in 2019 to reach an estimated revenue of $152.1 billion.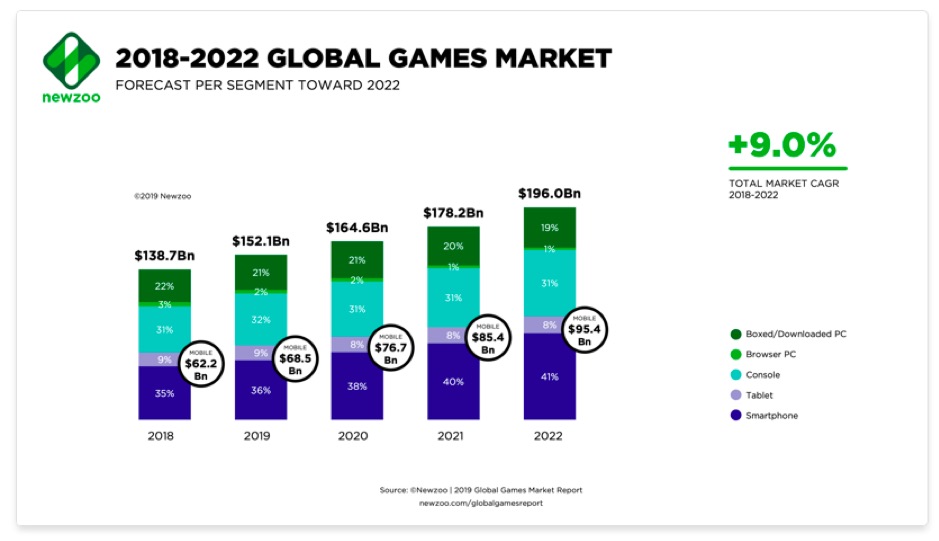 Currently, the Asia-Pacific region accounts for $72.2 billion in revenue and this represents 47% of the global games market revenue for the year. The US comes in a distant second with $43.4 billion in revenue generated in 2018. While this figure is significantly less than that of the Asia-Pacific region, it is 18% higher than in 2017.
Despite these mind-boggling figures, growth within the gaming industry is actually declining. A recently published gaming industry market forecast published by Forbes suggests that growth with the sector is screeching to a halt, much in the same way that retail investor interest in cryptocurrency trading has declined over the past 2 years.
The issue at heart is that gamers are purchasing more content and subscriptions but hardware and accessory sales are down. Another issue weighing on the sector is the inability for gamers to use one universal digital currency to make peer-to-peer and in-game cross-platform purchases. Data from LendEDU survey of 1000 gamers found that when players who spent six to ten hours playing a game, 69% of them made micropayments totaling $84.67 on average. Currently, gamers are restricted to making purchases through a credit card, which presents privacy risks, or they have to accumulate a mass of various tokens that are saved on different platforms and relatively restricted in their use.
What the sector needs is a universal digital currency or token that can easily be swapped across games to make peer-to-peer transactions or in-game purchases at each platform's e-store.
Take, for example, Ethereum Express, a community supportive blockchain platform that facilitates connections between the world of gaming and digital currency generation. Ethereum Express utilized a Proof-of-Authority (POA) Network that is capable of processing a new block every 15 seconds. POA and Proof-of-Stake-based networks are much faster than proof-of-work networks as miner involvement is not required.
Gamers making in-game transactions expose themselves to risk as they are required to keep a debit or credit card on file and the never-ending recurrence of multi-billion hacks against major multinational corporations means the threat of being victimized is ever-present. PoA networks protect participants against manipulation and hacks as the authority of the participant serves as the proof of the transaction's validity and validators must go through a series of checks to confirm that they are trusted and reliable.
PoA networks are also permissioned blockchains and this makes them suitable for enterprise-level use, such as gaming companies like Electronic Arts, Sony, and Activision Blizzard. In fact, Ubisoft recently announced that it will trial EOS blockchain in order to support gaming and micro-transactions within its network. As Ethereum Express CEO Vlad Miller recently told Cointelegraph:
"One of the significant advantages of such platforms is the ability to scale horizontally. PoA services can combine computing power for joint transaction processing, thus increasing the throughput of the entire network."
As 5G technology spreads throughout America and gaming continues to shift to personal mobile devices rather than stationary consoles, the popularity of platform-agnostic MMORPG formats (massively multiplayer online role-playing games) that support tens of thousands of players at a time will continue to grow. Fortnite and Minecraft have already shown the power and value of in-game purchases and microtransactions.
In 2017 and 2018 cryptocurrency and blockchain were touted as the technology which would build the payment infrastructure the gaming industry needs in order to scale to the next level. Currently, gamers accrue a vast amount of platform and game-specific tokens which cannot be exchanged cross-platform and this has led to the development of secondary markets where gamers inefficiently barter and trade or the game-specific digital currencies they require.
What the sector needs are a universal, swappable multi-chain digital assets that can be transacted and exchanged across thousands of games regardless of their platform and licensing.
Disclosure: We might earn commission from qualifying purchases. The commission help keep the rest of my content free, so thank you!