BlackBerry Curve 9380 is a touch screen phone by RIM which they launched after an onslaught of such phones in the market. It has a 3.2 inch screen with a 806 MHz processor. It also has a 512MB RAM for multitasking. It is powered by BlackBerry OS 7 which can be found on all the recent BlackBerry phones. It has a bright and beautiful screen resolution with vivid colours. It has just three keys, he convenience key, the mute key and the volume rocker. Now let us take a look at this phone with more details.
Battery Life and Connectivity
The battery life of BlackBerry Curve 9380 is pretty good. Though Wi-Fi and 3G drains a lot of power, it can run for almost 2 days with moderate us. It is far better than most of the power hungry mobile phones in the market which last only for a day in full charge.
BlackBerry Curve 9380 offers speedy internet browsing courtesy 802.11b/g/n Wi-Fi and also its 3G connection and HDSPA. It can have excellent broadband speeds as its pickup signal is great. It has a digital compass and GPS capability along with Near Field Communications (NFC) and Bluetooth 2.1. You can also connect with your computer via the micro USB port.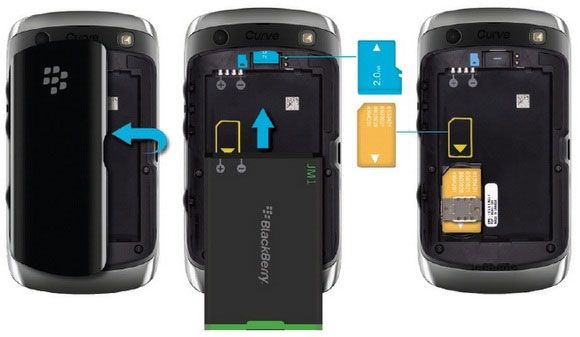 Interface
BlackBerry Curve 9380 uses OS 7. It is more colourful and user friendly than the previous version. The primary focus of this OS is on the touch interaction. There is a status bar at the top of the home screen that can be tapped to see the quick settings. There is also a notification area from which all the notifications can be viewed. There is one drawback in the apps wherein the auto correct option corrects your password if it is not an ordinary word. It also overrides your password and reveals it until dismissed. It is a major security mistake by RIM.
Camera
The BlackBerry Curve 9380 is fitted with a 5 MP camera along with a LED flash. There are provisions for face detection as well as geo tagging as it is fitted with a GPS chip. There are many scene modes from which you can choose, Sports, Night, Landscape and Portrait naming a few. You can use the shutter either through the convenience key or via the onscreen button. Thanks to minimum shutter lag, the photo appears in an instant you hit the shutter. There is no focus option unfortunately.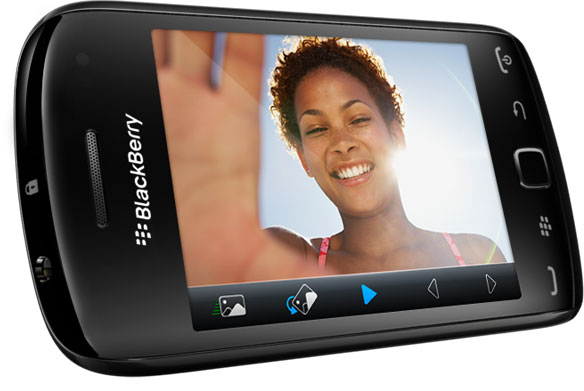 Video Recording
The video camera slightly disappoints as it does not give any HD recording. The recording is the old VGA 640×480. The outdoor shots of video are fair enough. A decent amount of light is captured on the video and there is no darkness, albeit a bit low resolution. The indoor video is not impressive though as the camera finds it hard to capture light and also has a lot of digital noise.
Media
On visiting the Media folder on the BlackBerry Curve 9380, you will find the Pictures App, Music App, Videos App, Podcast App and a Music Store. There is a lack of storage space, so microSD card has to be used. With the Music app, you can browse through the songs and also sort them in accordance to artist, genre, song and album. The bottom of the screen has the playing options with the repeat and shuffle options at the top. The BlackBerry phone supports AAC, MP3, WAV, WMA and FLAC files if you are to add your own music. It can also run videos at 720p. Though it is scaled down, it runs smooth and looks fine on the screen. The Picture Apps enable you to swipe between photos while you are browsing through them.
Internet
The BlackBerry Curve 9380 has an improved browser, thanks to the BlackBerry OS 7. It has HDSPA 3G internet connectivity along with 802.11 b/g/n Wi-Fi. It picks up signals well and has an impressive 3G speeds. The only drawback here is that sometimes while you are zooming, it can redraw and zoom a different area. The browser also has a lot of features and you can switch between several pages. Also there is no Flash support.
Verdict
Overall the BlackBerry Curve 9380 makes for an impressive phone. With sleek superior design and most of the features which are required in day to day activities incorporated here, it is a must have phone. Though it has got it drawbacks like a poor video recording or a 'not so impressive' battery backup, it scores pretty well in most of the other points. So we can definitely say that this phone will be in the market for a pretty long time.
Disclosure: We might earn commission from qualifying purchases. The commission help keep the rest of my content free, so thank you!