Tutanota, a privacy-friendly email service, has recently achieved a significant milestone, reaching 10 million users​. This achievement is a testament to their commitment to privacy and security, as well as their determination to provide an alternative to privacy-intrusive services like Gmail.
New prices with 50% offer
Upon achieving the milestone of reaching 10 million users, Tutanota has also introduced new price plans that are currently available with a discount of 50%!
The new plans for private users are called Revolutionary and Legend to stress the fact that everybody who is using the secure email service Tutanota revolutionizes the internet by making it a better – a more secure – place.

Tutanota's Journey: From Launch to 10 Million Users
Founded in 2014, Tutanota has steadily grown over the past nine years. The core team – Arne, Matthias, Hanna, and Bernd – has remained unchanged, driven by a shared passion for privacy and a determination to provide a service that respects the right to privacy for millions of people globally​.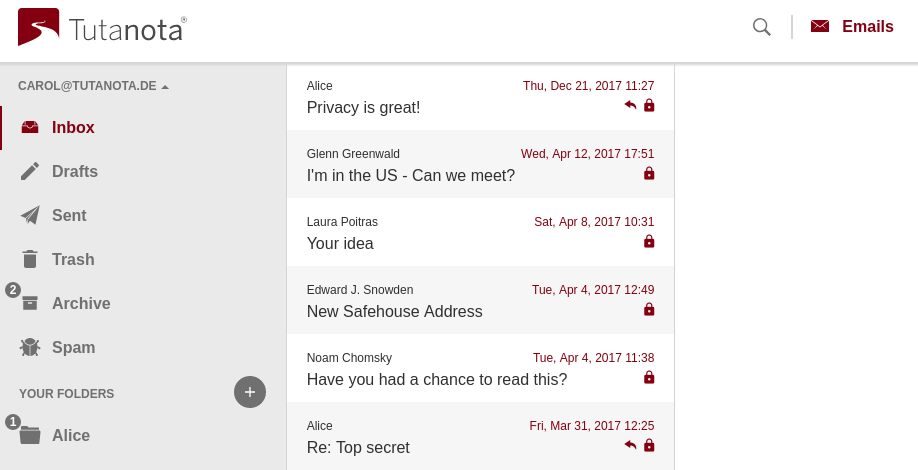 The team behind Tutanota views their mission as one of privacy advocacy, setting them apart from the major tech giants of Silicon Valley, who they assert misuse user data for purposes such as targeted advertising. Tutanota, on the other hand, guarantees the privacy of its users, as it includes inbuilt encryption ensuring that user communications remain confidential and that user data is not being abused​.
One of Tutanota's pillars of success is its passion for privacy. This is not a mere corporate slogan; the team has shown this passion from the outset, working hard to provide an encrypted online ecosystem that includes email, calendar, contacts, and more. Unlike big tech companies that merely promise privacy, Tutanota guarantees it. The built-in encryption in Tutanota ensures that user data is protected, and the open-source nature of their email clients allows anyone to verify the effectiveness of their end-to-end encryption.
Sticking to their goals has been another significant factor in Tutanota's success. The team has observed encryption projects come and go, such as Google's now-defunct project to add end-to-end encryption to Gmail. In contrast, Tutanota has remained steadfast in its commitment to providing a secure email service, investing significant time and effort to match the functionalities of non-encrypted services. This tenacity has paid off, as evidenced by their growing community of users who share their passion for privacy​.
Focus on security is another key to Tutanota's success. Tutanota goes beyond simply encrypting data; they have implemented multiple steps to secure user data, including offering two-factor authentication, conducting regular security reviews of their code, and publishing their code as open source. The team believes that maximum security cannot be achieved without maximum transparency, and this approach has gained them the trust of millions of users worldwide​.
Tutanota also prides itself on building an ethical business. They provide a transparent alternative to the AdTech industry, focusing on satisfying one stakeholder: the user. Despite the popular saying "If it's free, you are the product," Tutanota offers a free version of their service to convince as many people as possible that a better internet is possible. However, they also offer fair and affordable prices to incentivize users to leave the AdTech business behind and protect their private emails from mass surveillance. They believe that privacy should be accessible to everyone, and this is why they will always offer a free version of Tutanota​.
New Tutanota Plans
Tutanota's new plans represent a significant shift in its offerings and pricing strategy. They have transitioned from a single, flat-rate premium plan to a more granular set of offerings, dubbed "Revolutionary" and "Legend" for personal use, and "Essential", "Advanced", and "Unlimited" for businesses. The personal plans are priced at 3 euros/month and 8 euros/month respectively, and provide different tiers of service, including up to 500 GB of storage, 30 email alias addresses, unlimited search and offline mode, among others. Both plans are framed as choices for users who wish to support Tutanota's mission of providing a secure alternative to Big Tech and prioritize digital privacy.
On the business side, Tutanota has introduced three tiered plans with features tailored to meet the needs of businesses of various sizes and demands. The Essential plan is a robust basic offering at 6 euros/month/user, providing each user with 50 GB of storage, unlimited folders and filters, auto-reply functionality, and other features. The Advanced plan, at 8 euros/month/user, offers more storage and email alias addresses, while the Unlimited plan, at 12 euros/month/user, provides 1 TB of storage and customizable branding options. Each business plan includes a comprehensive administration console for team and user management, centralized billing, and more.
The decisions driving Tutanota's new pricing structure were significantly influenced by user feedback. Users expressed the desire for more default storage in the Premium plan and automatic additional storage upon adding users. Furthermore, users found the previous pricing model, which allowed for flexible additions such as larger storage and alias packages, too complex. As a result, Tutanota has crafted new packages that include more storage, calculate storage per user, and no longer limit important usability features like calendar invites or auto-responders via paid add-ons. This marks a significant step in Tutanota's journey, as they continue to evolve and cater to their user's needs, while maintaining their commitment to security and privacy.
Despite their success, Tutanota acknowledges the role of their paying users. These users enable Tutanota to grow its team and improve their service, contributing to their mission to make the internet a more private place​​.
Disclosure: We might earn commission from qualifying purchases. The commission help keep the rest of my content free, so thank you!